Welcome to the Volvo 340 lifestyle blog

This, the most technically backward web site on the internet, is dedicated to poor old Blue Bess. One of the much maligned Volvo 300 series (the Honda Jazz of the 80's), in fact one from the top of the range - a 360 GLE. With only 6 previous owners, she was bought for 80 quid and put into storage for some restoration which will concentrate on the interior first. I know the magazines say start with the mechanicals and do the pretty bits last, but my philosophy is that when the interior decor looks smart, I will have the motivation to sort the difficult stuff. My impression is that parts of the interior have been superficially wrecked by kids and the hope is that having lots of spares for Volvo 300s will speed up the repairs. We are not looking at major restoration here - just a rolling replacement of missing and broken trim items, sorting the engine and repairing rust spots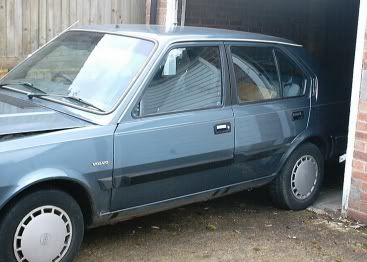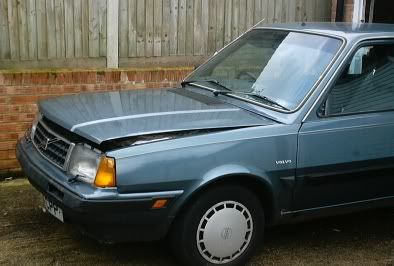 First thing was to make the garage a bit more secure to protect the community - any self-respecting thief breaking into a garage and finding a Volvo 300 would lose so much street-cred, so quickly, they would be psychologically scarred for life. Independent proof of this can be found at the bottom of this page. Thus a few pounds spent on padlocks and hasp will do much to protect the mental health of the nation.

Enthusiasts or mentalists of the Volvo 300 range should look at the Volvo300mania web site (www.volvo300mania.com), you know it makes sense and you will get lots of useful advice from members. Classic car magazines won't touch this Volvo. My own mania for the Volvo 300 series stems from when I owned a ghastly Escort and my work colleague bought a 1.7 340. I was amazed at the quietness and briskness of the little old Volvo compared with the same said Ford. My soul was sold irreparably from there on and a few years later I bought a 340 1.4 - which was my everyday car until it found a keen new owner at 217 k miles!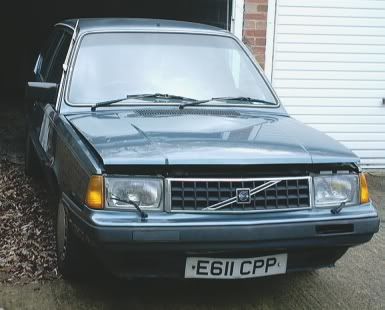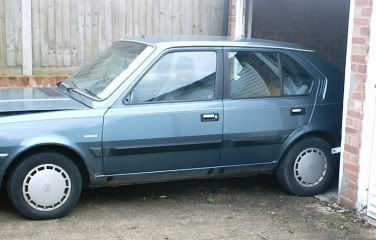 Known problems when the above pictures of Blue Bess were taken (5/1/05) include:
passenger side front electric window not working,
rear offside door not opening,
generally knackered boot seal (poor fit),
drivers door lock knackered,
unpainted repair panels in the sills - welding looks good, just not painted!
rust in front inner wings and wheel arches,
rust in spare wheel well (several spots here),
Rear offside-sidelight - rusty above (outside) and below (inside boot),
rusty door bottoms at front,
front valance bottom rusted behind hope,
rust beneath the radiator expansion tank,
rust behind rear bumper,
boot floor-to-rear-valence has rusty joint,
jacking point needs strtaightening and moving away from spring,
rust in front suspension strut cups,
speedometer not working,
very poor starting, etc
and, wait for it....stereo cassette not working.
top
Wish list
What follows is the mesmerising (!) list of things needing to be replaced as of January 05.
Glove box + lid,
Radio cassette + speakers for the front doors,
Rear offside door handle, exterior and interior plus inner mechanism,
Exterior handle + lock for drivers door,
Bonnet earth strap,
Bumper hole covers (front),
Footwell mats,
Plastic finger wells in the front doors that act as door pulls,
Door hinge plastic caps,
Plastic cover for the boot lock catch,
Adjusting knobs on the inner sides of the front seats - these are for back comfort, not the outer knobs which are for the seat angle!
Boot board needed in very good condition,
Rubber bump stops for the boot board (all 4),
Boot seal in good condition,
Inner strap for petrol cap,
Small hose on front of heater box under bonnet on bulkhead (has 90 degree bend in it),
Plastic cover for the wiper motor on the rear hatch,
Hazard light switch + air vent assembly each side,
The little plastic covers that go on the strut tops (covers the shock absorber threads under the bonnet),
Spare wheel cover board in boot,
Large rectangular piece of plastic above the windscreen onto which interior light and sun visors are mounted,
Steering wheel needed in good condition or find way to cover the horrible smooth patches - yuk!
Rear hatch struts,
Boot lock...
top
Waffle
When all of the above are sorted, the plan is for a mechanical service including routine electrical parts: plugs, leads, distriubutor cap. Aim is to then tackle difficult bits: change of cambelt, full service to carb.
When I have done all I can then she will go for the MOT and, when fully roadworthy, the final part of the plan is to have her rusty patches removed by a trusty welder. Waxoyling will probably be left till last since my welder curses the stuff - it catches fire all too easily!
top