January - December 2023
So here we are in 2023 and the only way to try to stop this expansion of the ULEZ, which will lock my 300's and the Hyundai away for the next 10 or 20 years, is to do something about it. However, it was to turn out that this would entail doing virtually nothing on the Hyundai or the Volvo's. The alternatives are either to spend £4,500 per year or move. Anyway, here we are in Trafalgar Square on 28th January for the first in a series of demonstrations organised on social media. I don't know anything about dabbling in big-wheel politics or even local politics, so literally what else can you do ;-? ;-?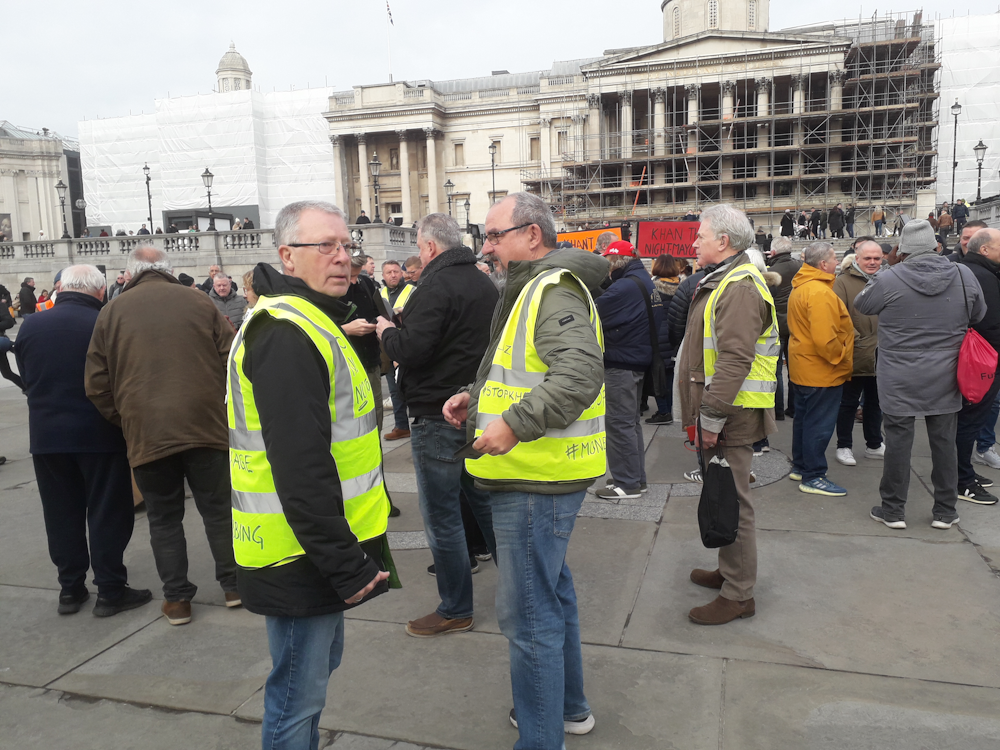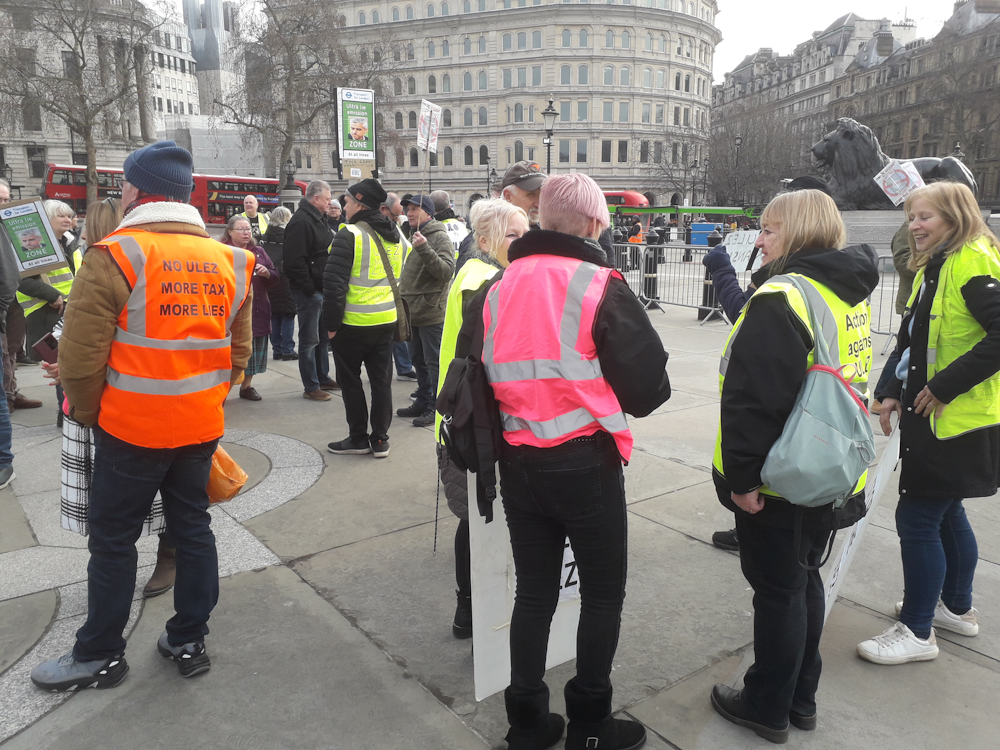 I would guess there were a few hundred there, which is a good start, and after attending a couple of local demonstrations in Sutton (18 Feb 23) and Bromley (11 Feb 23) at which my phone was refusing to take photographs, here we are again at Trafalgar Square on 25th Feb 2023, with a new phone! This demo featured a walk down to Downing Street.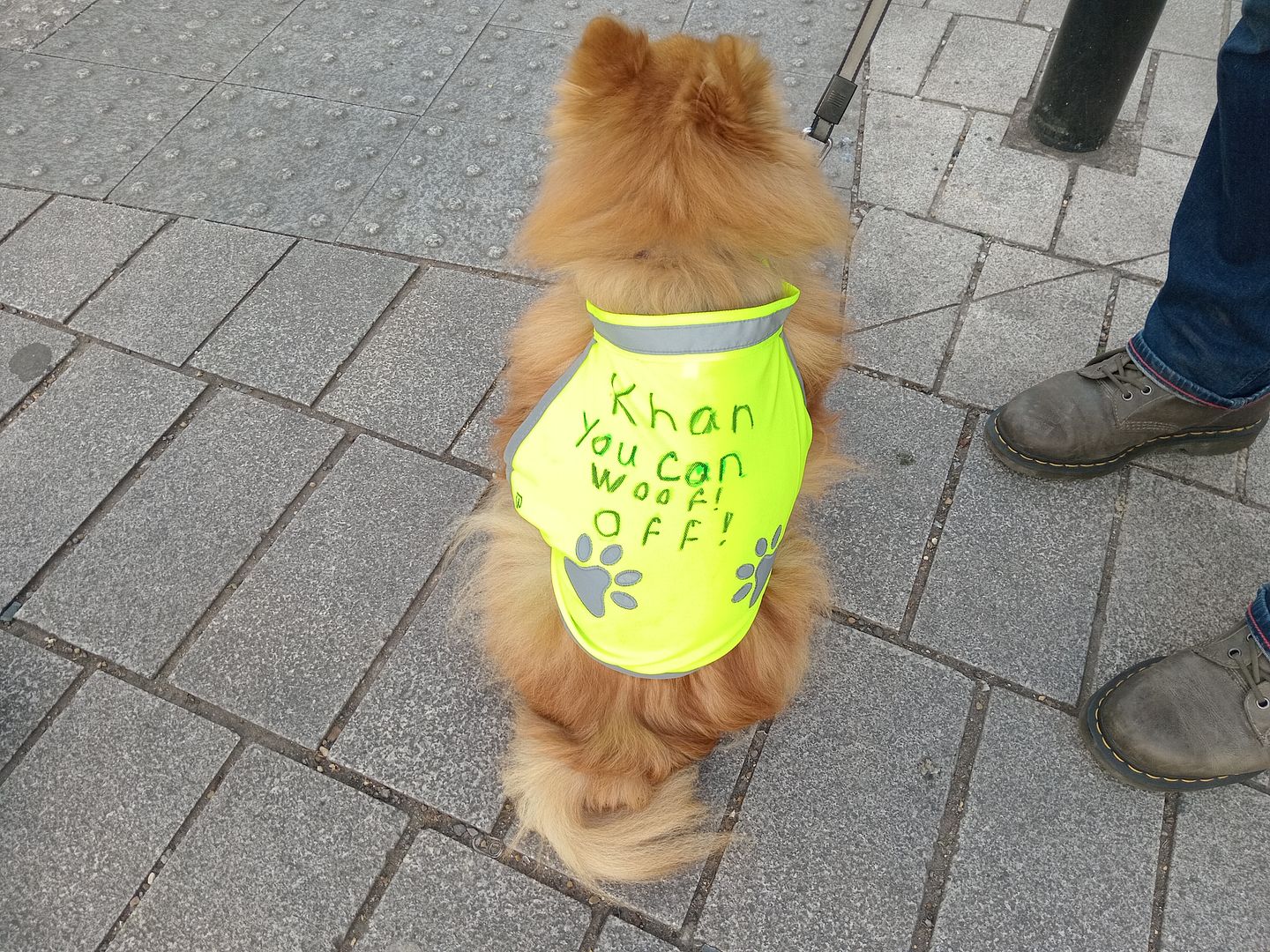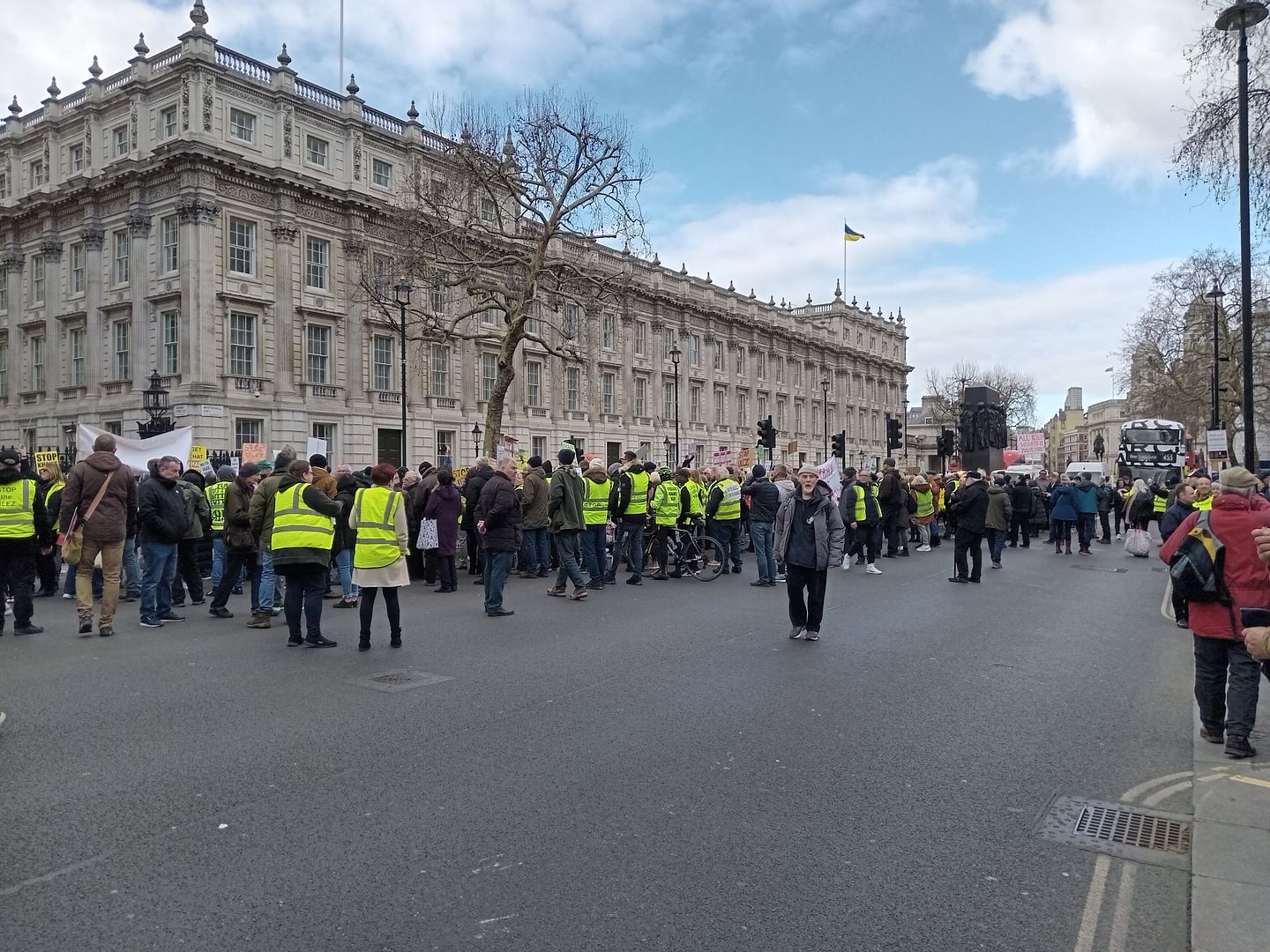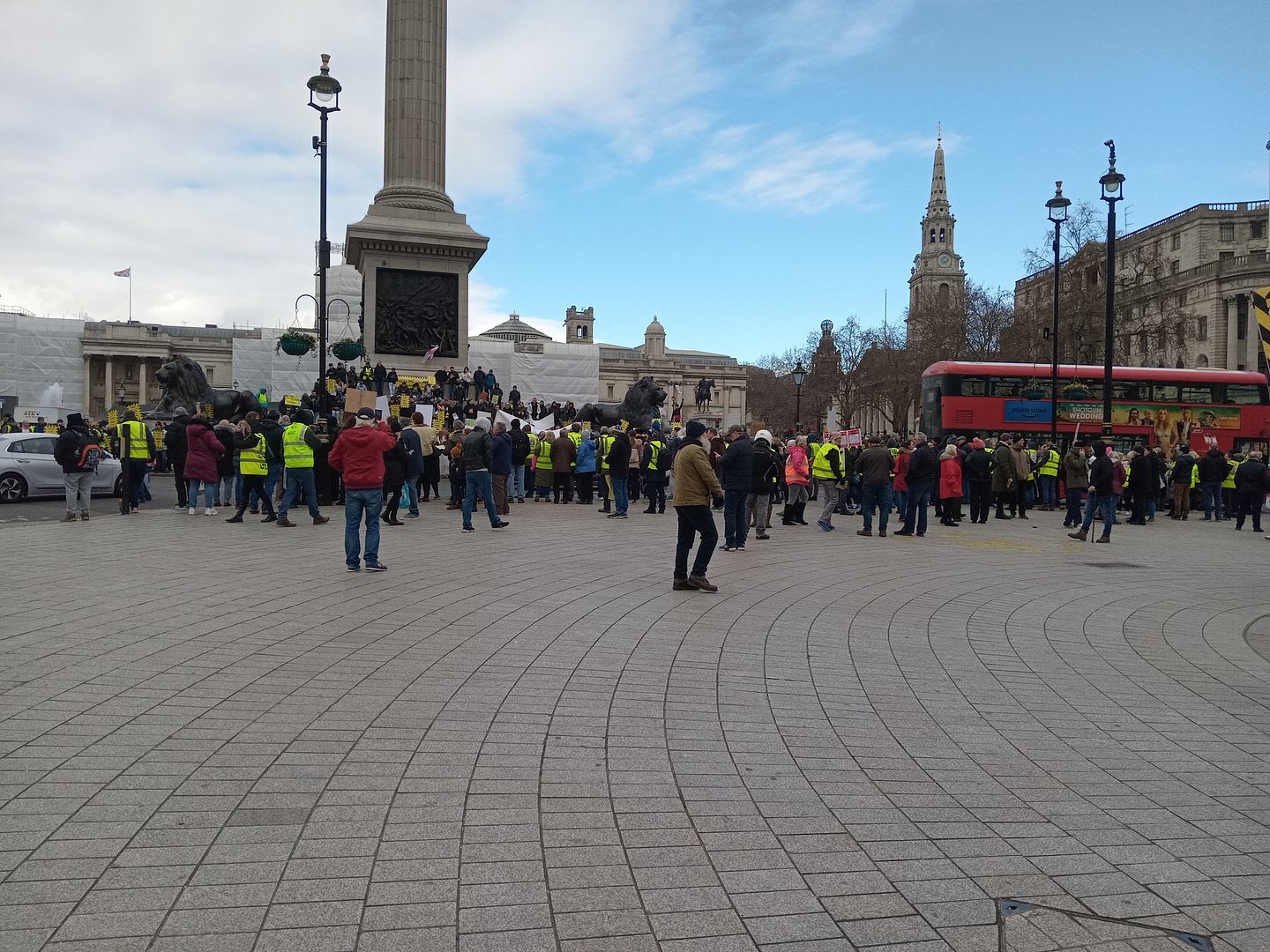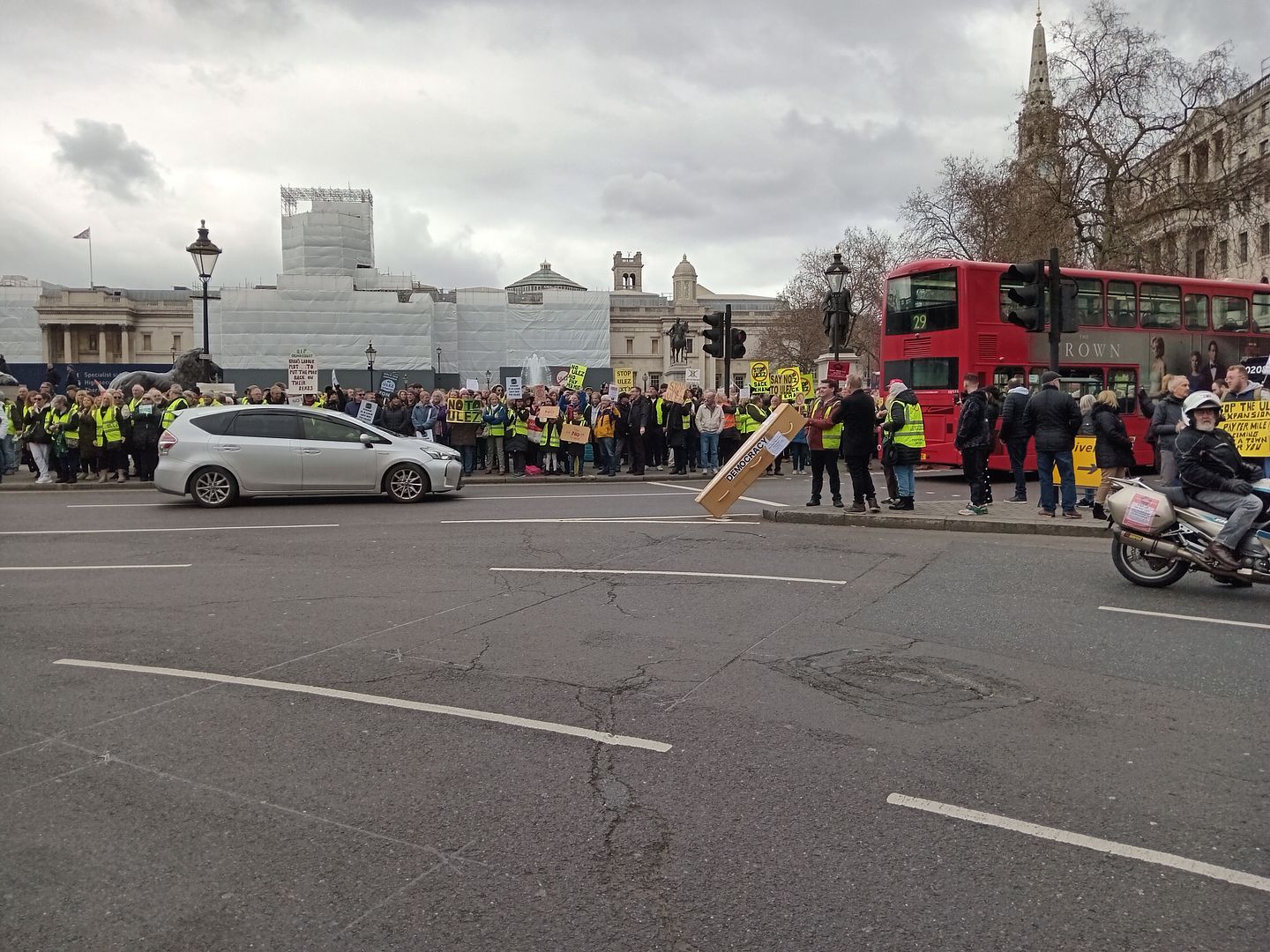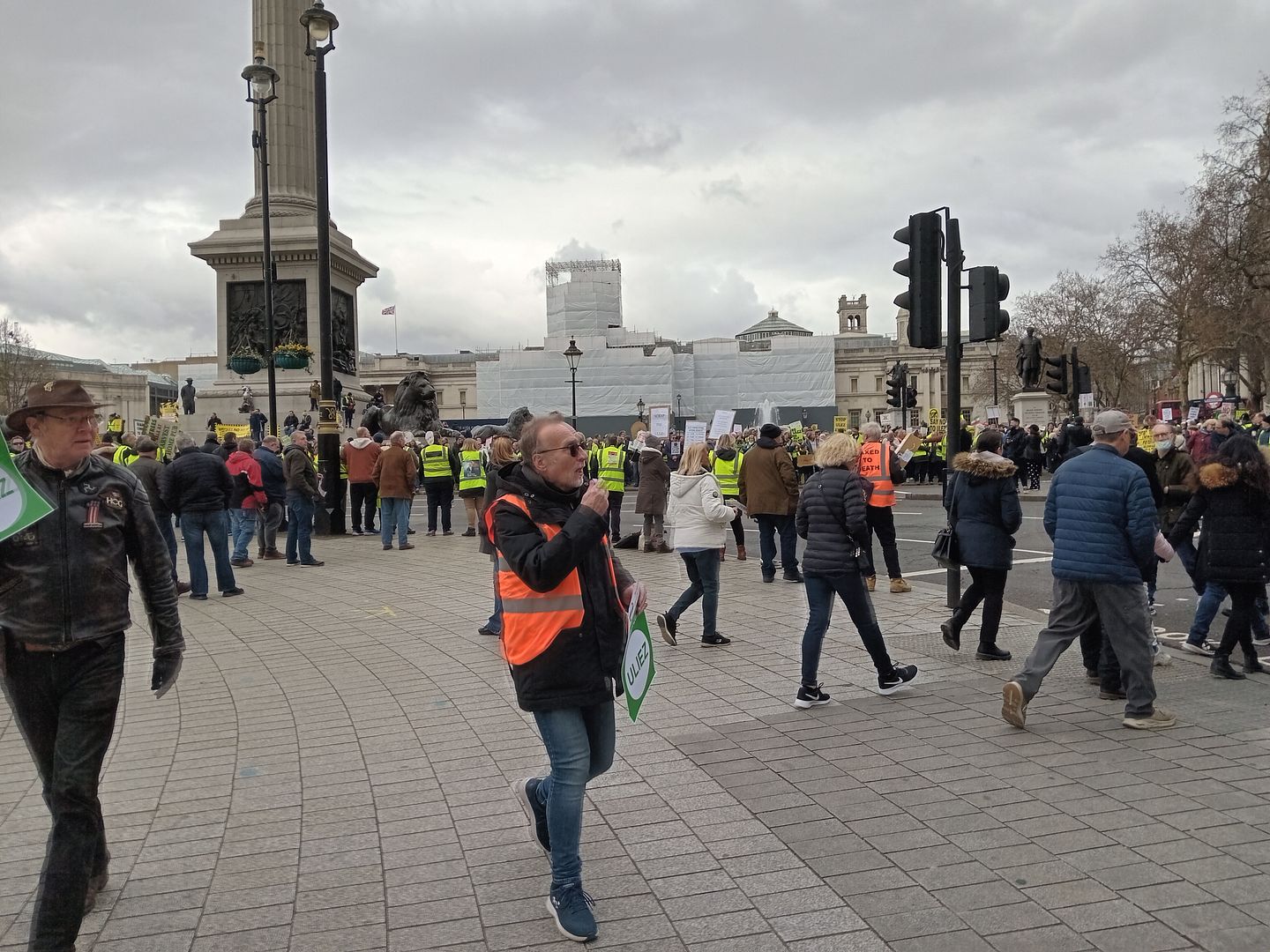 As an old car hobbyist, I shouldn't really be taken as seriously as people who bought new diesel cars in the early 2000's. Back then the government was saying that diesel is best for the environment (which I remember being suspicious of at the time) and the much greater fuel economy cf. petrol led many people to buy them, as they did in Europe (yes, I am trying to sound cosmopolitan again). The fact that diesels made before 2015 have to pay the ULEZ is a big hit for those people. For petrol cars, it's generally those made before 2005 that have to pay although some with especially eco-friendly engines made as far back as 2001 (e.g. Ford Zetec) are compliant. Anyway, here is Trafalgar Square again on 18th March 2023 with attendees partaking of a longer walk past Downing Street and down to Parliament Square - our confidence is growing, hah!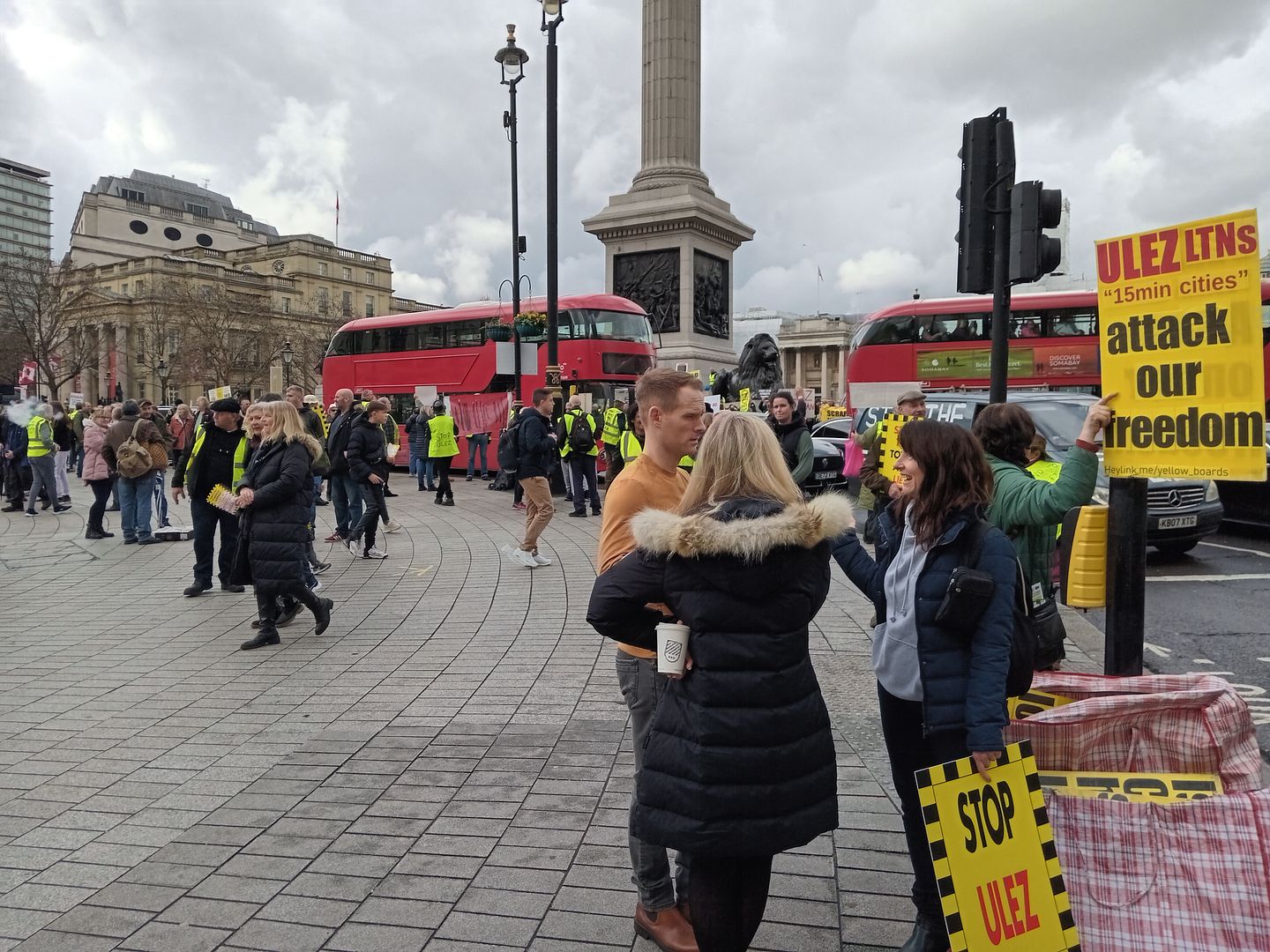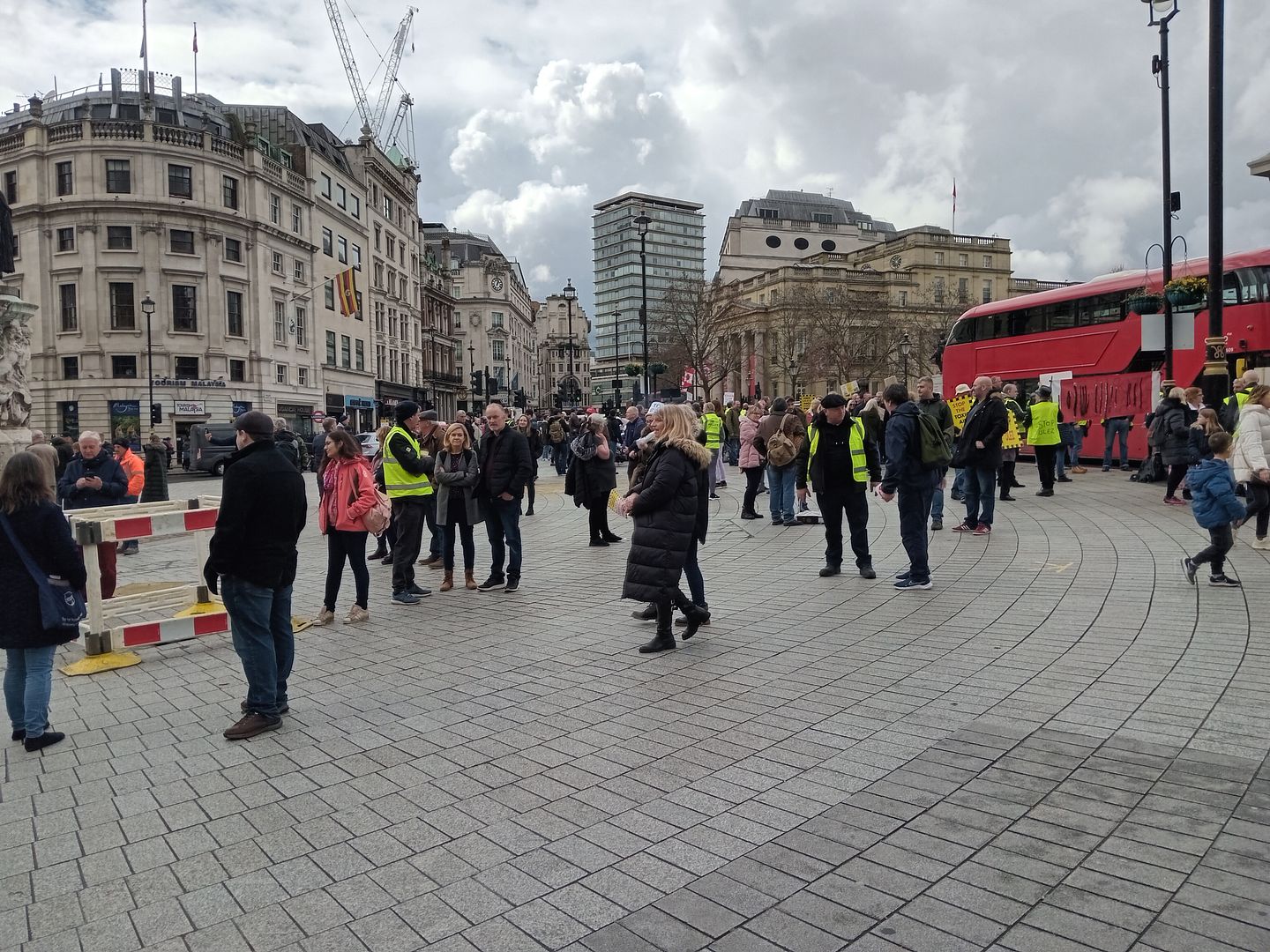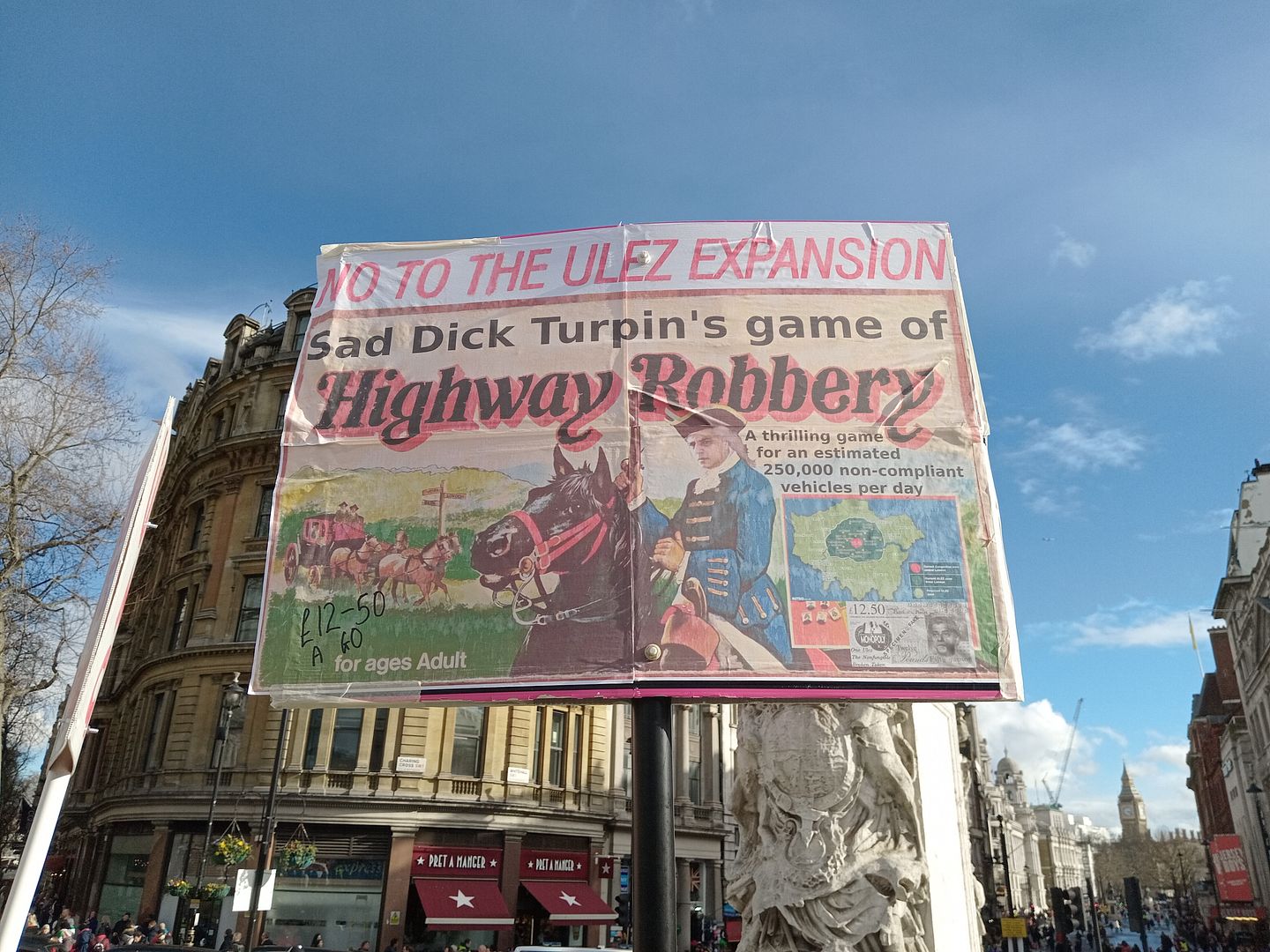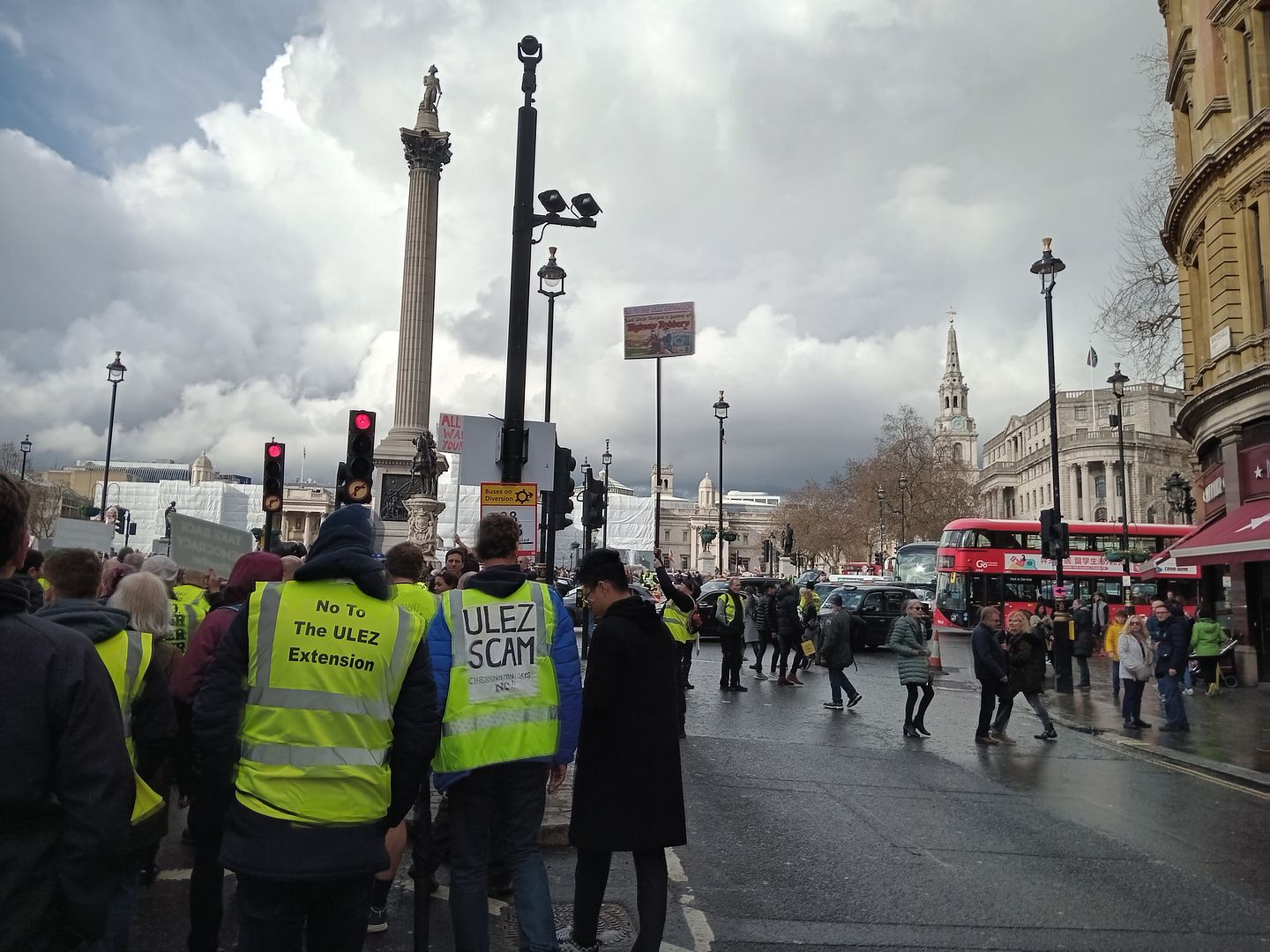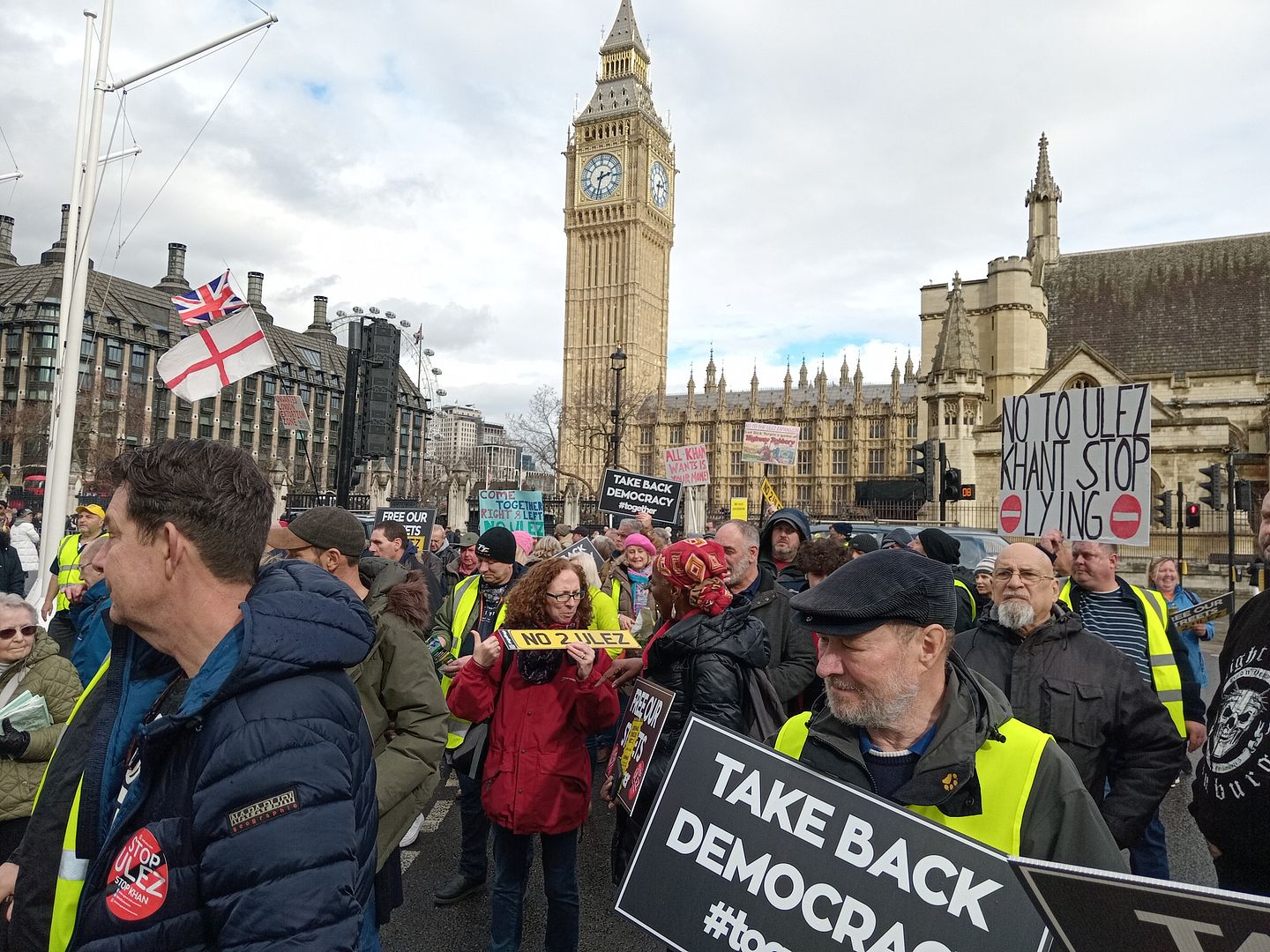 My 3 Volvo 300's which are not compliant do become exempt from the ULEZ charge in about 8 years time when they are over 40 years old. At that age they are taxed as historic vehicles at no cost and even the MOT test is not a legal requirement although they have to be up to MOT standard if used on the road. If the ULEZ expansion happens in the Autumn, my plan is to store the Volvo's and then start using them again when they become exempt. For the oldest that will be in 2029 but my favorite run-about (Deep Blue) will not be eligible until 2032, which seems not too bad as a semi-oldie, but as someone who had radiotherapy last year for a lymphoma (thankfully only low-grade), it may be too long a wait and the emission goal posts may well have changed by then!! Anyway, here's another local demo at Wallington on 25th Mar 2023.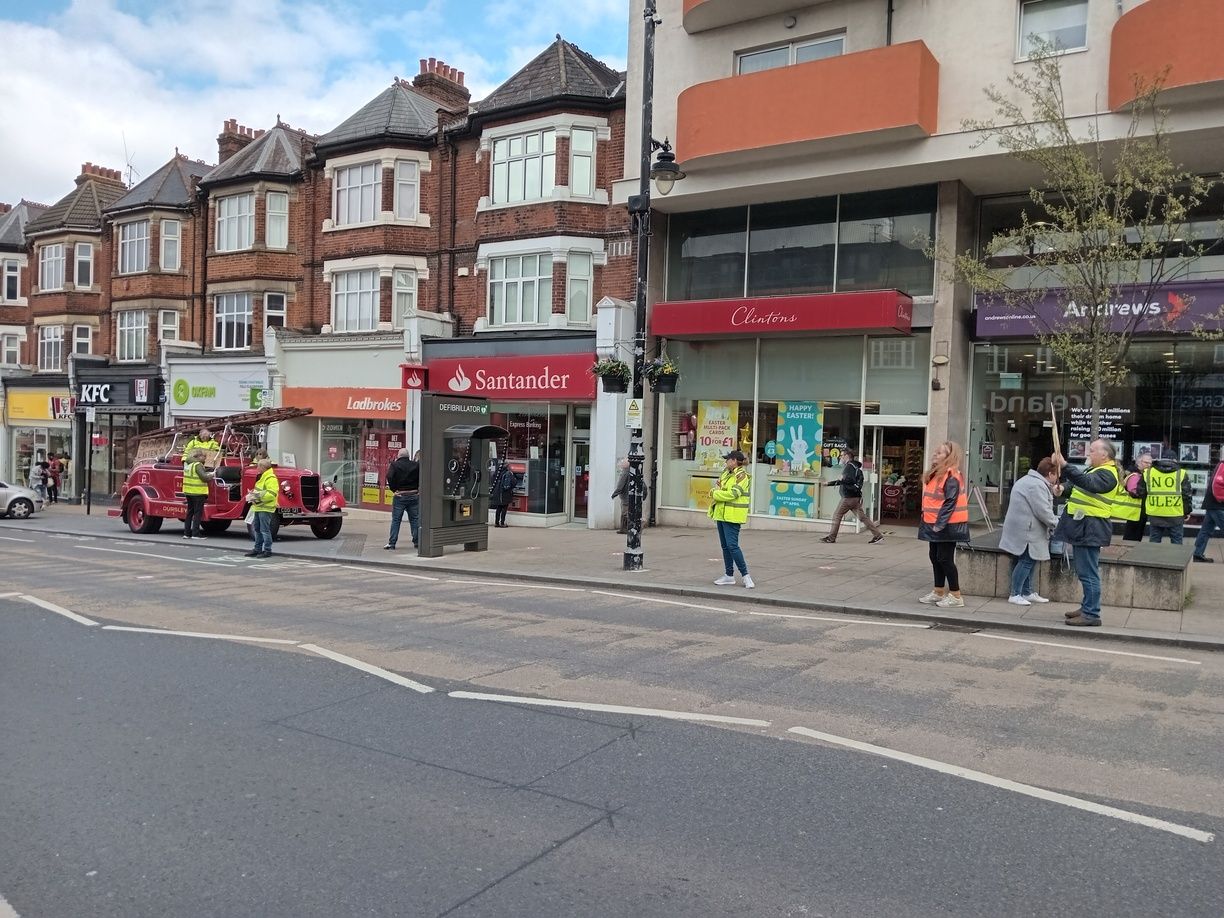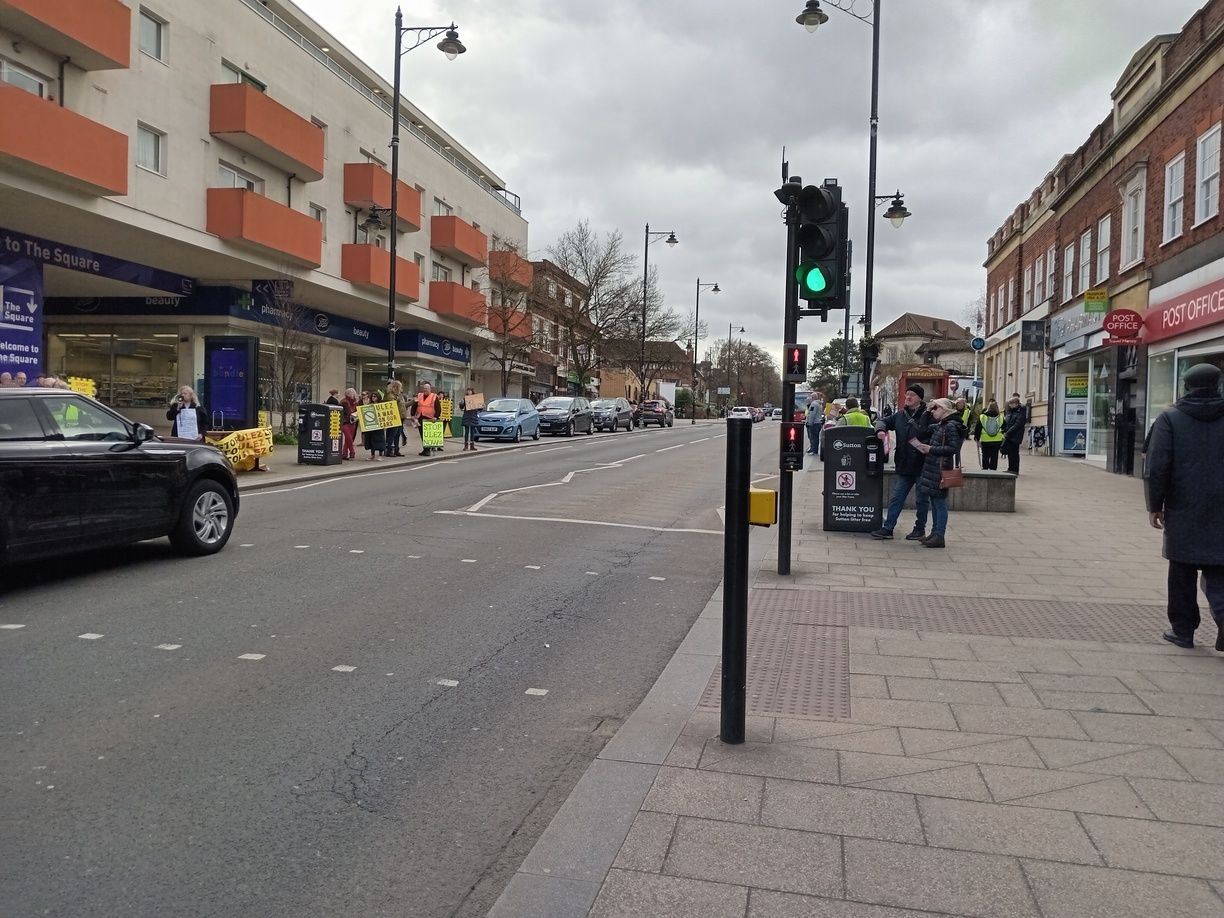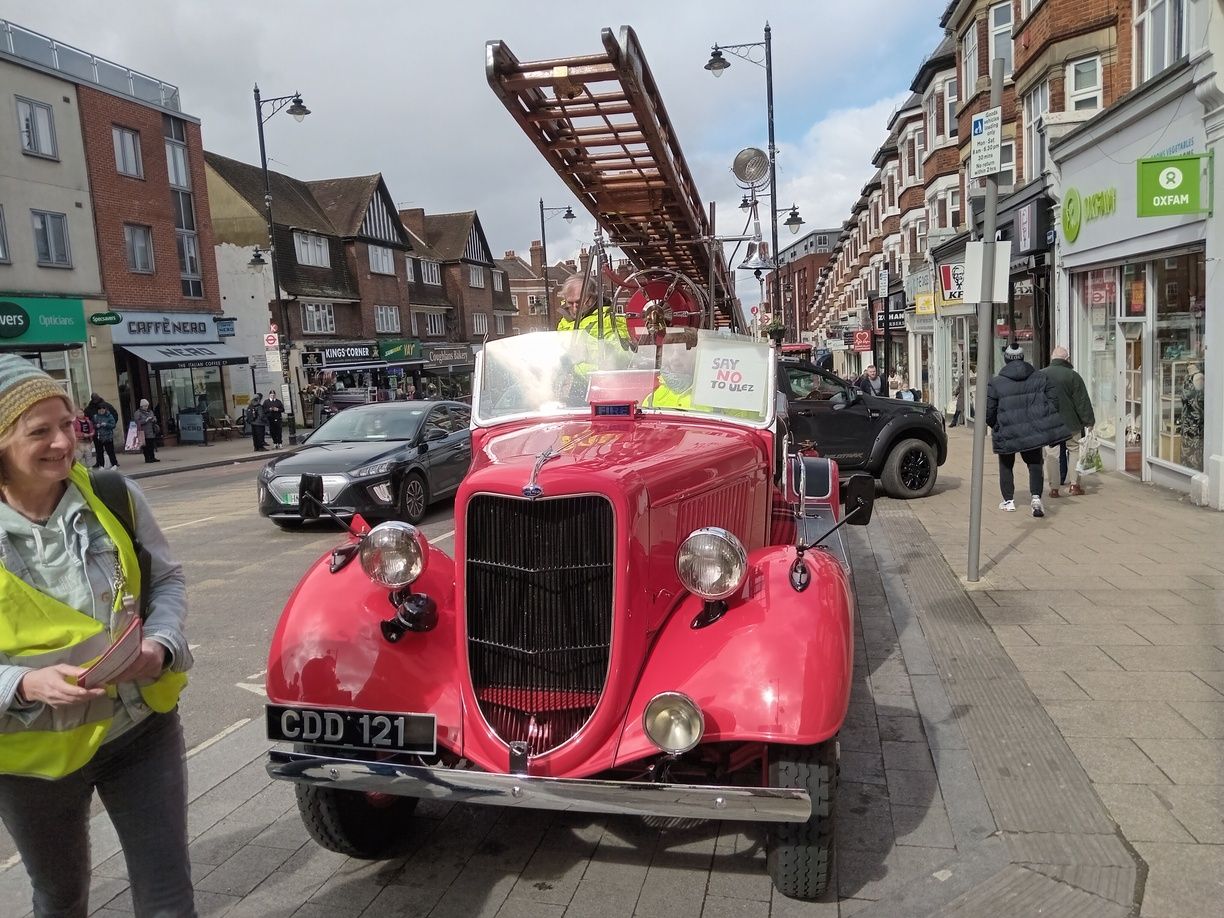 I also have a Hyundai XG30 saloon which was made in 1999 and that will not be exempt until 2040. I don't really know what to do with that one. One option I might look into is using storage outside the ULEZ zone e.g. if I could rent a garage or two outside the extension zone that would allow me to drive it and maybe one or two of the Volvo's to keep them roadworthy but it would be very inconvenient.
Anyway, it's 1st Apr 2023 and there is a demo in Epsom which was better attended than my photos would suggest - I only remembered to take some pictures when quite a few people had drifted away and I am, as ever, taking my photos from too far away without any zoom.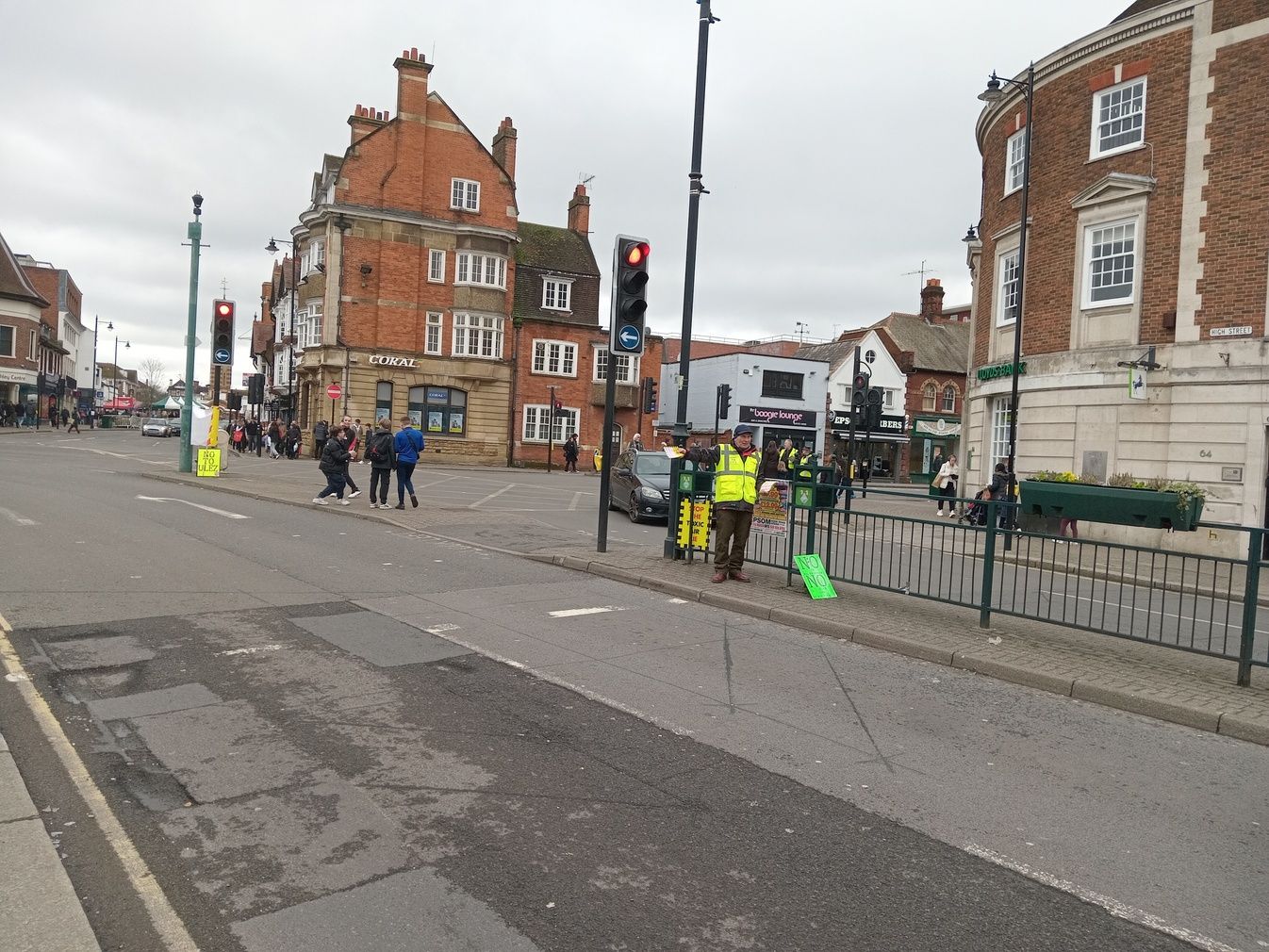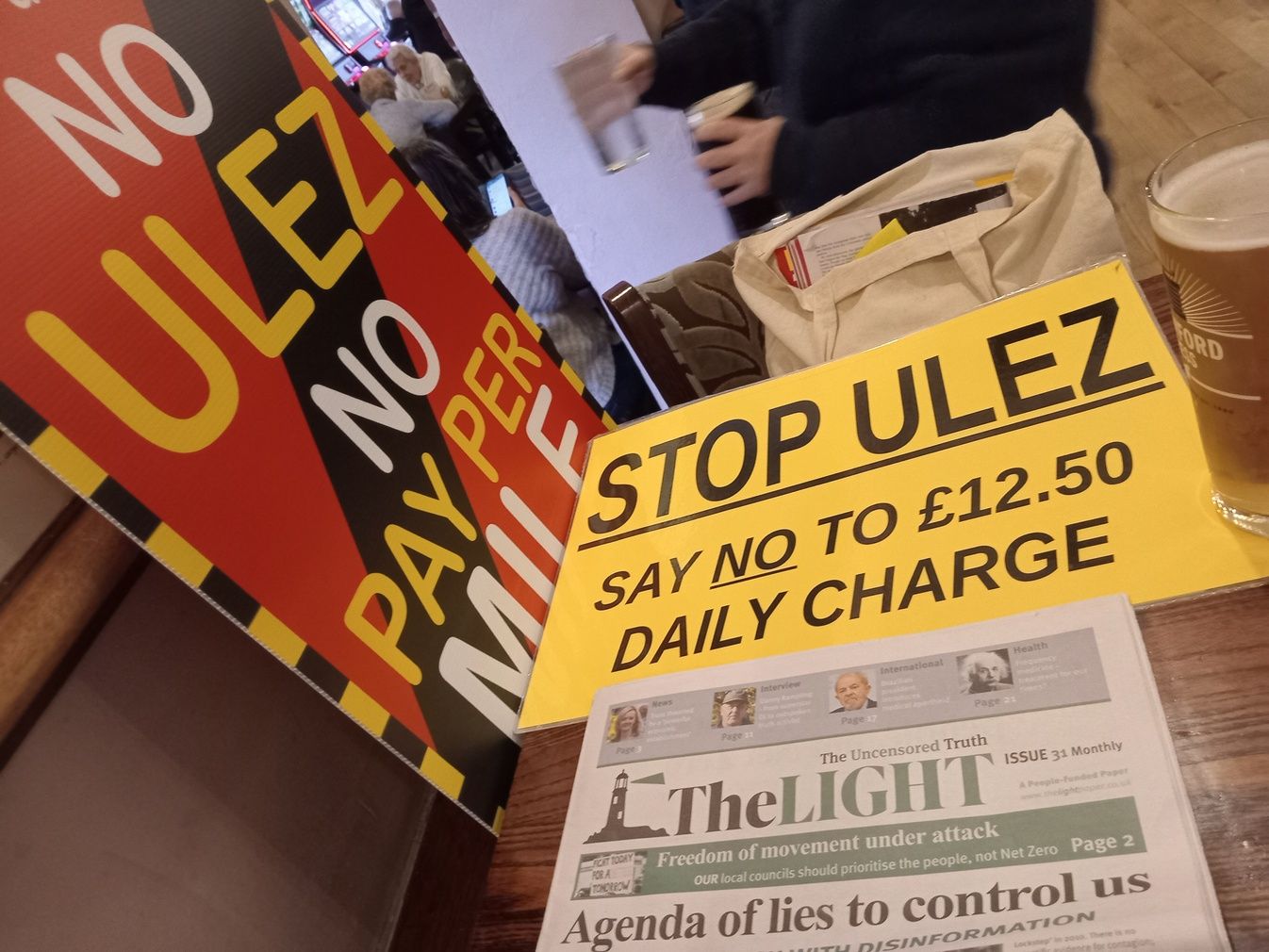 The child whose death about 10 years ago was attributed to pollution is obviously a very emotive thing. The first coroner did not attribute it to pollution but the mother went on a long legal battle (assisted by the mayor who has a well-known ulterior motive) to get a second inquest which gave the desired result. What I have seen in the press of the supposedly expert evidence presented at the second inquest is fairly sketchy in my view, almost comical. Anyway, one cannot say too much about that for fear of being accused of being racist, etc, as the pollution narrative has been so woke-ified. In fact I think calling the whole thing ULEZ is meant to discourage discussion of the subject because, in an everyday conversation, anyone who doesn't know what it means would probably think you are being rude. I jest not - it's so rare to hear anyone talking about it outside of the demos that I fear that many folk with old cars simply do not know what could be coming in the Autumn. It is being discussed more in the media now, but really only in terms of the scrappage scheme not being generous enough. Of course, as an old car fan, any scrappage scheme has to be more evil than ULEZ itself.
And now it's 4th Apr 2023 when there is another local protest in Mitcham which I attended before catching the coach to Sheffield - no rest for the wicked.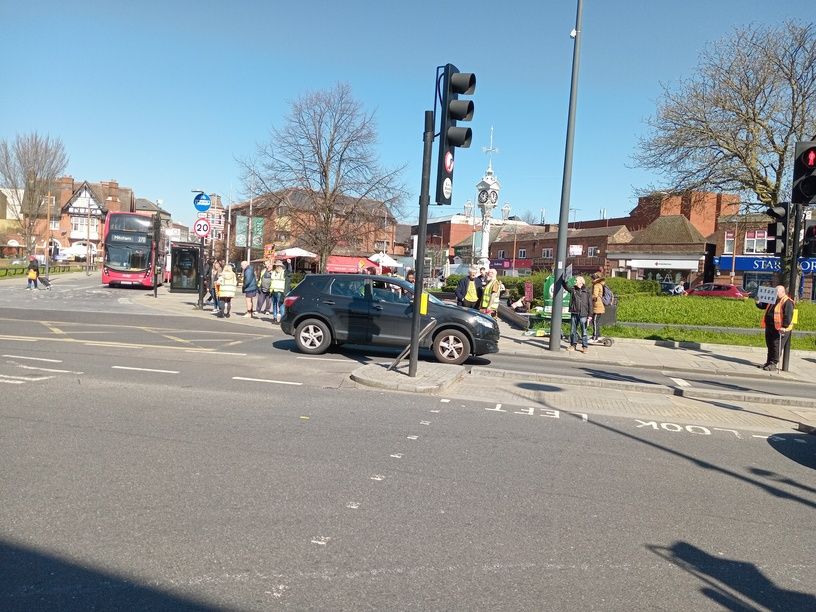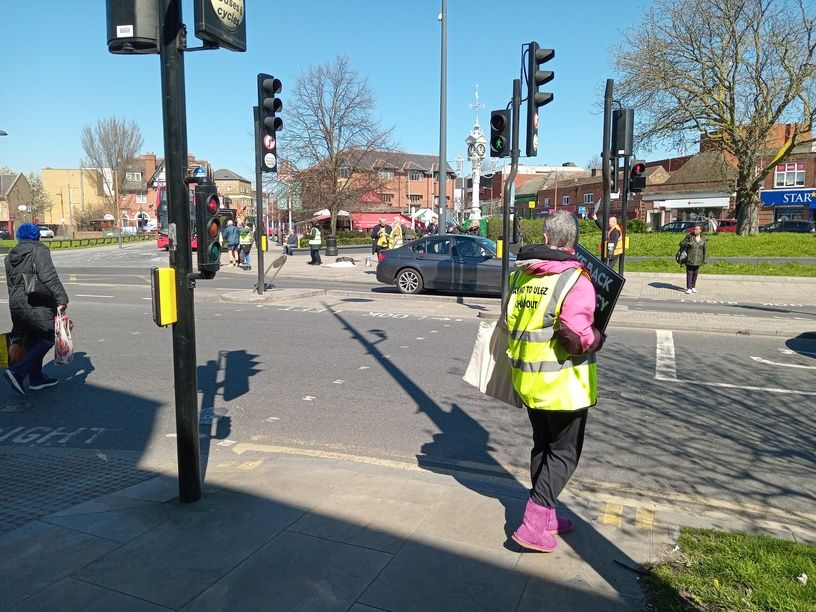 As you can see it's a very seriously polluted part of London and all the global warming going on is causing heavy hail storms in April - all over my new car stickers.
Time now for another do at Trafalgar Square on 15th Apr 2023.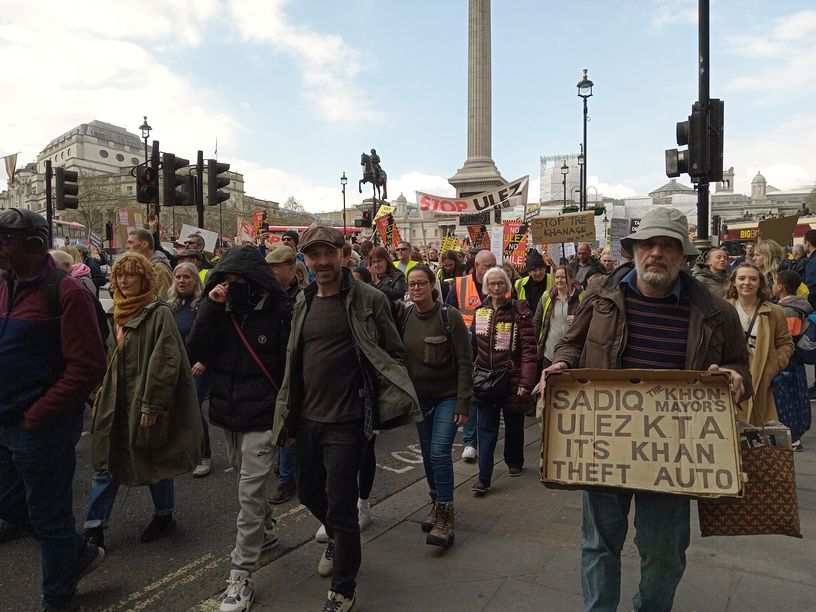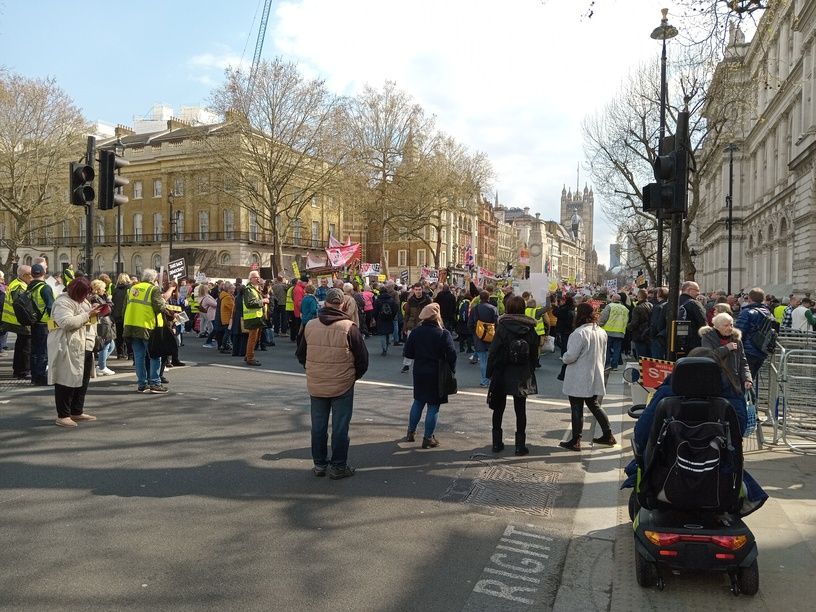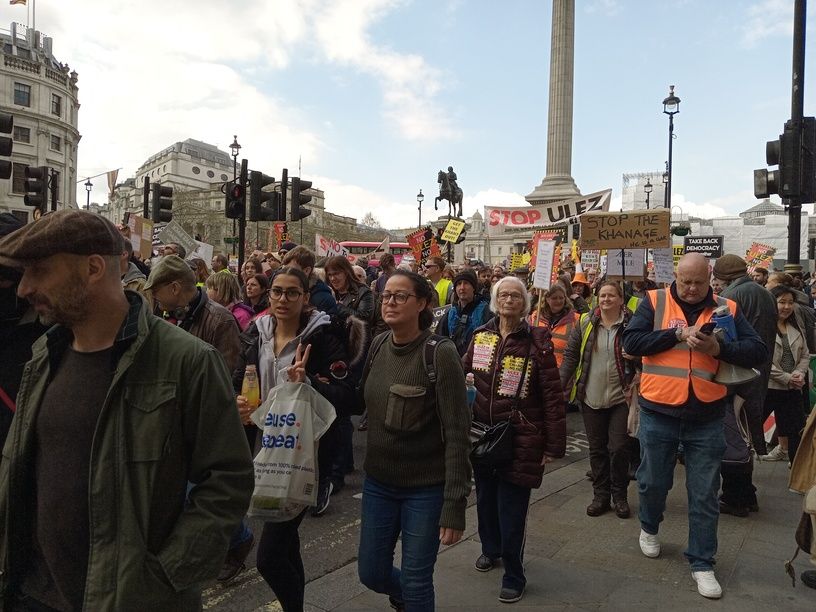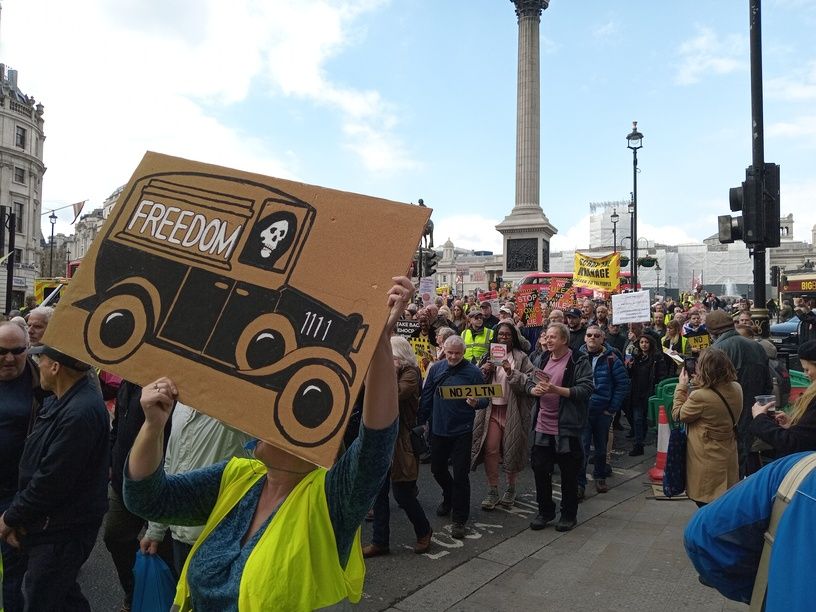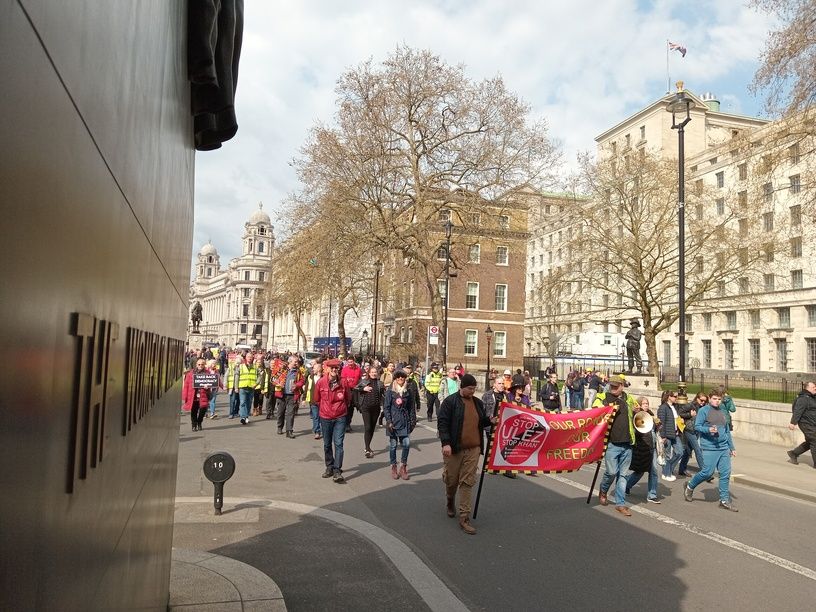 Another local event, this time in Wallington again on 25th Apr 2023 and, Lordy, this one went a bit wonky as some old fella got knocked over, but he was OK a day or so later. Shame all these old people have to walk about in the road to save their old cars ;-0 ;-0 Anyhow, there was an epic Reliant Robin on top form which I videoed a couple of times:
here
and
here
.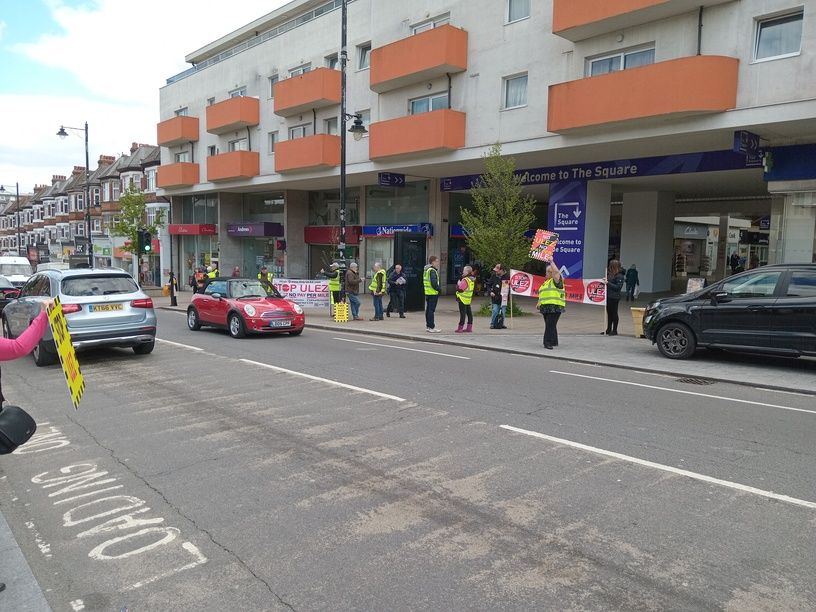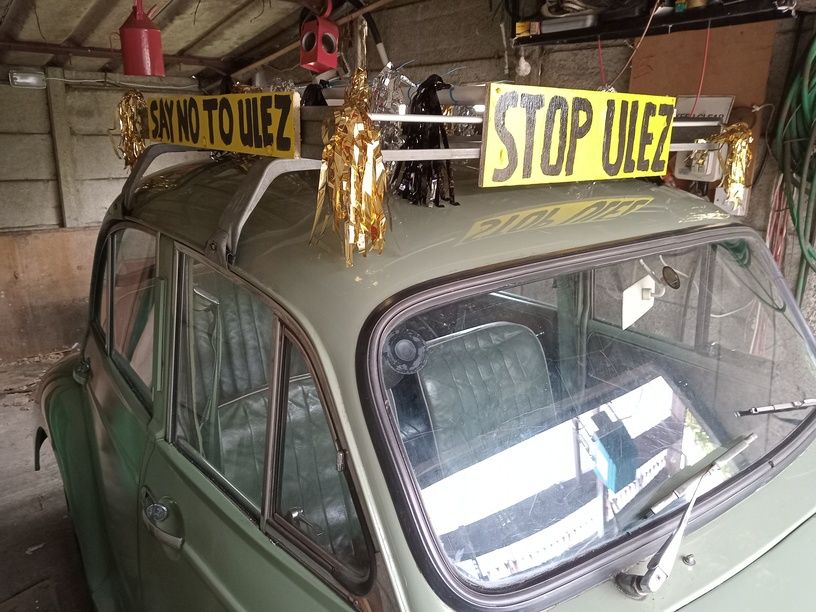 As shown above right, it's time to get my old moggie decorated up with the vintage roof rack in place and some suitable signage. I got it over to Sutton for a protest at the council meeting on the day before the Wallington event but I was so late I only caught the end of the actual demo and had to see the meeting in the overflow telly room as the main meeting room was overbooked. Anyway, some of the talks are here, here, here and here. To be honest I didn't stay for the rest as it was all heavy duty speeches so I went to the pub for a bite to eat on the journey home, although I think a full recording of the talks is on the web somewhere - to be checked.

We press on and on and here is another do at Croydon on 29th Apr 2023 which, as a local sort of event, had a pretty good turnout of anti-ULEZ'ers and general yellow boarders. There are some videos here, here and here. Nice one, top one, sorted.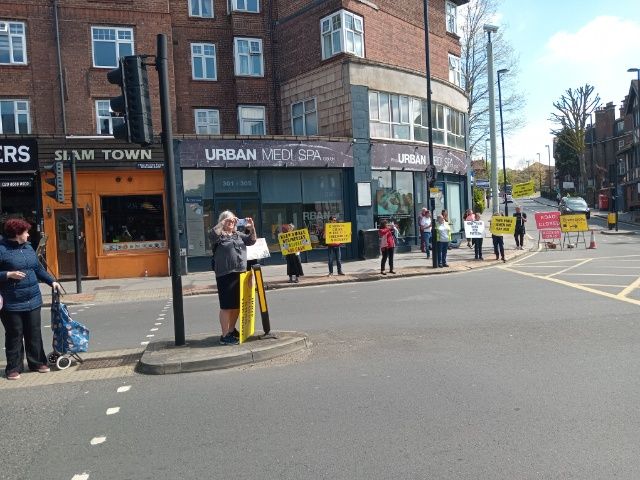 And now it's 30th Apr 2023 and everyone is at Orpington, as shown in the photos below with a few more videos
here
,
here
,
here
and
here
.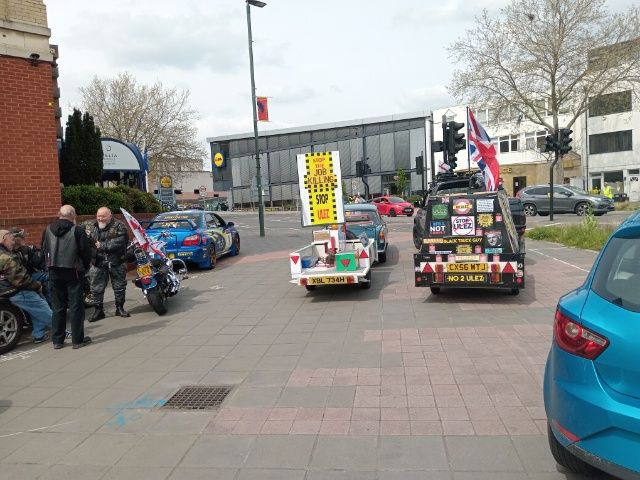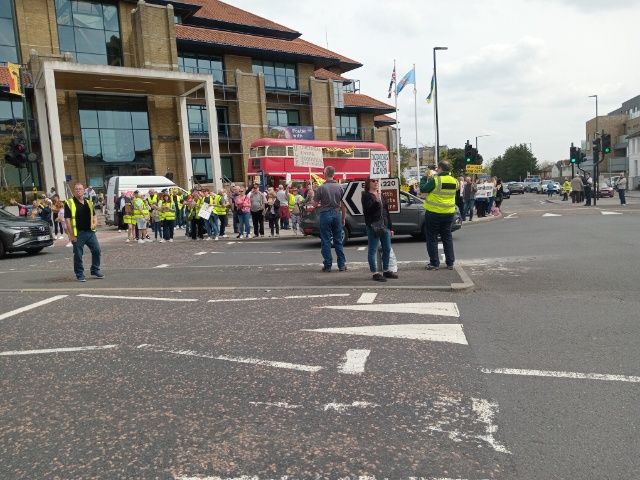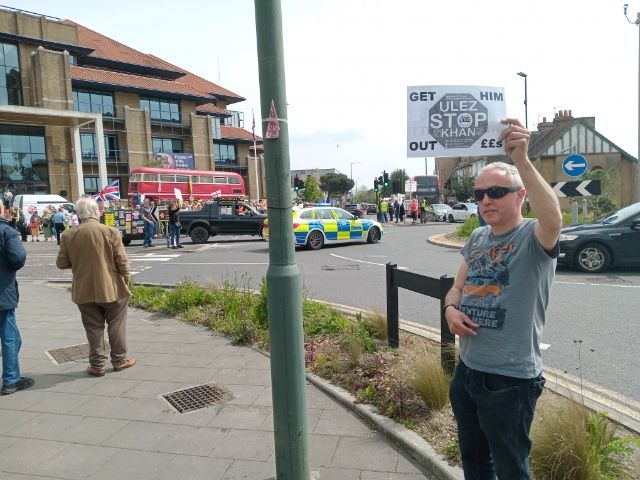 The environmental impact of scrapping cars is a major issue which the green lobby seem to ignore totally. Someone posted on Facebook that "The manufacture of each new car has a carbon footprint of 15 to 40 tonnes. This is the equivalent of keeping a non-compliant car on the road for another 50 to 100 years. I certainly remember reading magazine articles 30 years ago saying the same thing i.e. keeping older cars on the road is better overall for the environment. In addition, there will be an inevitable improvement in emissions quality as new car technology improves with time, etc. Moreover, I really do pity people who have to put up with me saying this sort of thing weekend after weekend and I wonder why on earth all of their effort is necessary when we could just be getting on with our lives, interests, etc. Indeed, on this very topic, I have accepted that the 360 emissions really are awful - it's trying to gas me and everyone else within about 40 feet, so, as a concession to the mayor, it is put to rest for a few months while things pan out in my head.
Meanwhile, May 3rd 2023 saw the first anti-ULEZ CONVOY which I filmed as it went through Trafalgar Square.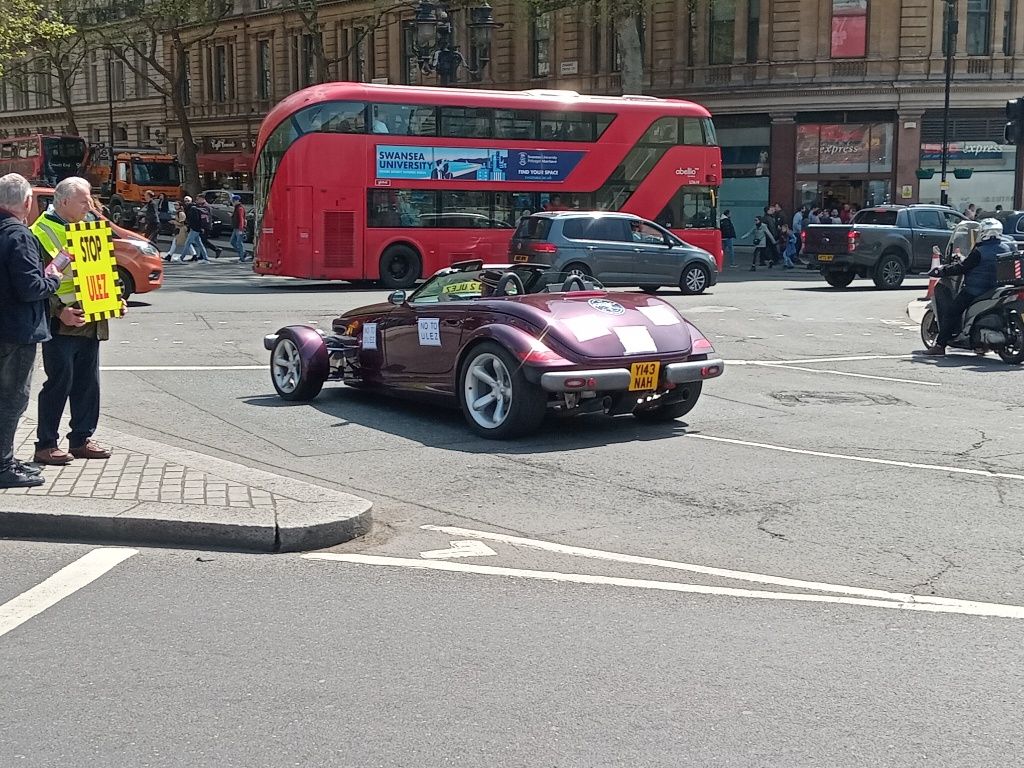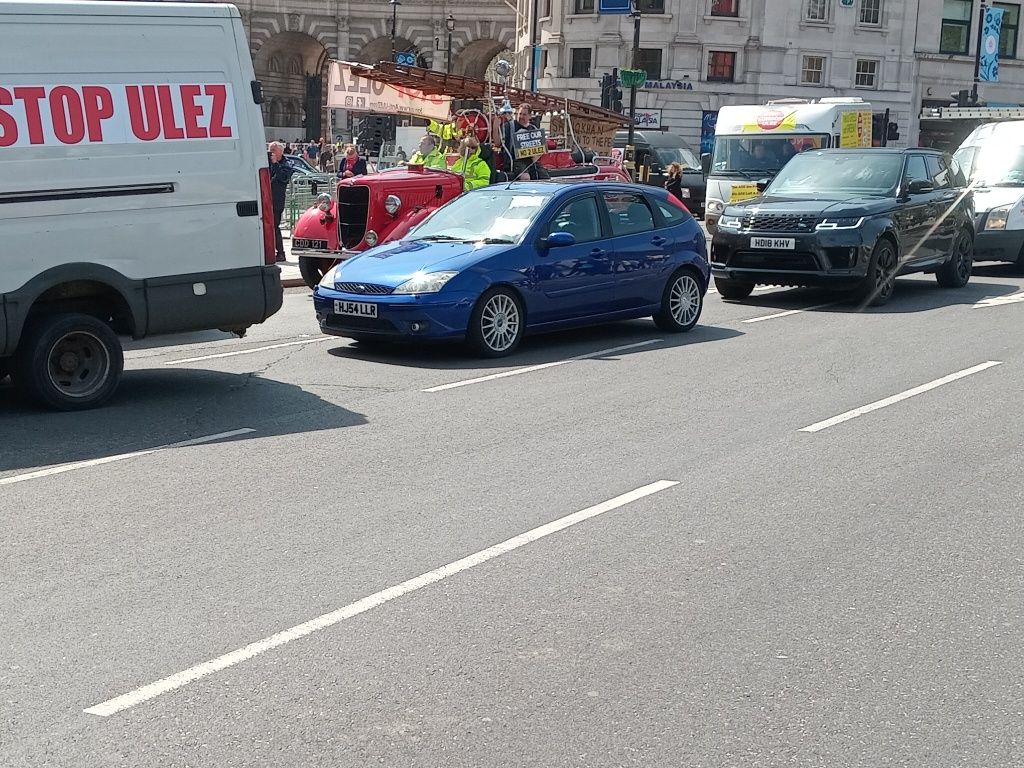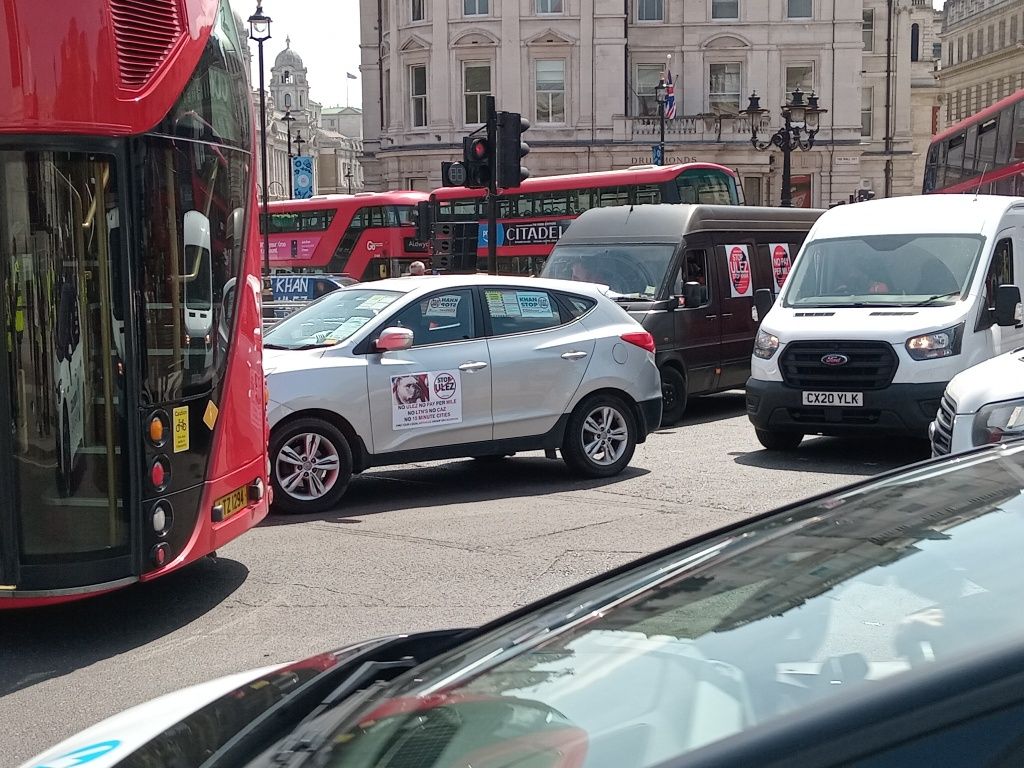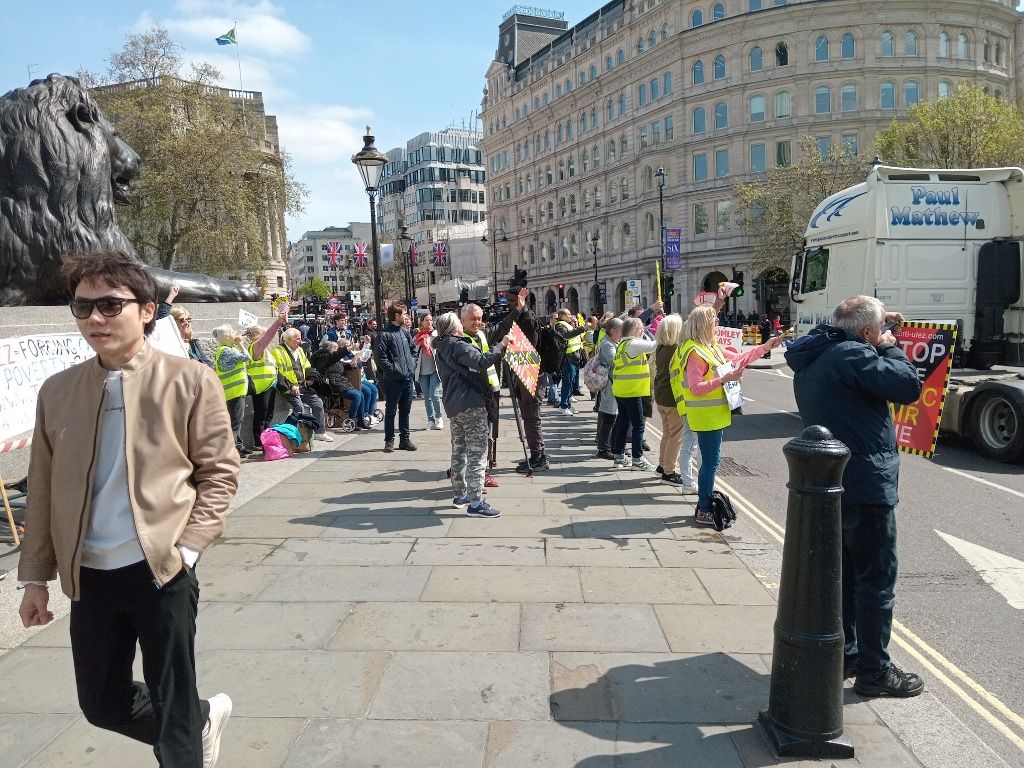 That was a good old day and, love them or hate them, my videos are
here
,
here
,
here
,
here
,
here
and
here
.
Right, so what else are we doing? Well the plan is to have a bit of a protest in New Malden and that would be an ideal opportunity to give that moggie a run up and down the high street and maybe even entertain a few folk. A few test runs remind me that there is an issue with the heater fan which has since 1985 worked very poorly but now it refuses to work at all. So here we are dismantling it to identify the problemmo.
Removing it required a bit of disassembly of the glove box on one side and removal of the metal clips. Basically I started by checking the rheostat shown on the top right and that proved to be OK i.e. the resistance varies pretty smoothly across its range. This suggested that the motor itself may be knackered and it was eventually removed from the heater matrix with a wobble bar and dismantled. This showed that it was pretty much clogged up with rust and simply needed cleaning out. The metal cover was given a bit of Kurust and painted on the outside while a slip of ancient grease-proof paper at the back was replaced with a new item cut to size. Much care was taken to make sure all the little washers etc don't go missing.
The commutator was cleaned up to improve the contacts made by the brushes, but that was probably OK anyway and after greasing here and there it was put back together again and was found to work just fine! Everything was eventually reassembled correctly but a quick Heath-Robinson test part-way through revealed that the fan motor was now working just
fine
. It was even given a dinky soft rubber knob on the switch which fits perfectly. This was a job which I didn't dare do in 1991, so 32 years later and almost in my 7th decade, I am over the moon! Maybe I can still do this stuff ;-? ;-?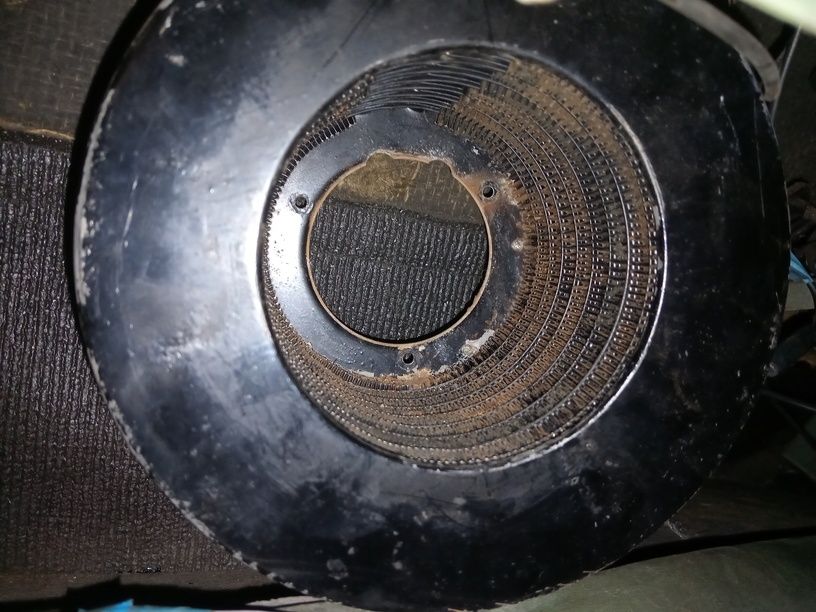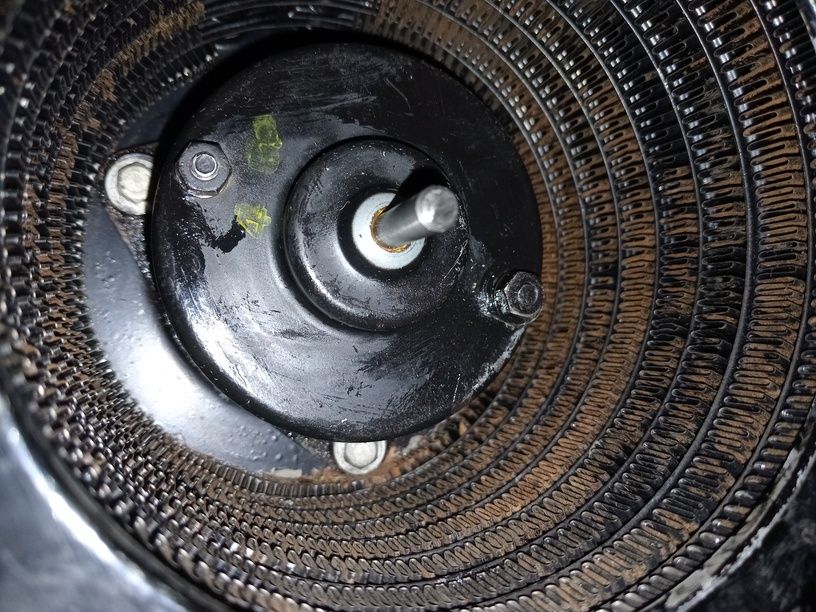 So now the moggo is working just fine and we can, with meticulous planning, call it into action for a bit of a local demo in New Malden on 13th May 2023. I got there about 30 minutes before everyone else and started handing out leaflets and within about 10 minutes two very helpful coppers arrived to say they were going to keep an eye on us. As you can see, they weren't folk to be messed with.
A bit daunting but we must carry on regardless and the
demo
subsequently ran as scheduled for about 3 hours. Cool work and a big thank you to all who came.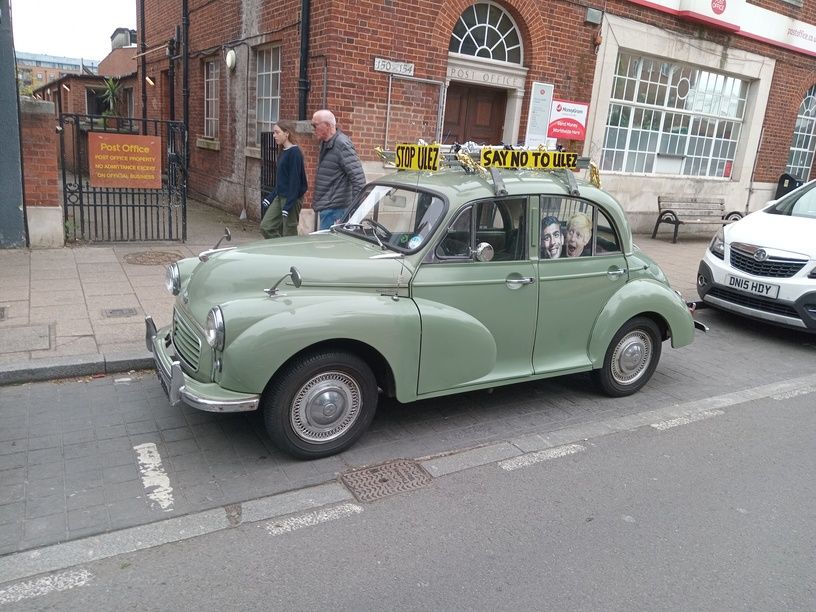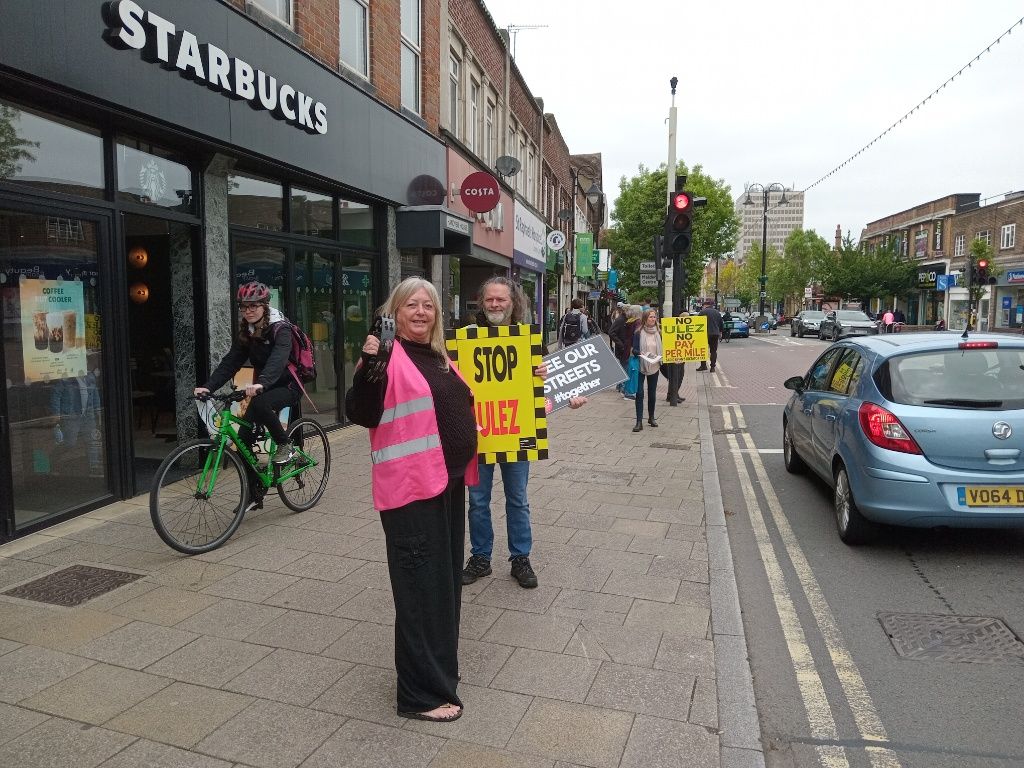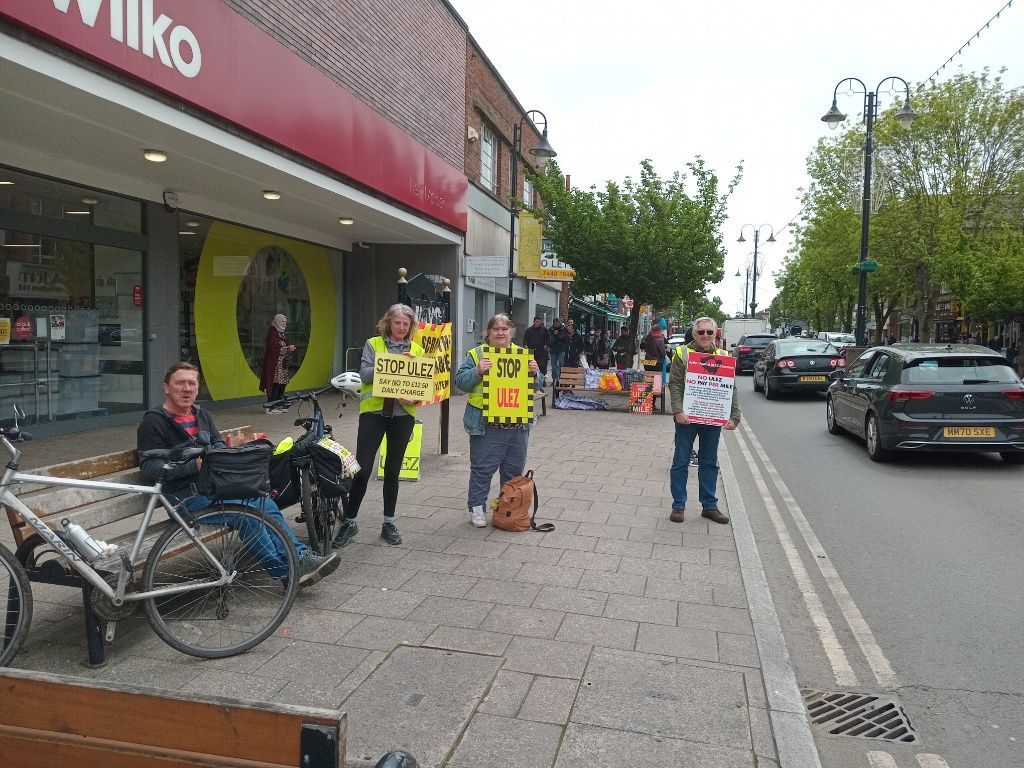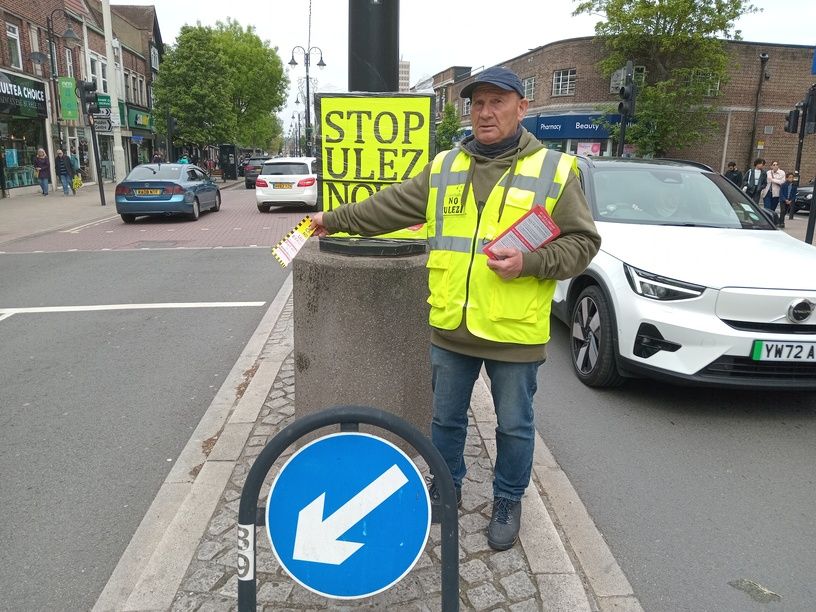 The last picture shows Fred, a true soldier, who brought all the banners and plaques. We will win this and indeed we march on to May 16th 2023 when we are back in Wallington.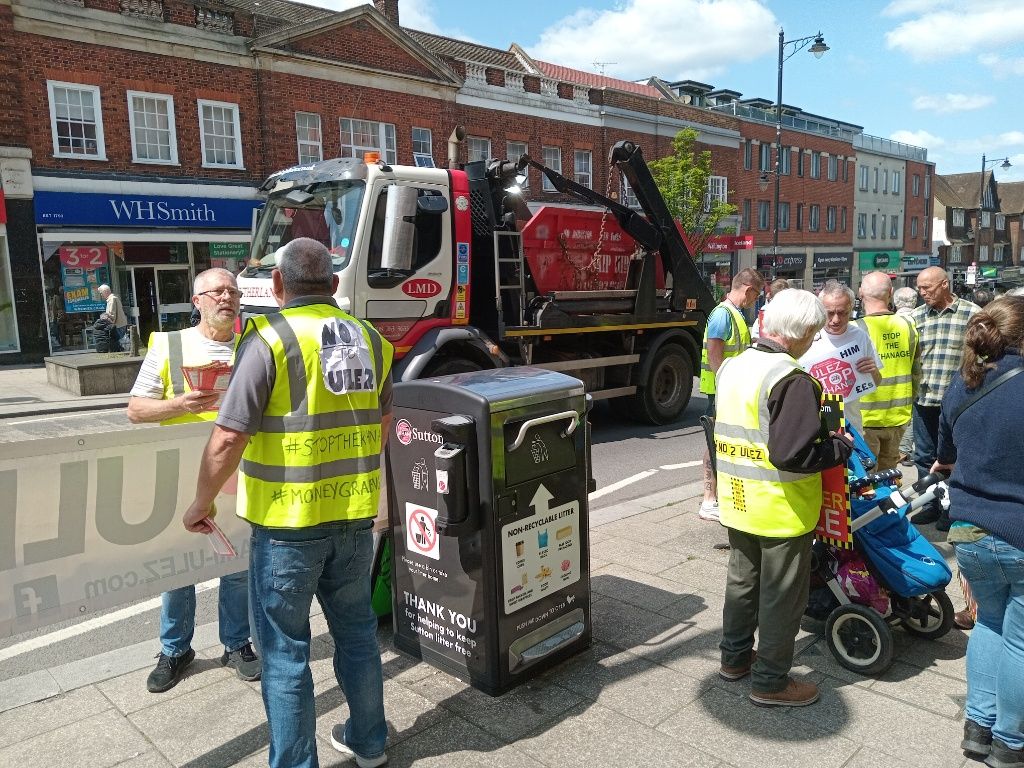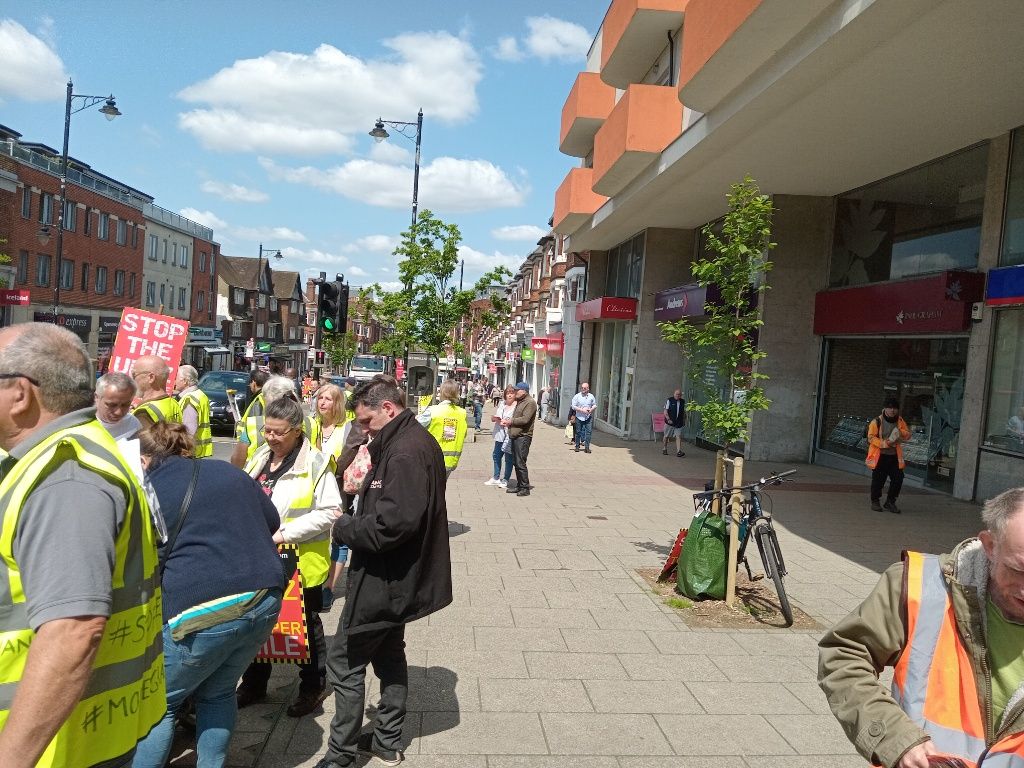 No accidents this time and quite a memorable number of people spoke to me on the street and just said how much they detest what is on the table. Onwards to 20th May and where are we now? It's Beckenham with a few folk from the conspirasphere but it's mainly about ULEZ and here are some pictures.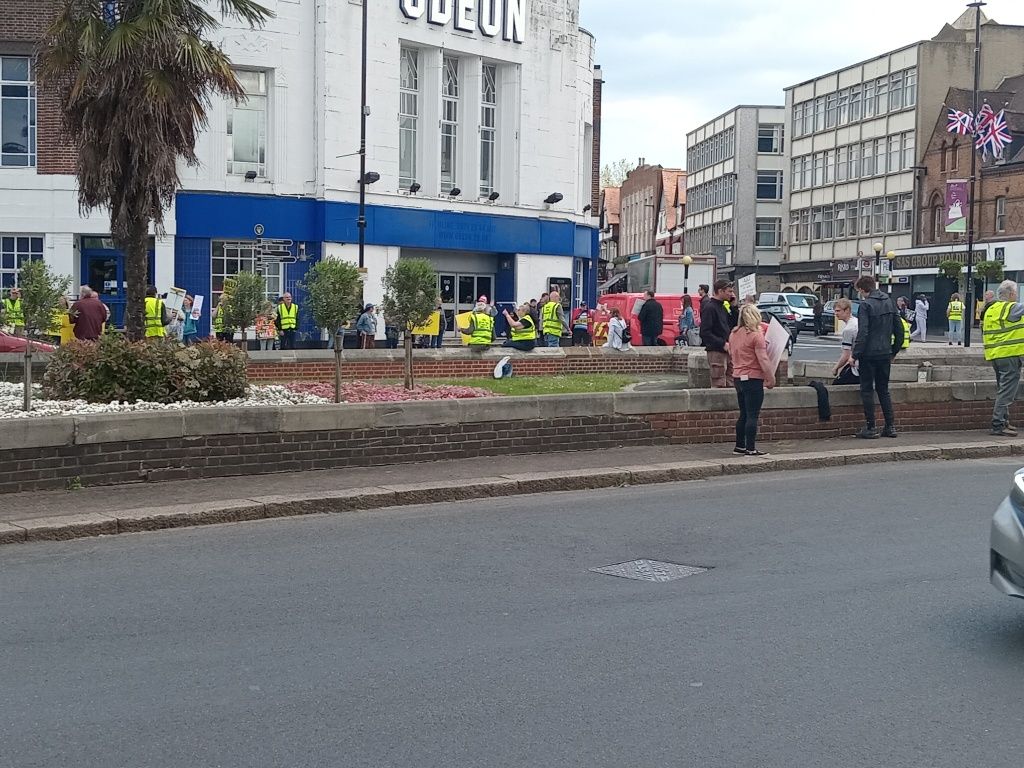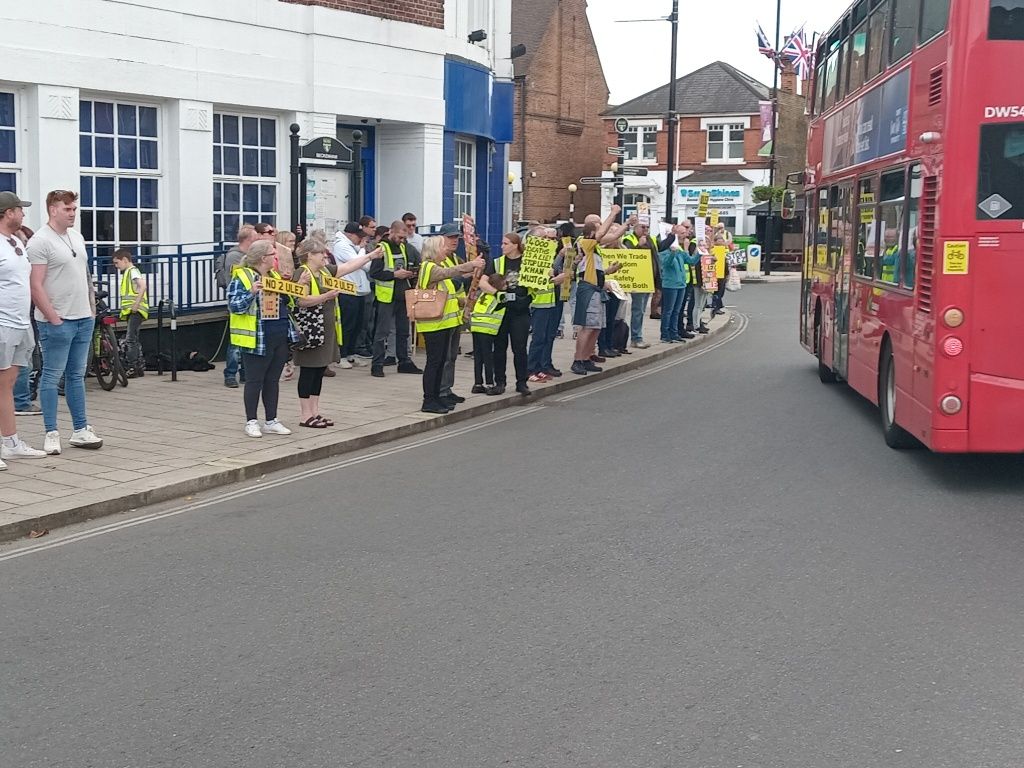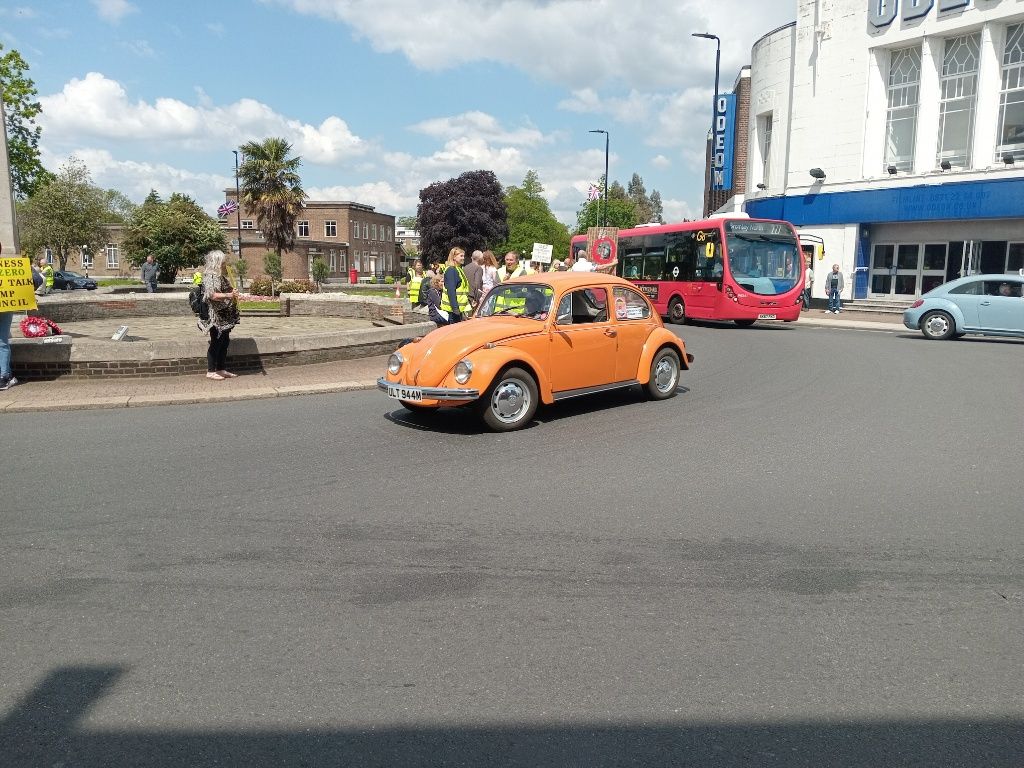 My videos from Beckenham are
here
,
here
,
here
,
here
and
here
. The following morning is spent leafleting at the start of what might well prove to be the last
London to Brighton mini run
. Note, they did indeed confirm that it was the last one a few weeks later. Poignant indeed, as were the fumes, thanks to unleaded petrol, but I mustn't say that ;-0 ;-0
A little protest on 24th May 2023 at the book launch by our noble mayor at the South Bank Centre where we were pretty-much relegated to the tradesman's entrance. Quite a few of the braver people bought tickets and got inside where they flipped their lids at different stages throughout the lecture - indeed, I heard that some got in without tickets at all. Too much for me - I stayed firmly outside in the cool of the evening. A snapshot of the event can be found
here
and a very good account of the overall proceedings can be found
here
. That young protestor in the video was alright afterwards but being in there would have definitely given me a Newbury (bypass). Just as we were about to pack up and go home someone turned up, apologised for being late and started more loud yelling about freeing all political prisoners, including Julian Assange. He was quietly dispatched, which was definitely time to find the nearest watering hole and try not to be distracted from our cause by the highly talented bar staff.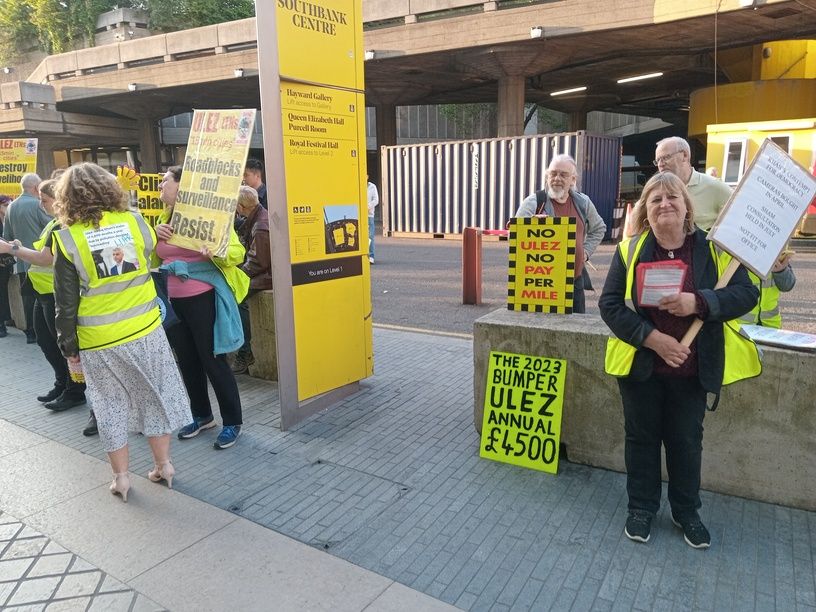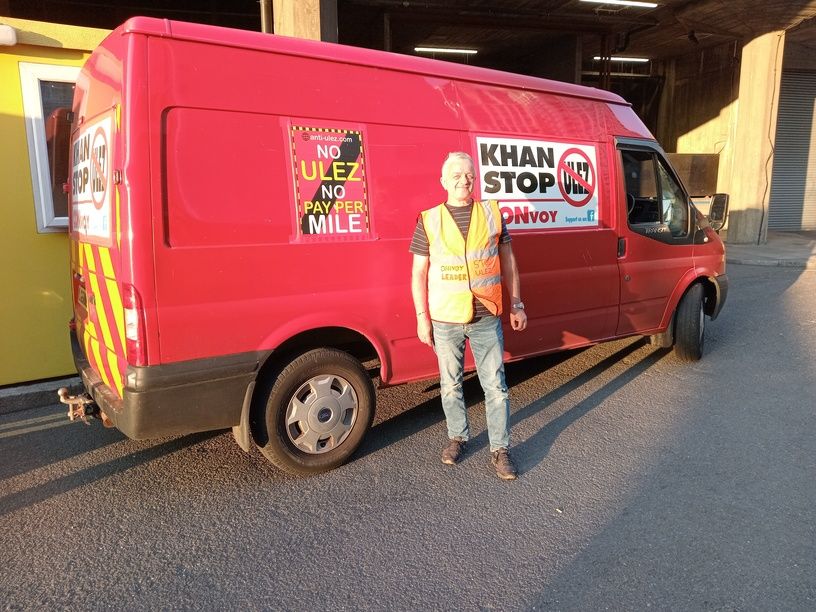 Onwards to the 27th May 2023 and this time London Bridge is the place to be. There must have been between one and two thousand people there who went on a march and it was completely unpoliced. Newsworthy in itself, I would have thought, but the state media still won't take this stuff and perhaps it's proof that we are all too well behaved in our greying old age! The more PC Just Stop Oil stuff has no trouble getting full media attention.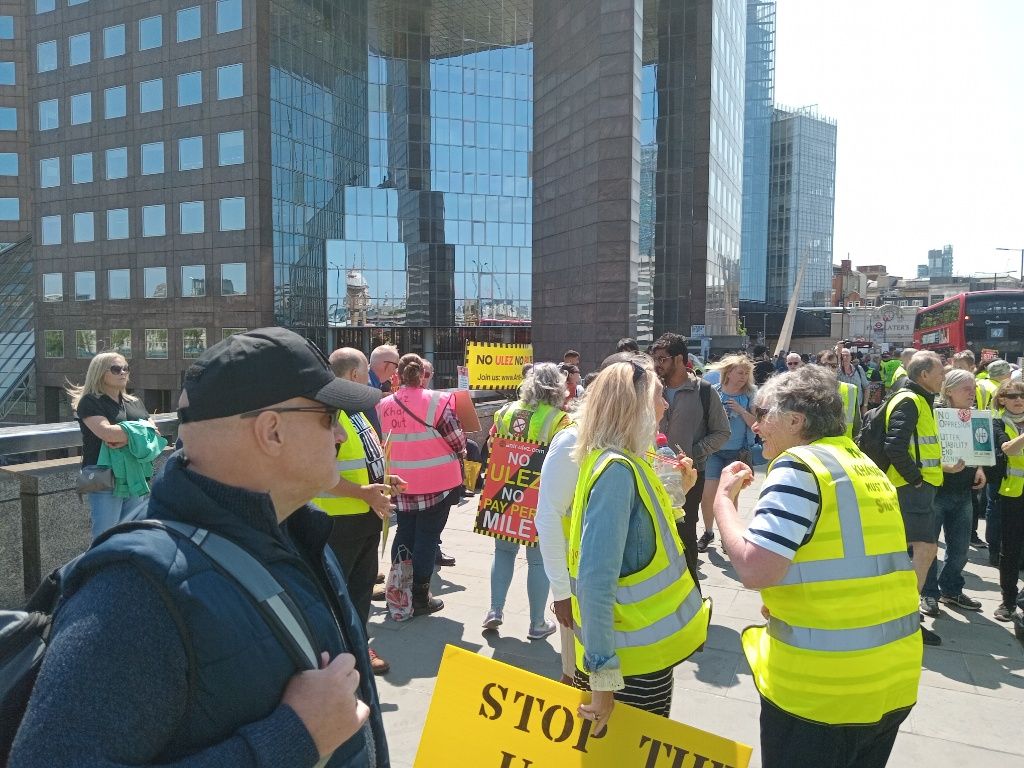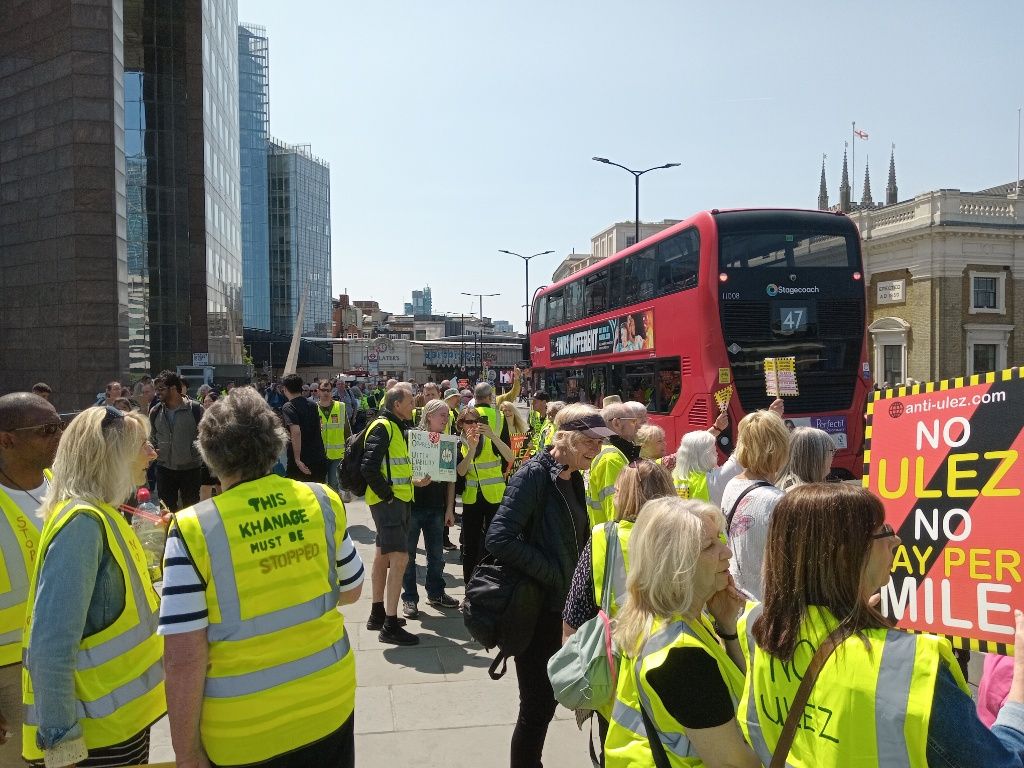 Click
here
,
here
,
here
,
here
,
here
,
here
and
here
for a video or two. Meanwhile, a quick off-duty check on the rented garage scene shows the 1.7's are grooving along in storage and hopefully one day we will see an end to this madness and a return to work on them.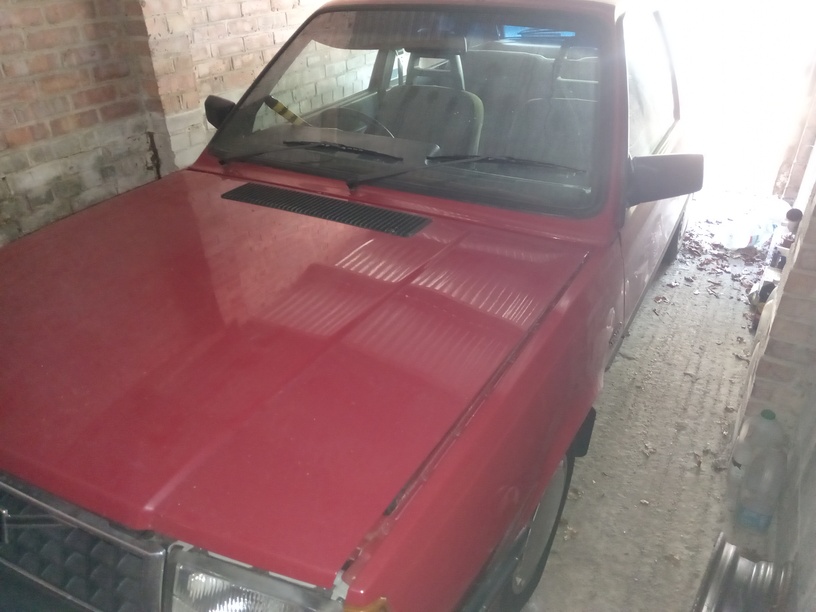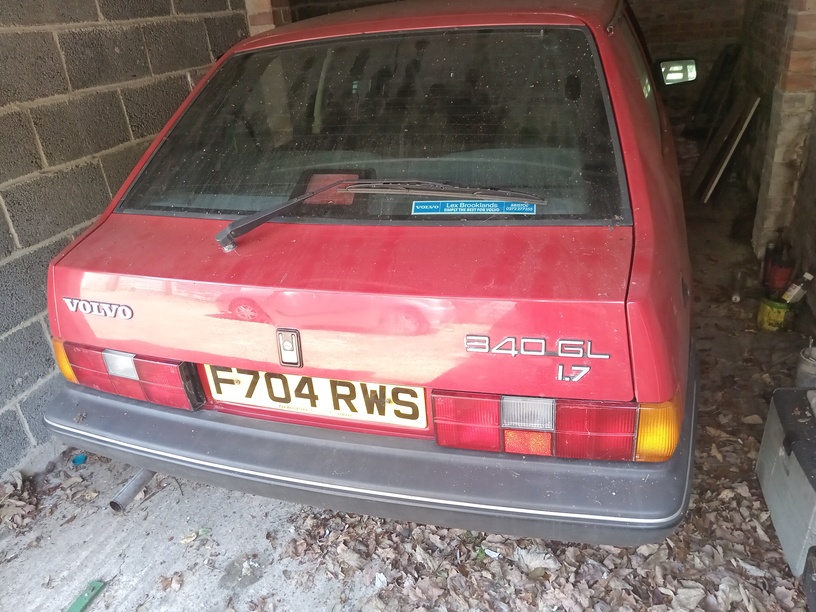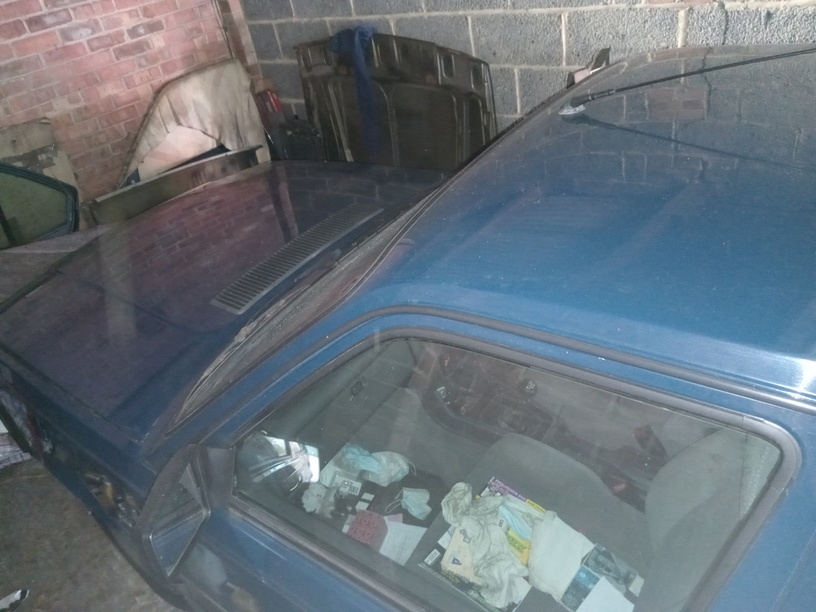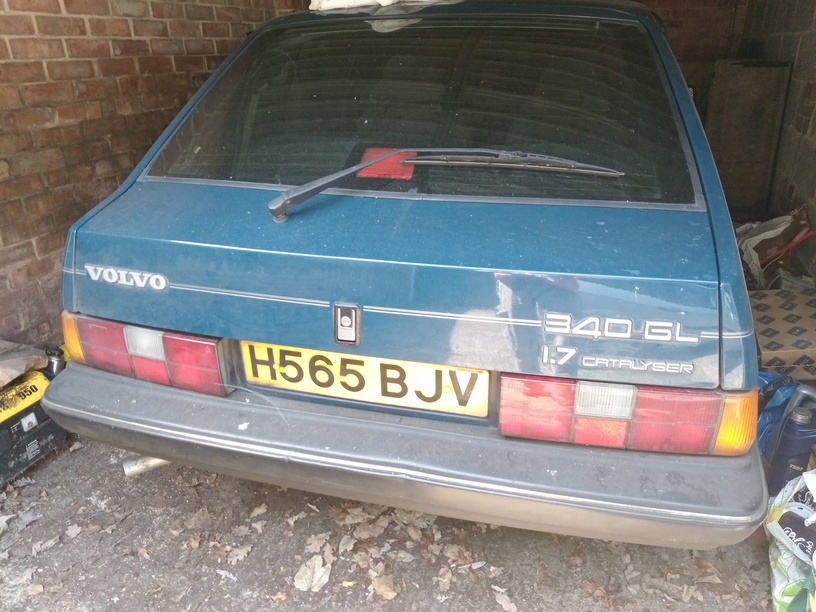 The 1st of June 2023 saw a smaller protest in Barking. This one was memorable for doing a huge amount of leafleting as well as being told to get out of the road by a bus driver and a policeman.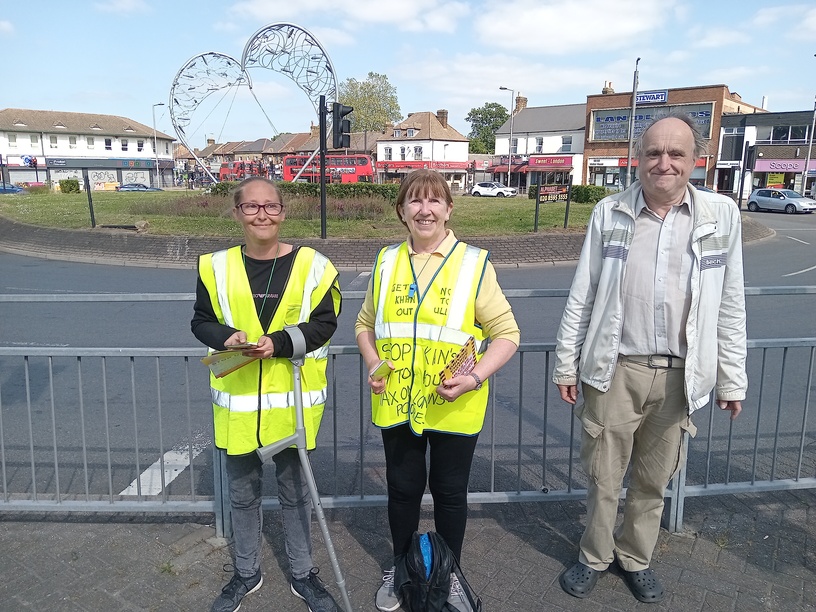 So now on to the 3rd of June 2023 and we are somewhere but I am damned if I can remember where it was. Anyway, it looked like this and there was a nice 80's Reliant Scimitar pottering about - not the very famous 70's 2.8 litre model, this one has a 1.3 Sierra engine. I did have a think about getting one in the early 90's when I was coming out of one of my kit car phases.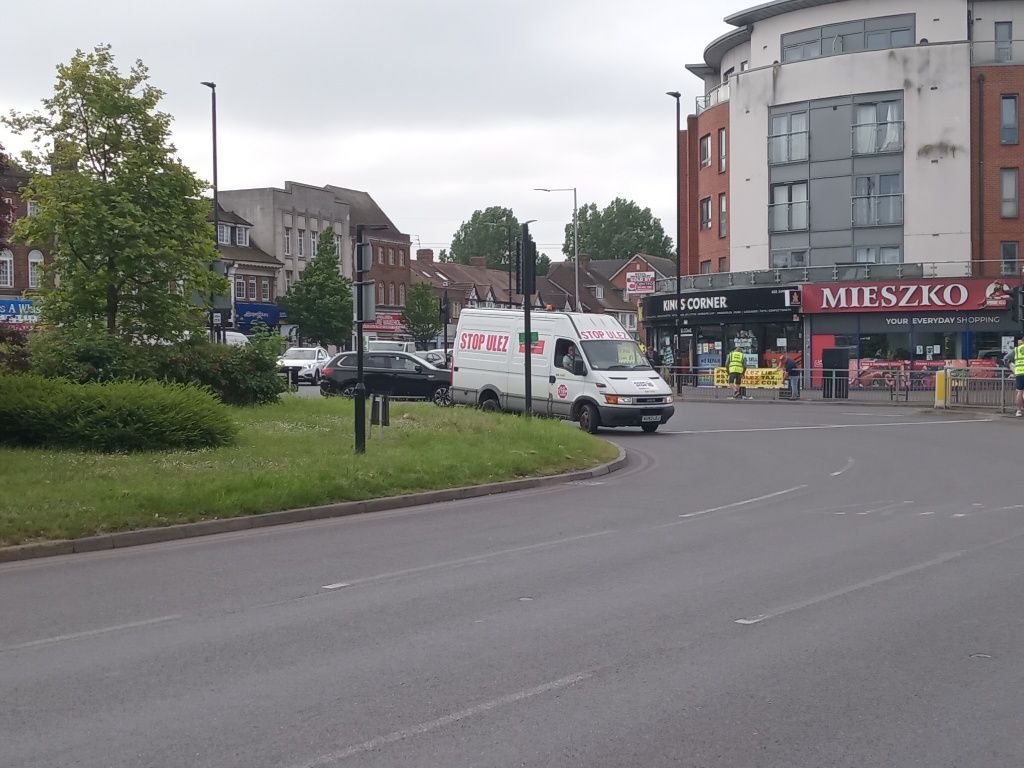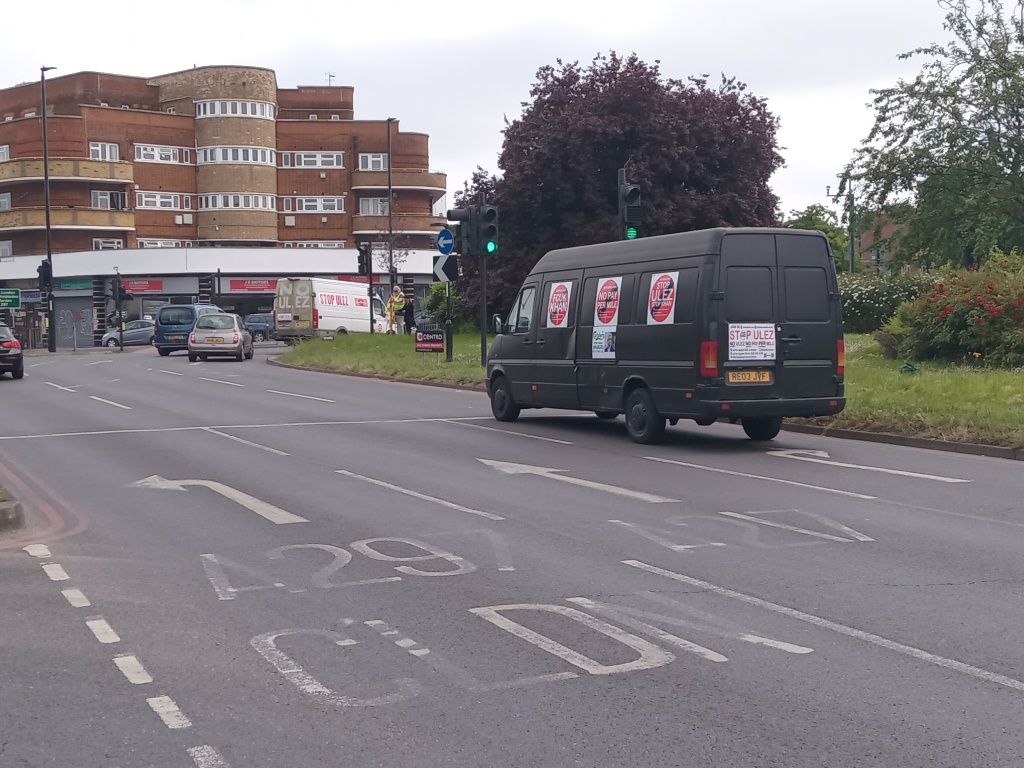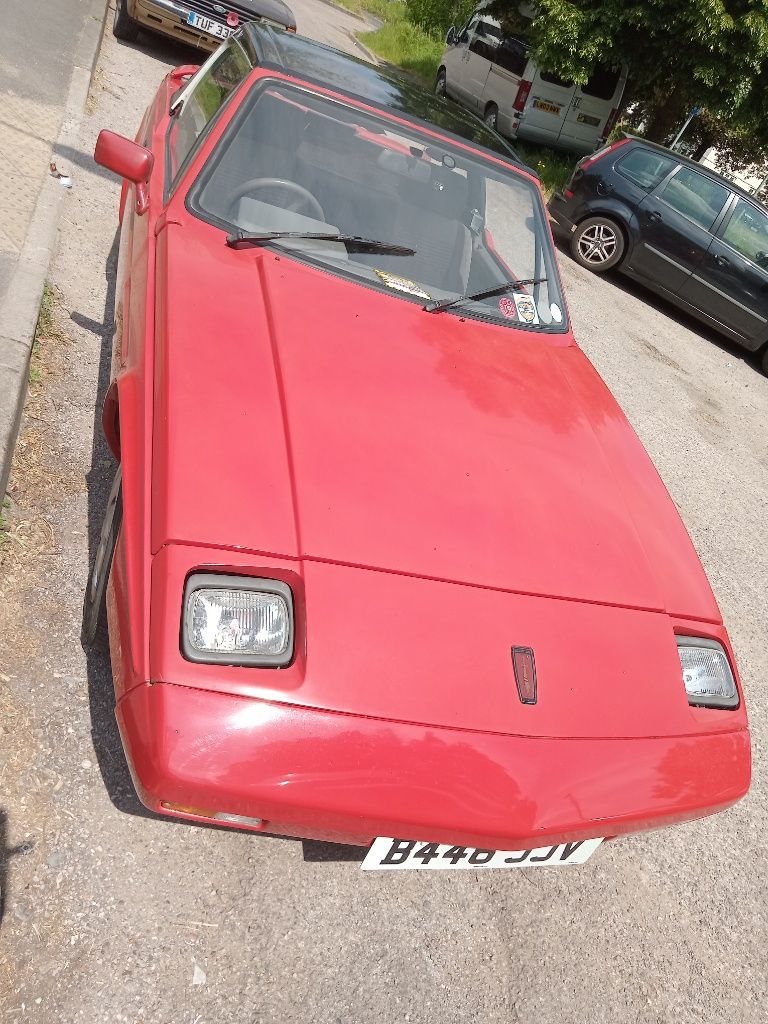 Yes, it was Rosehill Roundabout, Morden and it's always the same van drivers who turn up to these things. As I said to someone recently, there must only be about 3 Transit vans in the whole of London who are worried about this, but even that is not true because one of them comes from militant Oxford! Anyway, the videos are
here
,
here
,
here
,
here
and
here
.
4th June 2023 and someone very kindly made me a sign for the rear window of my Morris Minor emphasising that it lacks reversing or hazard lights. I thought that drivers behind should know and the sign looks wicked too. However, my newly acquired cheappie pollution meter doesn't think much of the emissions from the chrome exhaust pipe below but the choke was out and the general air around here always comes out in the green i.e. good, Mr mayor.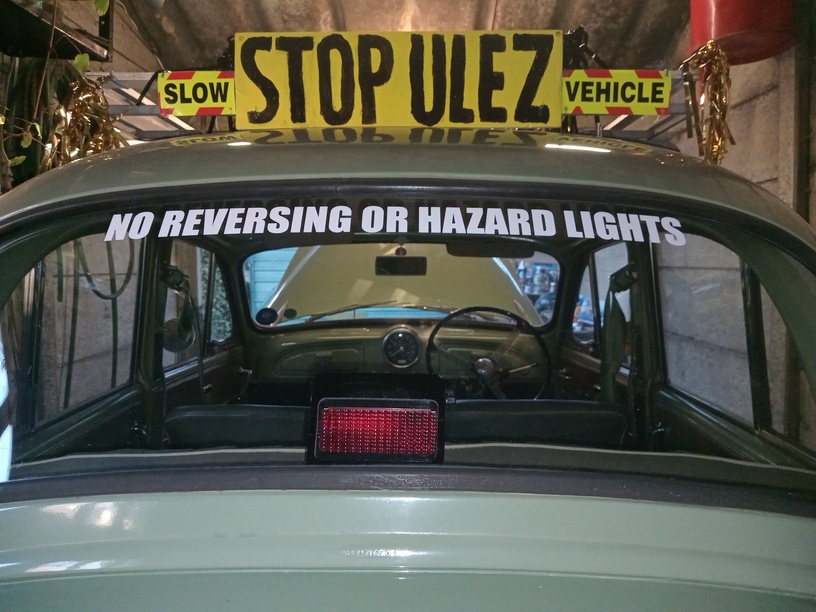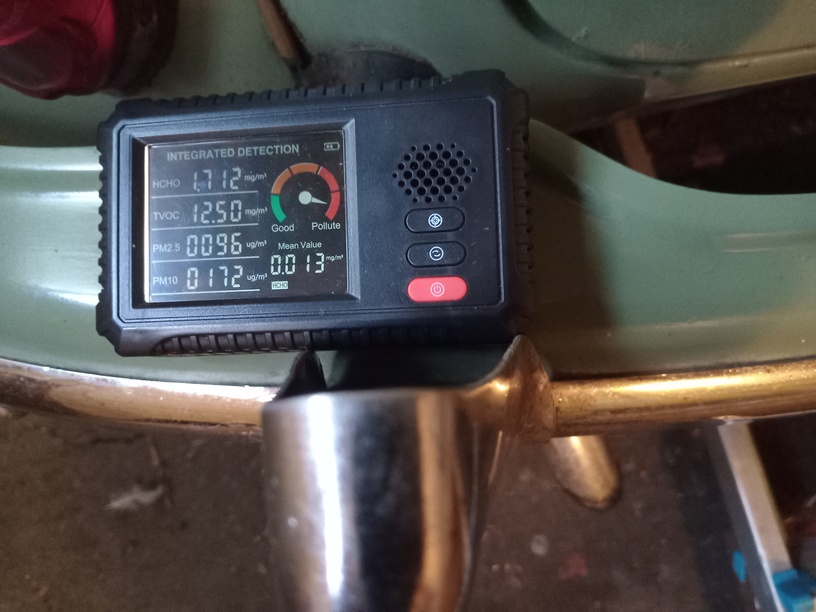 It seems that pollution is assessed in terms of particulate matter (PM) of about 2.5 micrometers in size (PM2.5) and 10 micrometers in size (PM10) and a couple of gases, mainly nitrous and nitric oxide (NOx). NOx is the main worry for petrol engines since their PM output is low, whereas with diesels, PM is the main worry, with PM2.5 being the baddest since it is small enough to get into cells of the body. Apparently, the biggest sources of PM are asphalting roads and domestic cooking. My own cheappie pollution meter says the air quality is good everywhere I have been recently. Also, I get a lot of bad press about PM from wood burners. Ironically, just about the only affordable carbon-neutral form of domestic heating (bar the vastly expensive geothermal systems) is slated as being the most polluting. Going back to science, the only refereed paper analysing these pollutants before and after the last ULEZ expansion out to the North and South Circulars is by Ma
et al
., (2021) entitled "Has the ultra low emission zone in London improved air quality?" in
Environment Research Letters
16
124001. This open access paper shows that there was no statistically significant change in NOx and PM2.5 in the expanded ULEZ zone. They did see a drop in PM10, but this was attributed to the drop in wood-burning as the weather got better!!
Now it's 10th June 2023 and we are in Dartford. This one was notable for some minor hostility from the locals about the amount of noise being made and from someone, presumably local too, passing in an old diesel 4x4 (are you thinking the same?), apparently being driven by the missus, yelling that famous phrase of two words, the first of which begins with the letter F. I do wear ear-plugs at virtually all of these events so I am relatively immune to these amusements.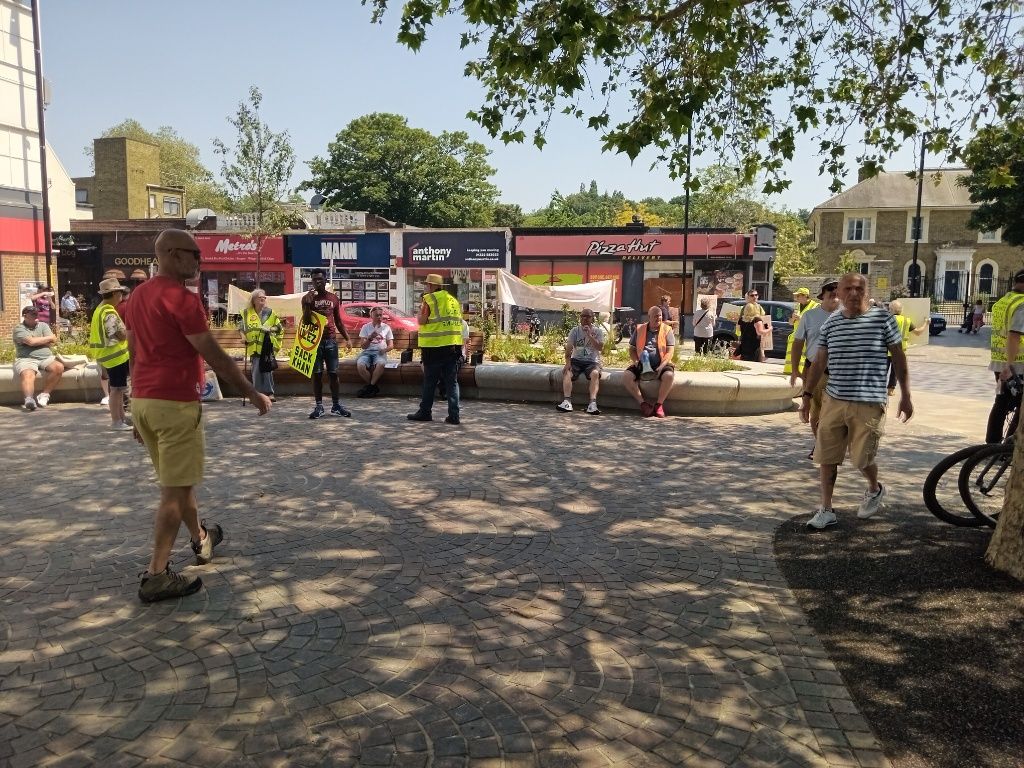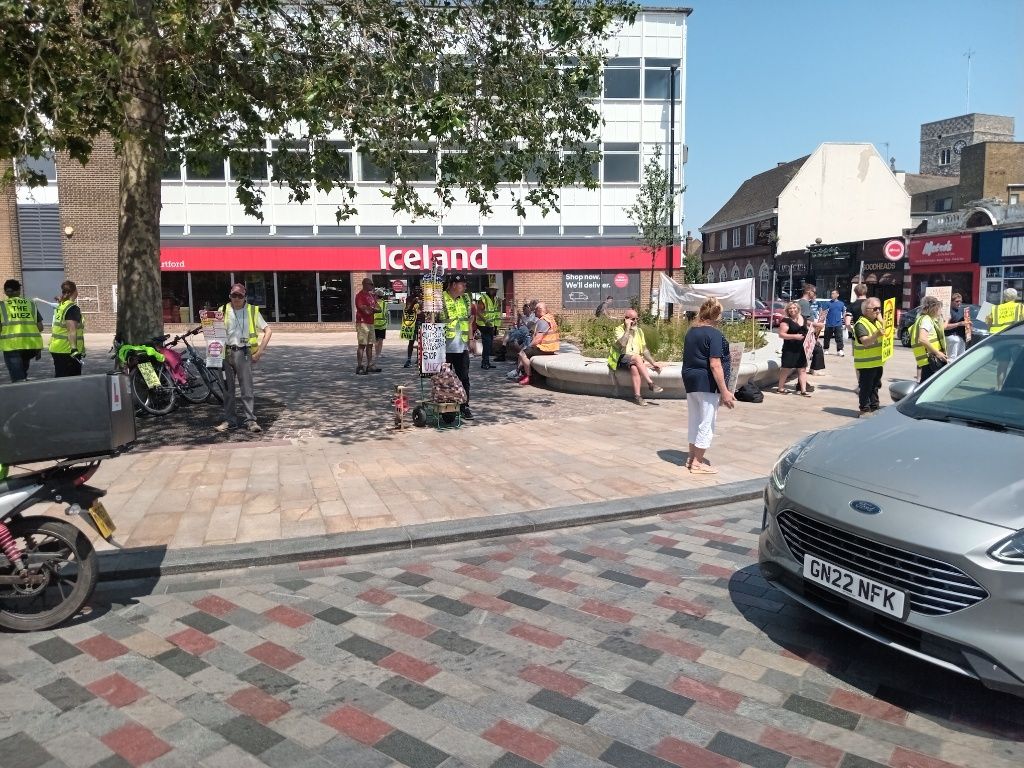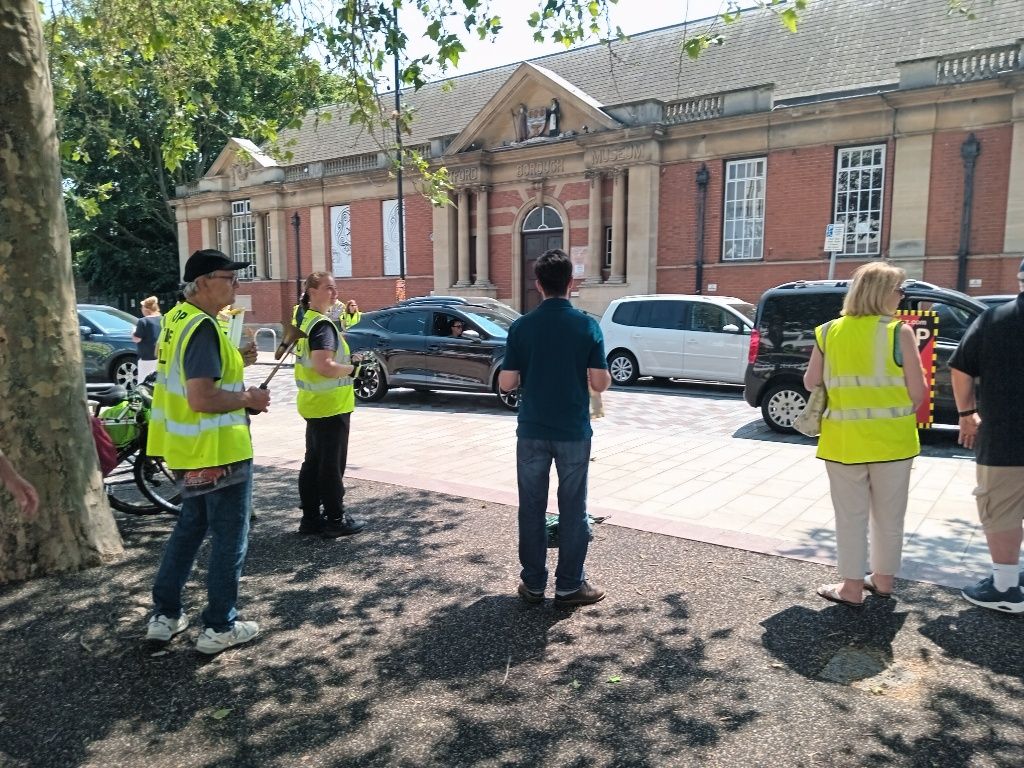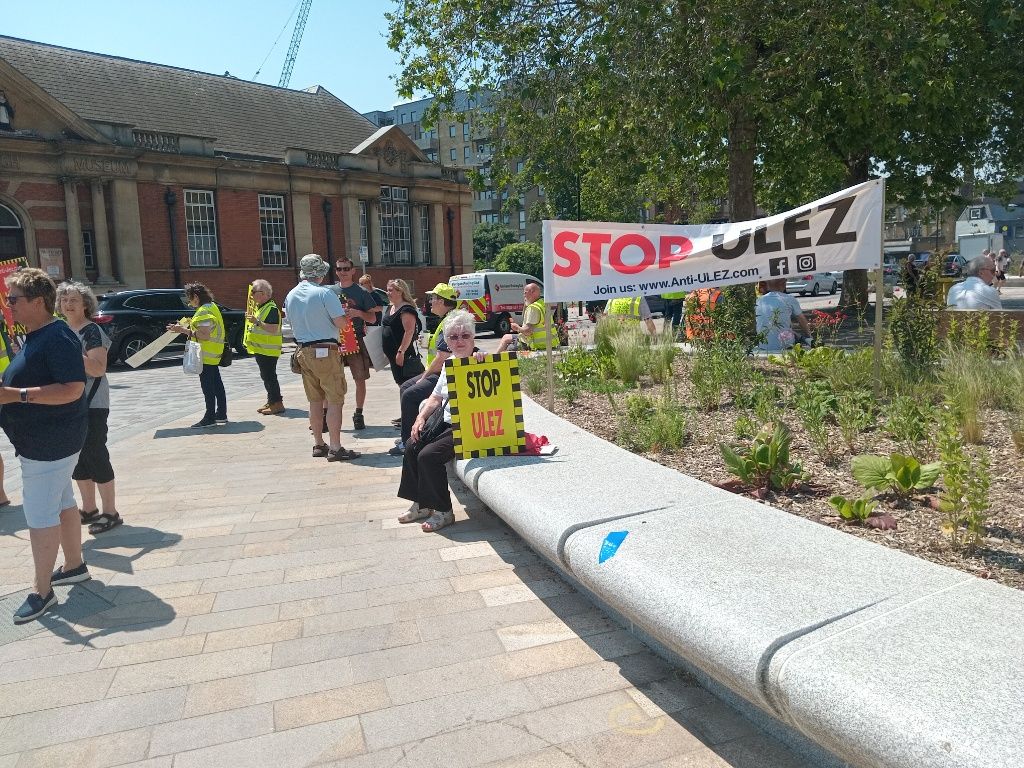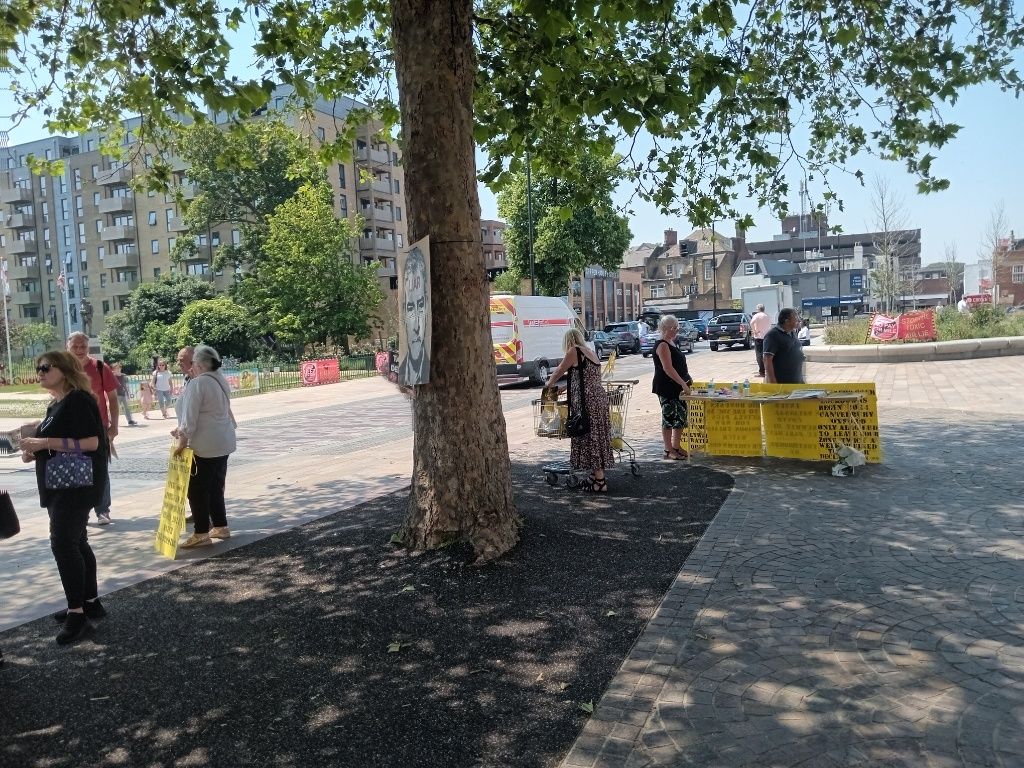 The videos are
here
,
here
and
here
.
A week later on 17th June 2023 we're in Edmonton for a sightly larger bash. I got a ride in a little red Seat Arosa for the first time ever. What a wicked motor, but it grounded while driving off the roundabout.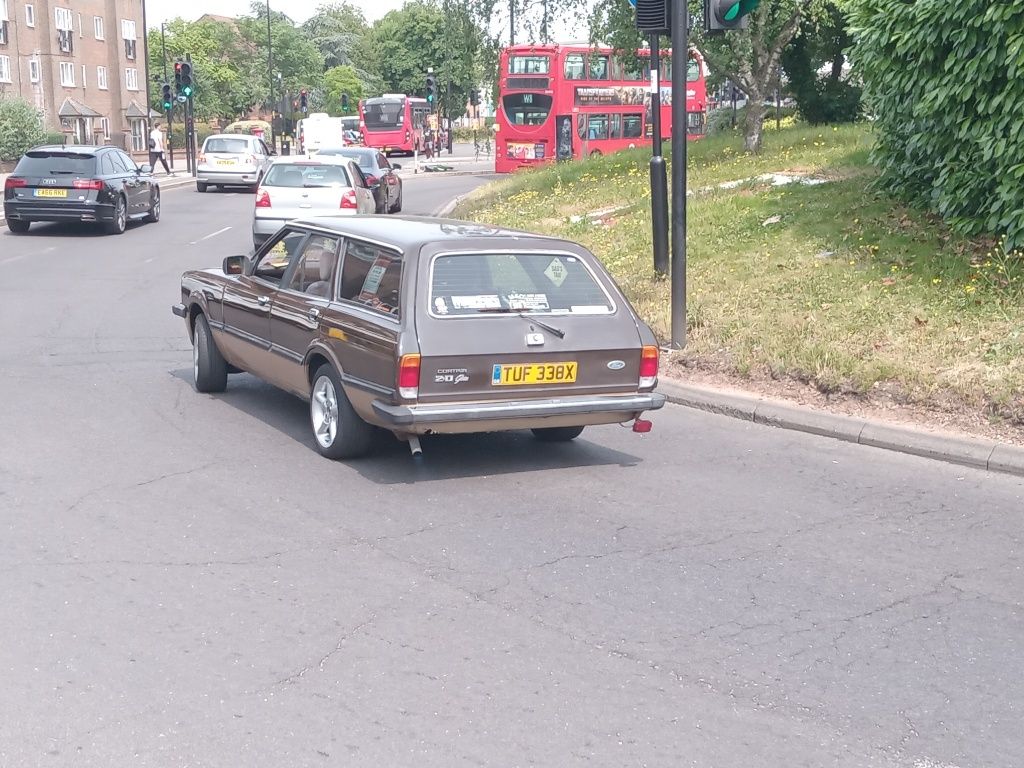 The videos are
here
,
here
,
here
,
here
,
here
,
here
and
here
.
A few days later on 23rd June 2023 there's another protest in Hounslow which is right underneath the flight path of jets coming into Heathrow. I didn't get so many pictures at this one as I was leafleting like mental but I did get quite a few videos:
here
,
here
,
here
,
here
,
here
,
here
,
here
,
here
and
here
.
Anyway, it's interesting to see the amount of effort folk have put into this local stuff while none of it gets on the state telly although our mayor receives much publicity, practically being canonised today as the patron saint of clean air by some ridiculous medical qwango. I am convinced that only George Orwell could have made this up. Well if you're an eco-fascist, saving children's lives and stopping climate change, you can override all the laws of the land, not to mention these damned old coffin-dodgers. Still we must press on and two days later on 25th June 2023, here we are at Marble Arch for another bit more of biggie this time.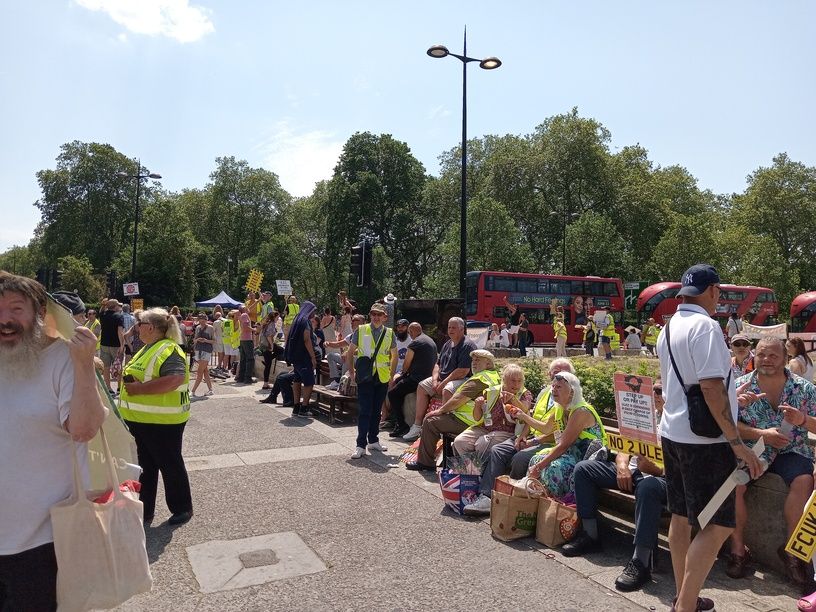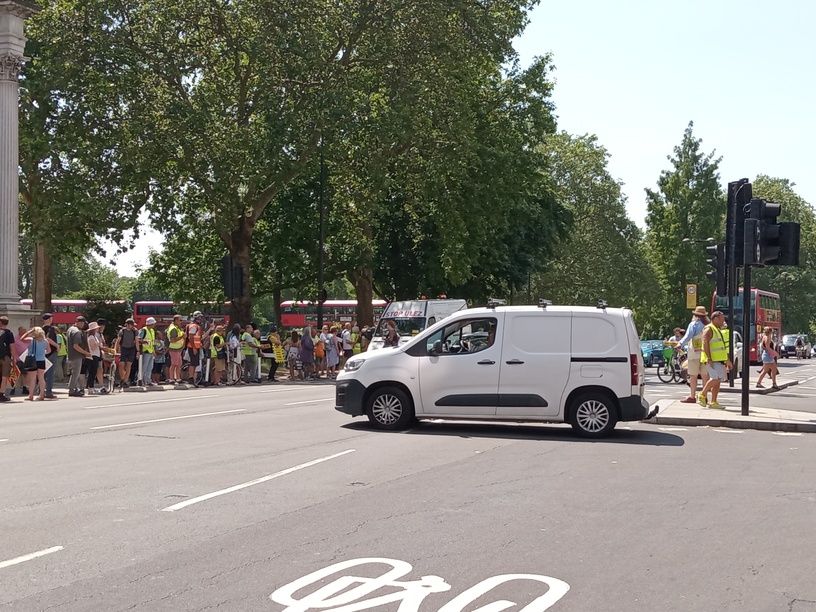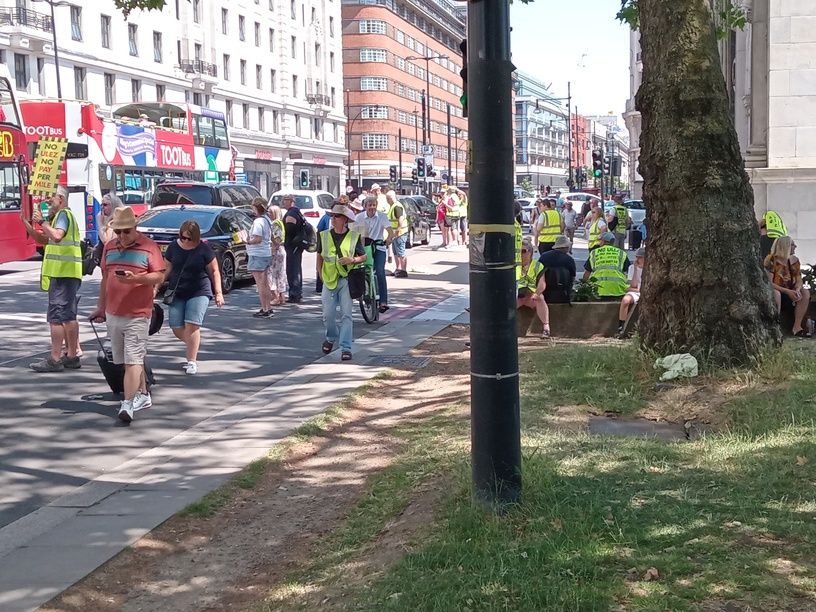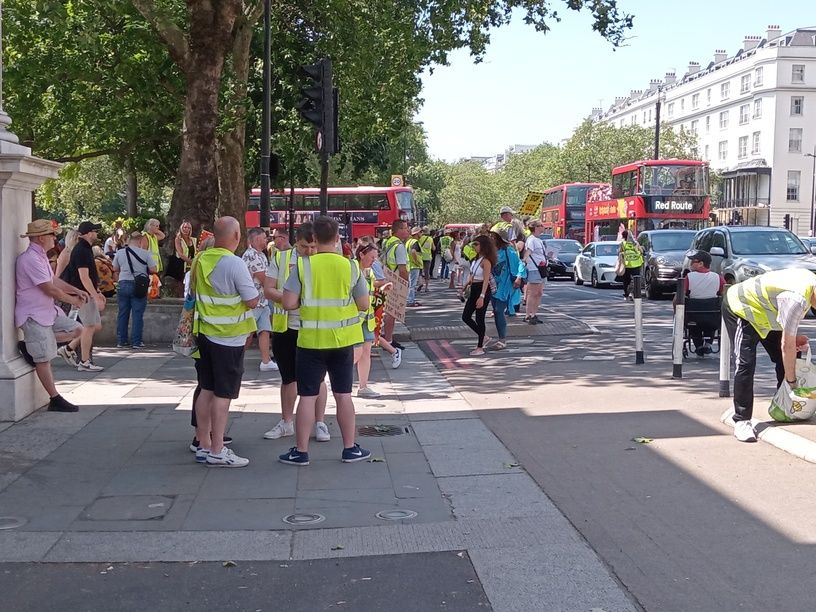 The videos are
here
,
here
,
here
,
here
,
here
,
here
,
here
,
here
and
here
.
The long term plan for the 340's is to fit the mark 2 interior to Deep Blue and get it going again. Red Ness was going to have a clutch change and this was going to be my test bed for the cut-and-shut prop shaft which still needs to be balanced. That project should be returned to as soon as possible, hopefully when there is a bit of a conclusion to all this ULEZ madness, famous last words ;-0 ;-0
Onwards and upwards to 1 Jul 2023 when we have, to use an Americanism, got ourselves a convoy. This, the Stop ULEZ Convoy 2, was a drive around the South and North Circulars. I set off the night before in the moggo to stay in a pub overnight and, you couldn't make it up, on arrival at said busy pub, the folks there cheered at the sight of the moggo's signage. Next day, the convoy set off from Bexley to west London for a
pit stop
on Ealing Common where it was quite amusing to find someone driving the other way shouting their nuts off that we should all be f---ing shot. Maybe he'd just had a light-hearted chat with one of the more confrontational convey members up front but it made me wonder what else the poor fella had been doing (or not doing) over the weekend ;-0 ;-0 Anyway, the following pictures were taken at the lunch stop in Ruislip, I think, and a video can be found
here
. Apologies for the humming and my bad language at the end due to swallowing a fly.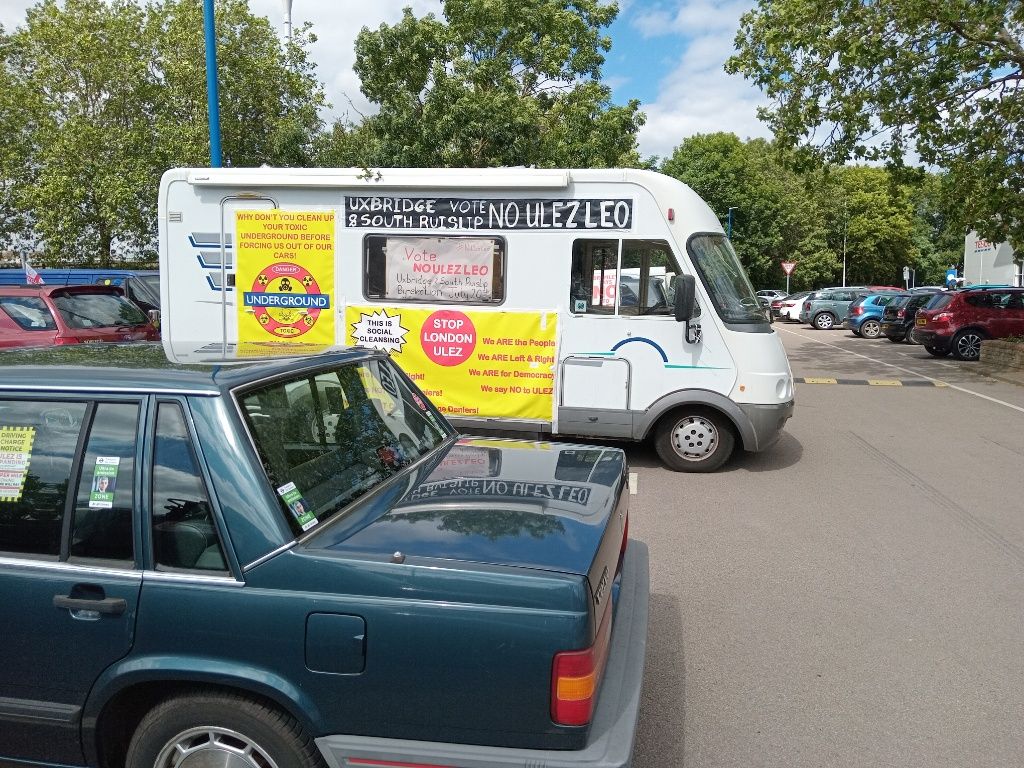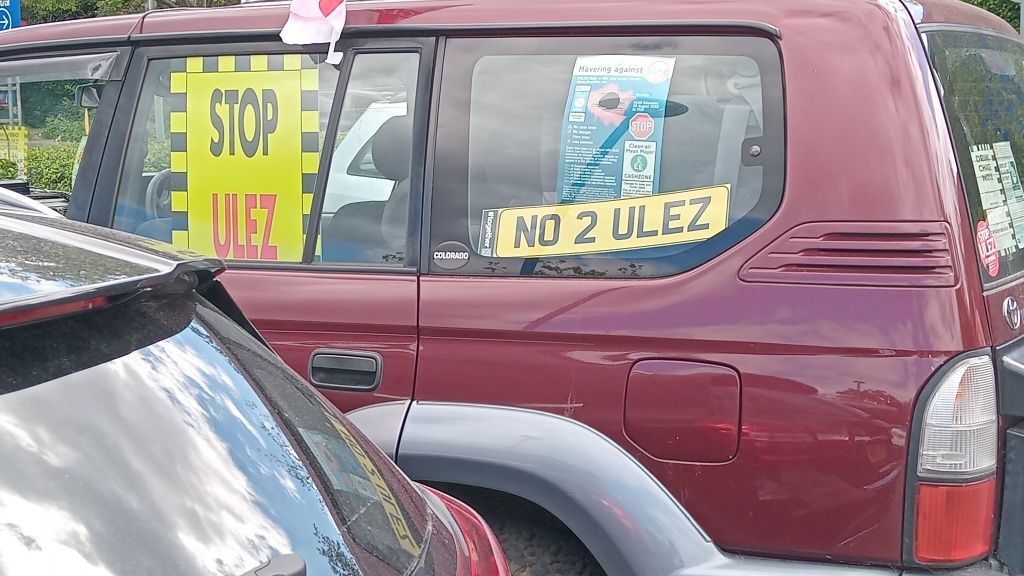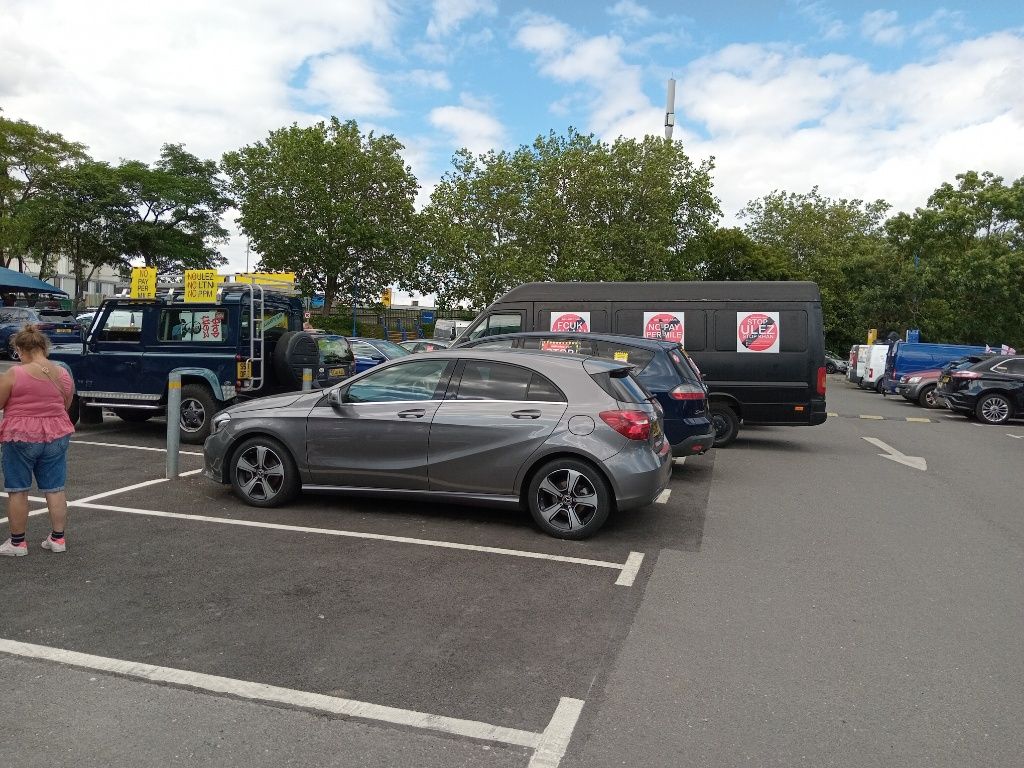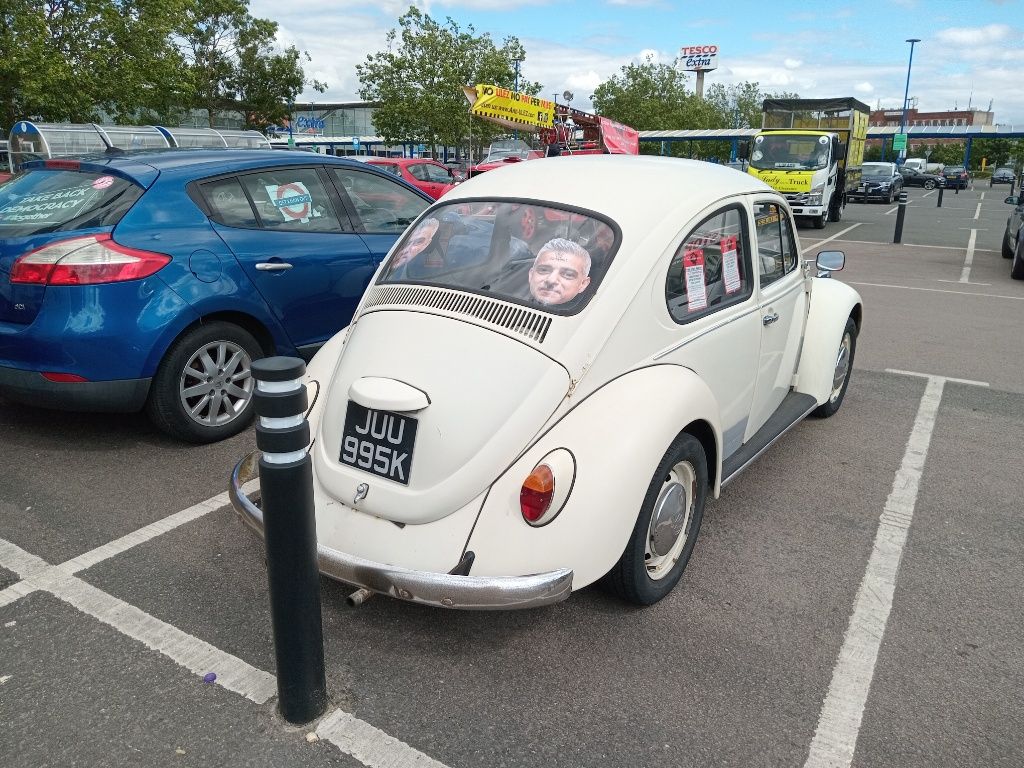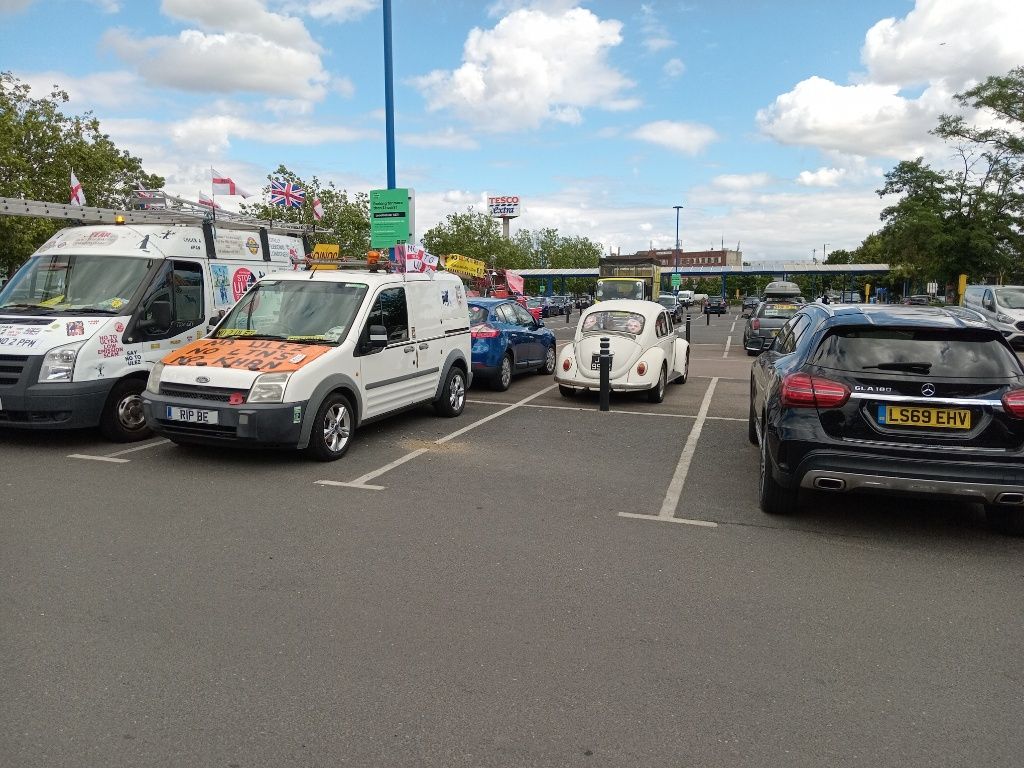 I found a couple of videos on the book of faces from which I edited out the moggie. Here is
one
showing the start from a video by Debbie Ryan and
here
is another by Joanne Cakebread taken from Clapham. To my amazement, a picture of me driving the moggo makes it to the Sunday Telegraph - surely a highlight of it's life, as well as my own. I thought it was a great achievement but I have had about as much enthusiasm from the Morris Minor community as one gets from eco-trolls on social media!! To quote from the Morris Minor Owners Club (MMOC) forum:
"
I do wonder if it's wise to use a historic vehicle that's exempt to make the point? The classic car lobby has rightfully and successfully secured exemptions for us in LEZs across the UK. It's largely flown under the radar of the general public. The last thing we want are the eco warriors and governments targeting our exemption."
and
"I agree. IMHO, all this photo does is risk provoking 'outrage' from people about older cars and their emissions. I have to wonder why a 'modern classic' wasn't the vehicle of choice for this protest."
It's a damned hard life and proof that if you're not affected by it, you don't want to get involved and, to my shame, I have to admit that I didn't do anything about trying to stop the initial introduction of the ULEZ or it's first expansion to the North and South circulars a few years ago. Perhaps we almost have a phoney war on the streets, at least in my head ;-0 ;-0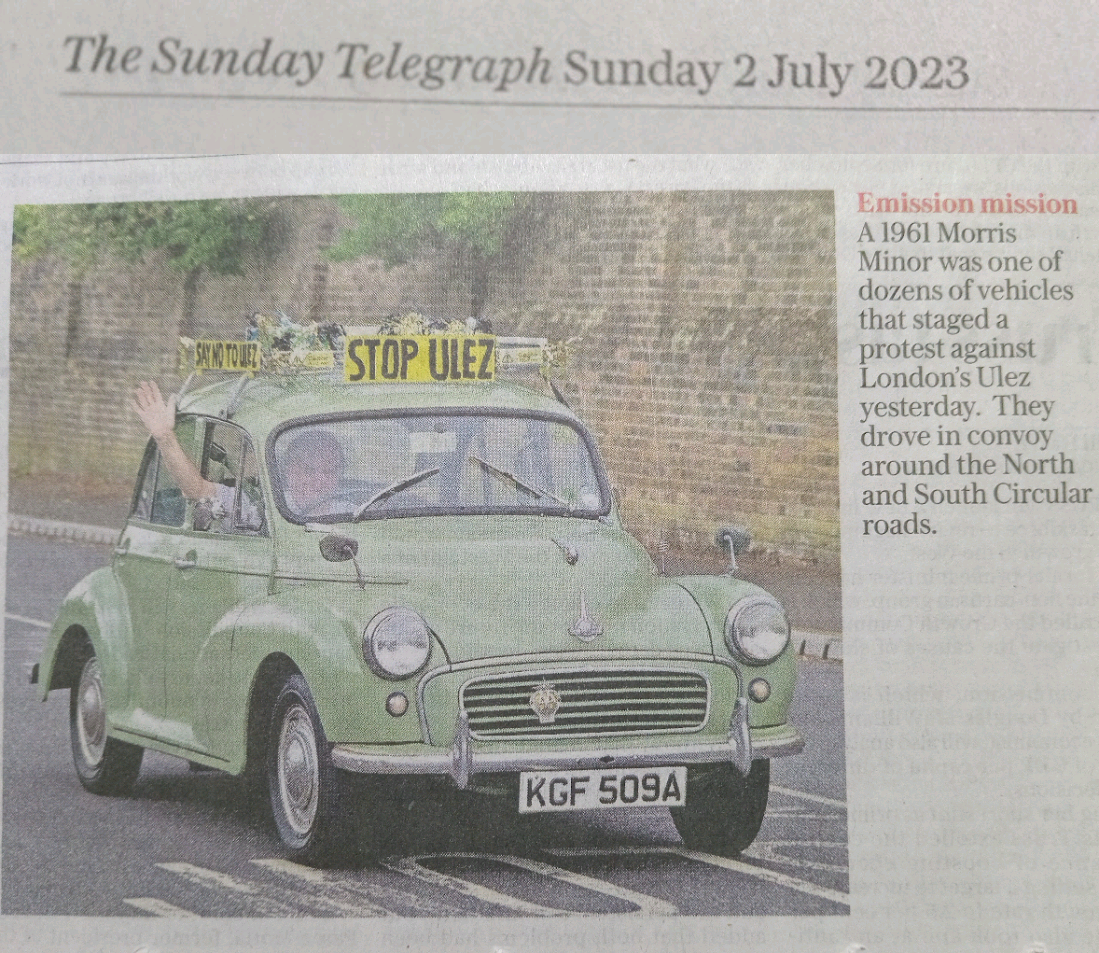 Thence, onwards to 4th July 2023 when it's the start of the 2-day judicial review of the proposed ULEZ expansion at the High Court in the Strand - legal action which has been launched by a number of London boroughs and Surrey County Council. Do we really deserve to be shot ;-?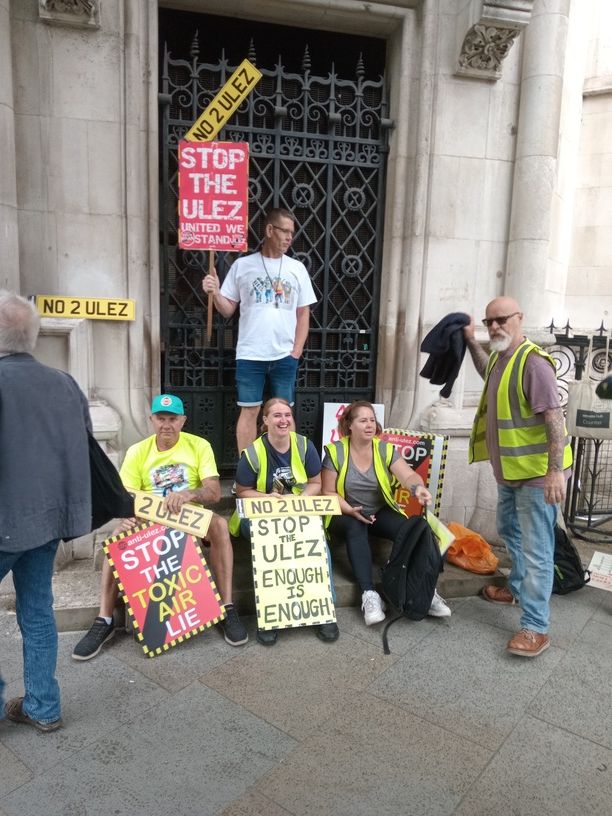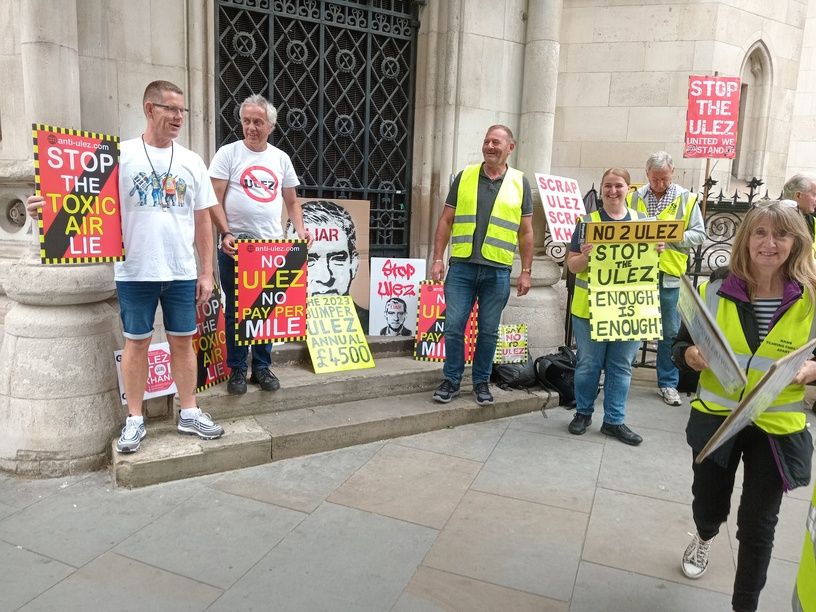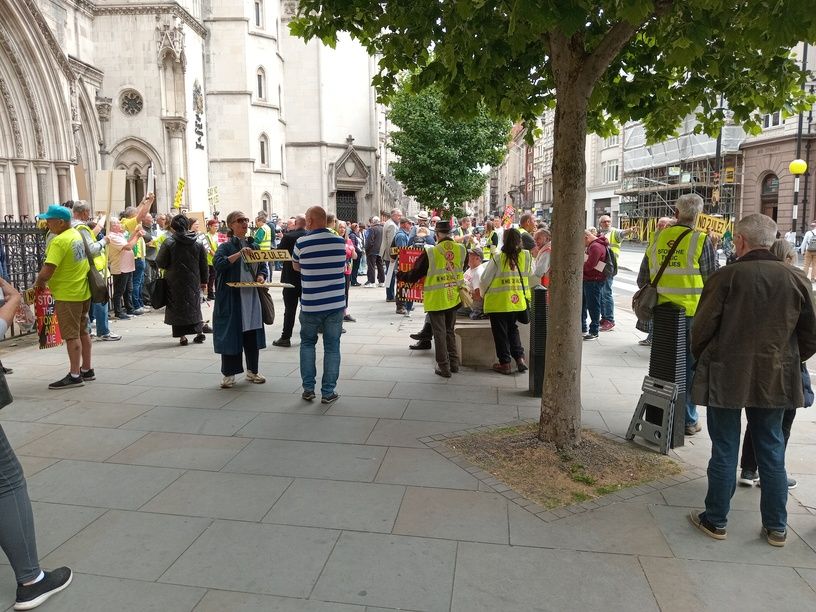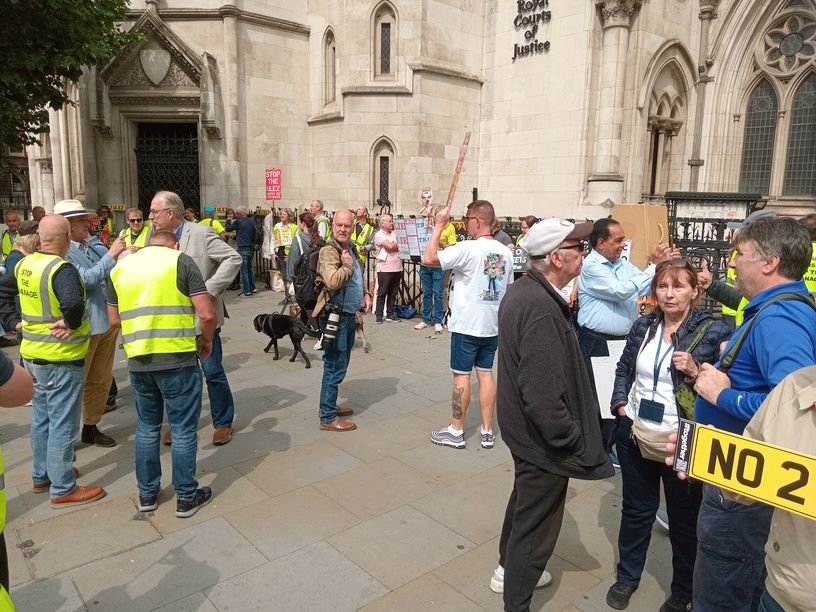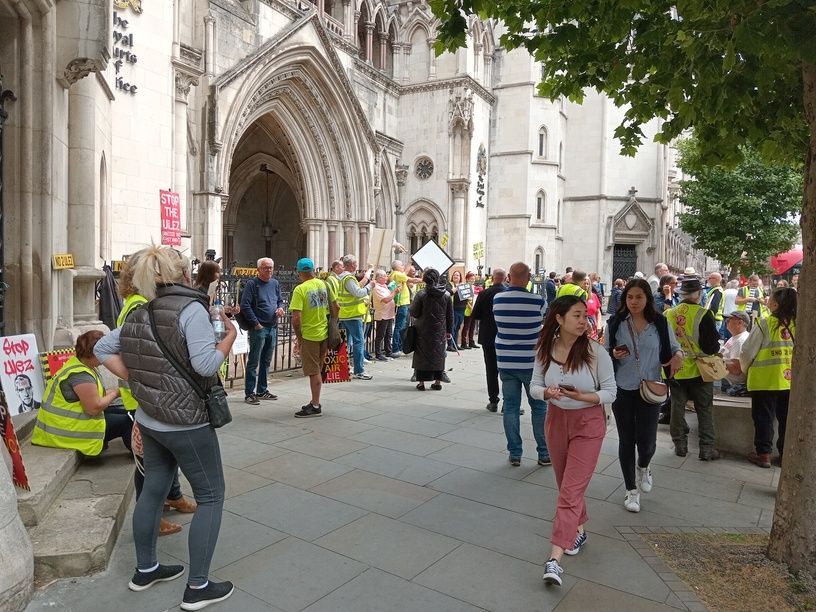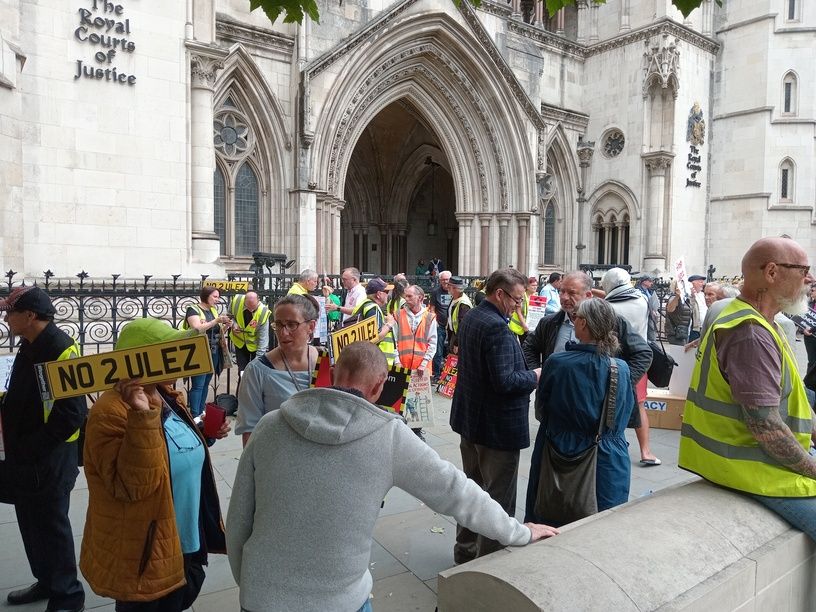 The above pictures were taken over the 2 days I spent standing outside the court and some more of my shaky videos are
here
,
here
,
here
,
here
,
here
and
here
. There were quite a few news reporters from the right-leaning media present at the first day and some of the braver participants trekked through the airport-style security system to attend the public gallery. The narcissist in me would tend to agree that it was all worthwhile as, the very next day, someone sent me this from the BBC website. Glory be, I knew that skull cap was a winner.
We're still in early July and being an errant yellow box offender, a penalty charge notice turns up from the Mayor of London for the moggie minor on the convoy. Well, it was outside a fire engine and I was static for 11 seconds, at least, which doesn't help. Bah humbug, pay it and move on.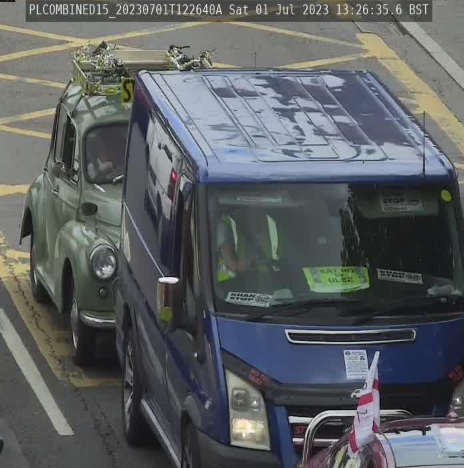 Anyway, I managed to get the original photos of the moggo on the convoy from the photographer with permission to use them on social media and the internet so here they are in their full glory.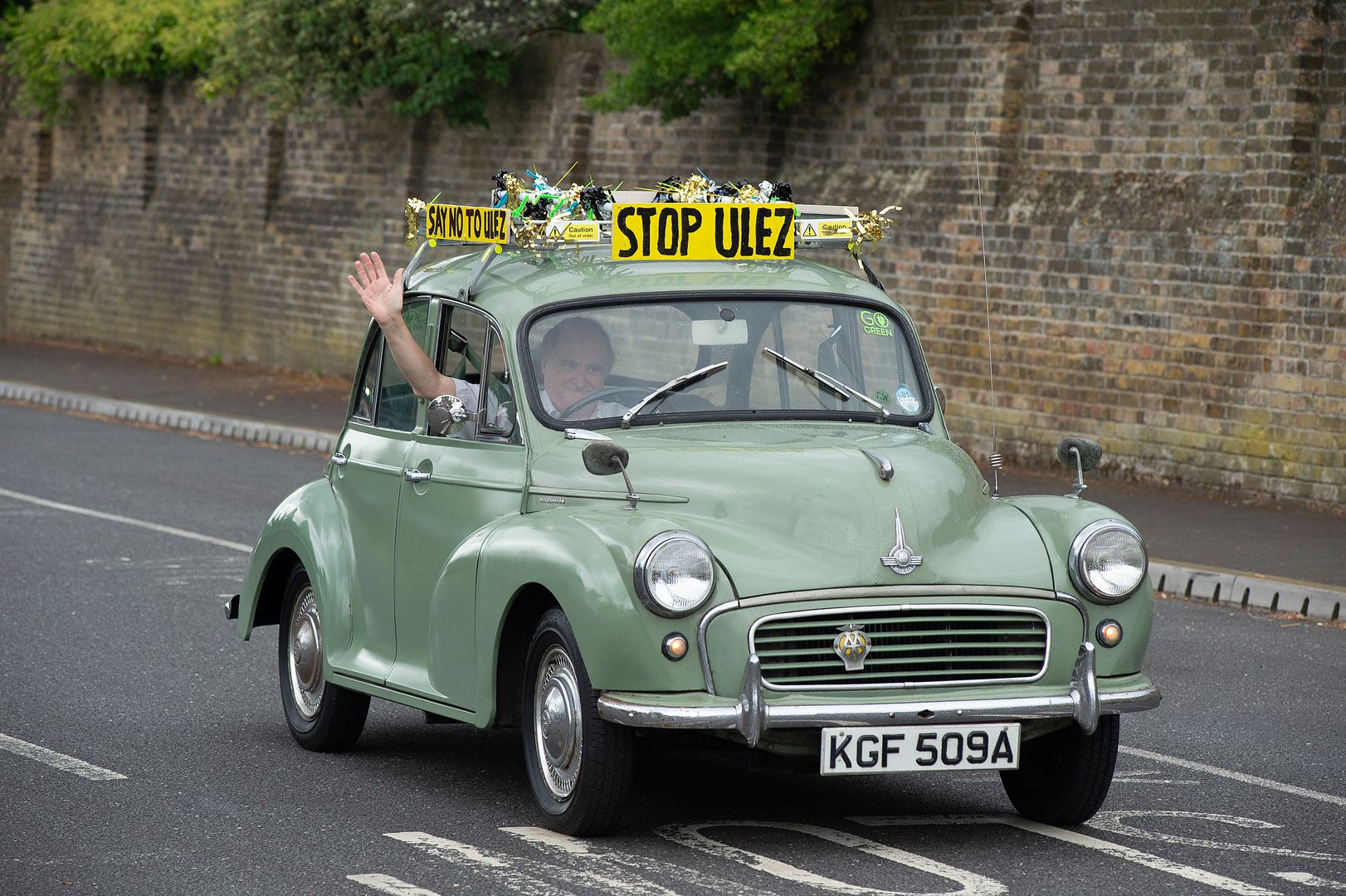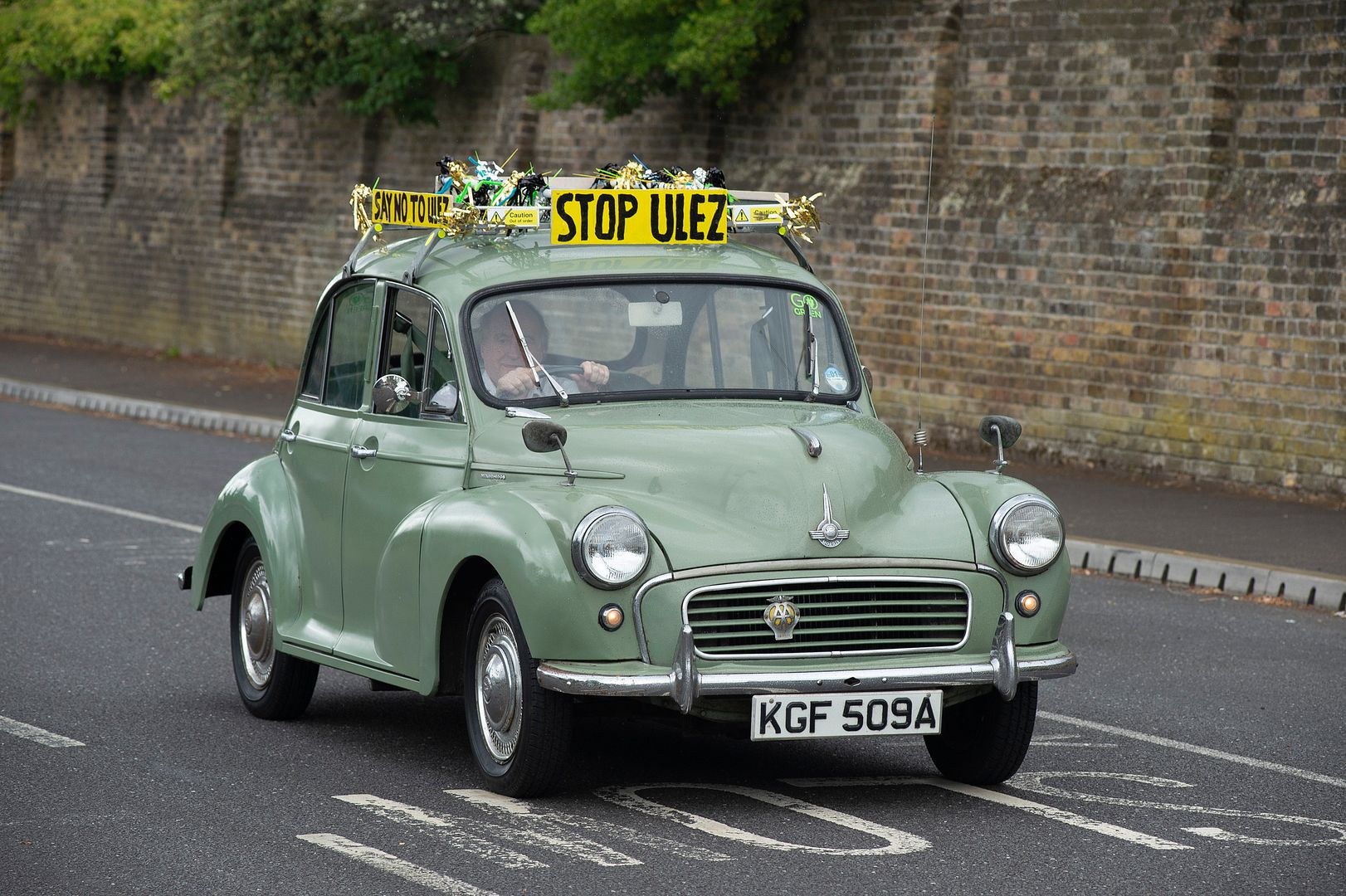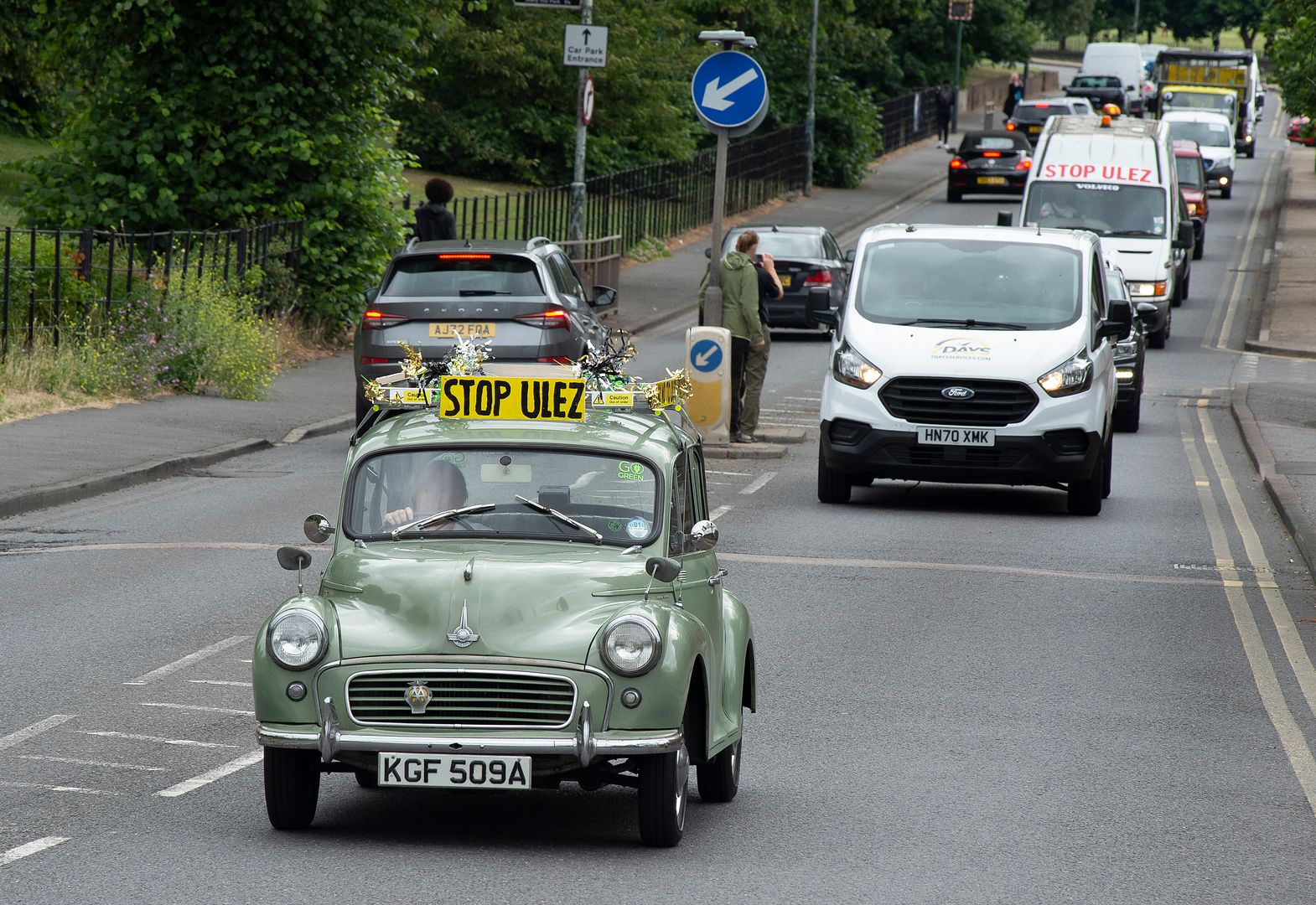 Things move on to the 8th of July 2023 and we are in Banstead. A few videos of mine are
here
,
here
and
here
.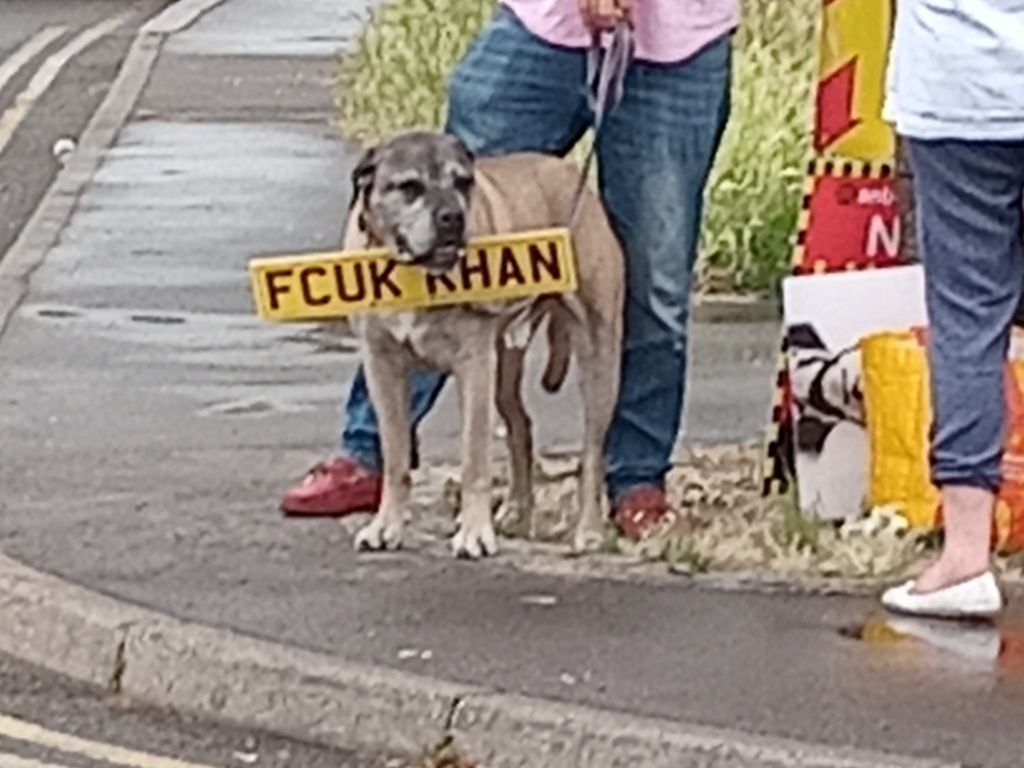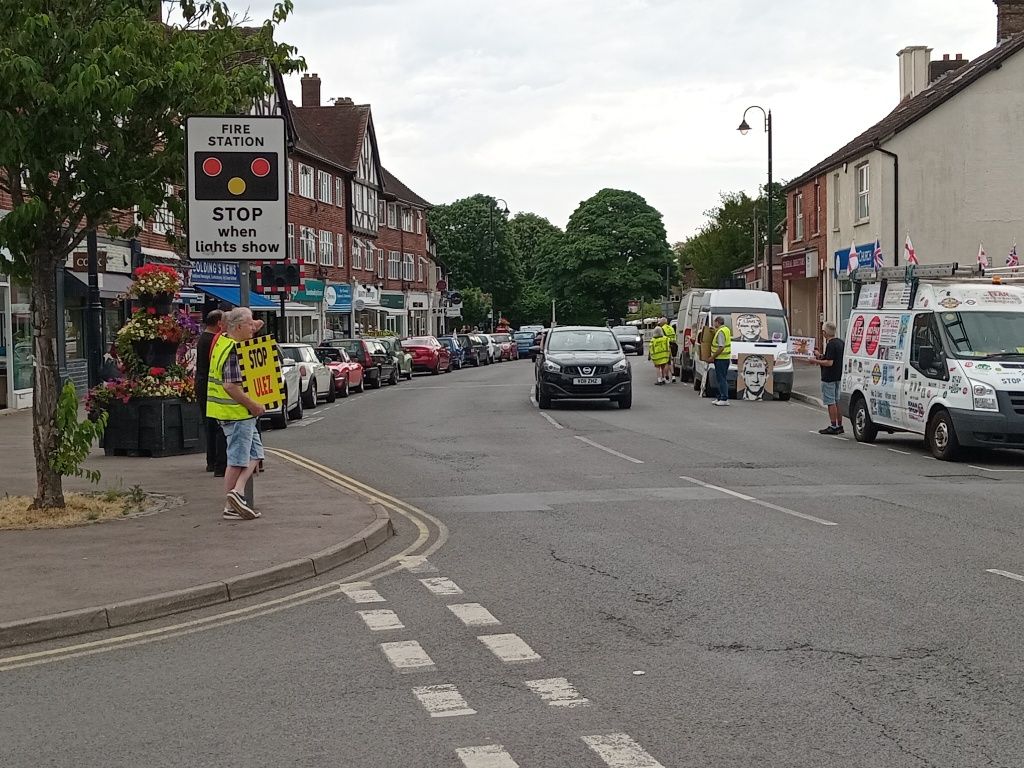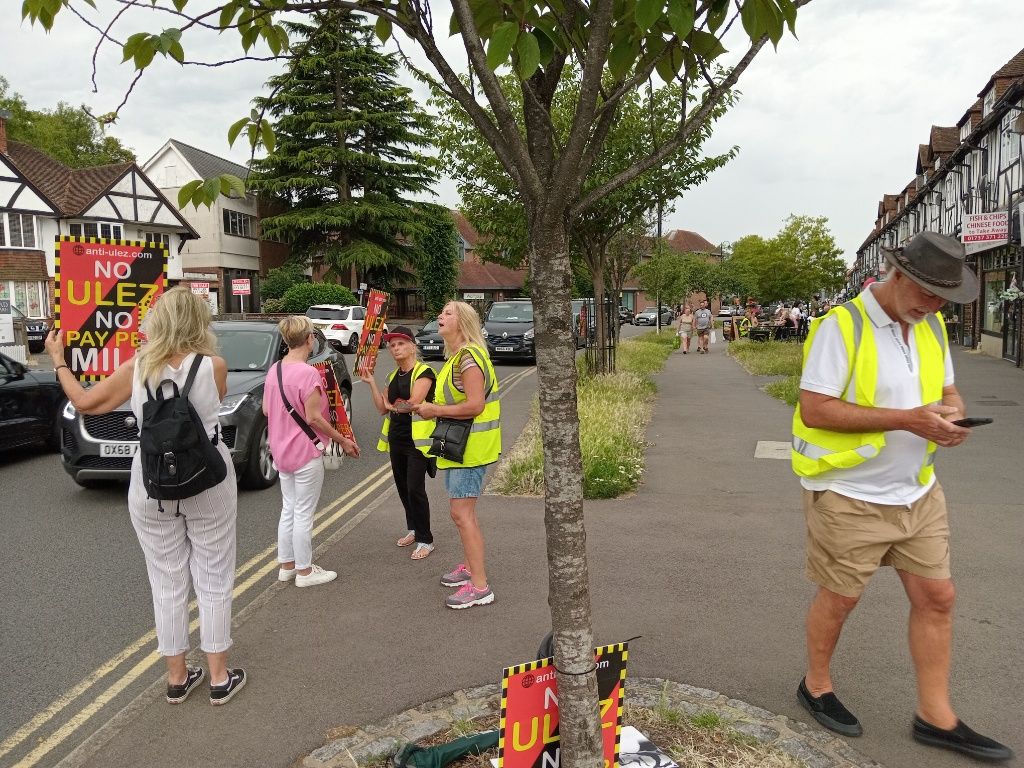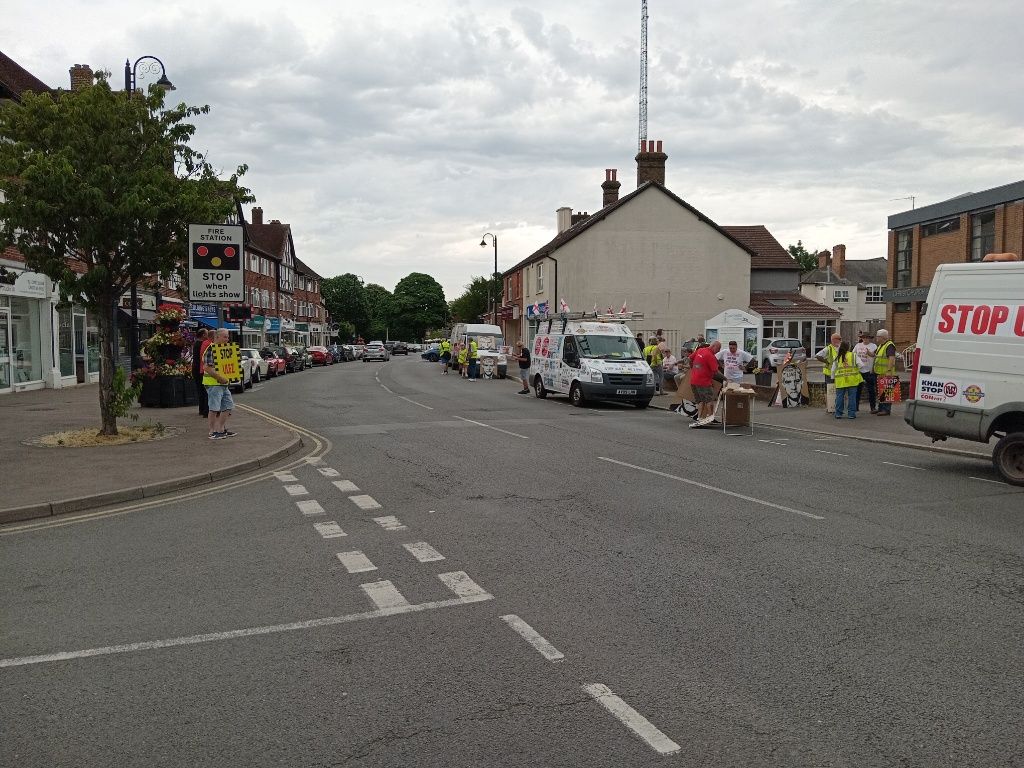 Then it's July the 9th in Uxbridge for a ULEZ-related byelection in Boris's old seat. Indeed the man who started the ULEZ back in the twentyteens. Glory be, that was a sunny, happy old day. Pretty amazing really to see the younger people doing this stuff. The videos are
here
,
here
,
here
,
here
,
here
,
here
,
here
,
here
,
here
,
here
and
here
.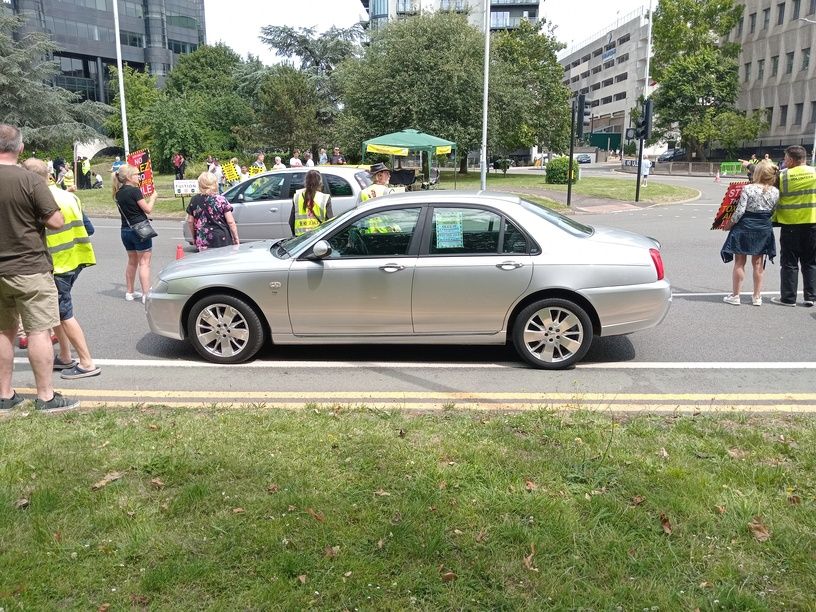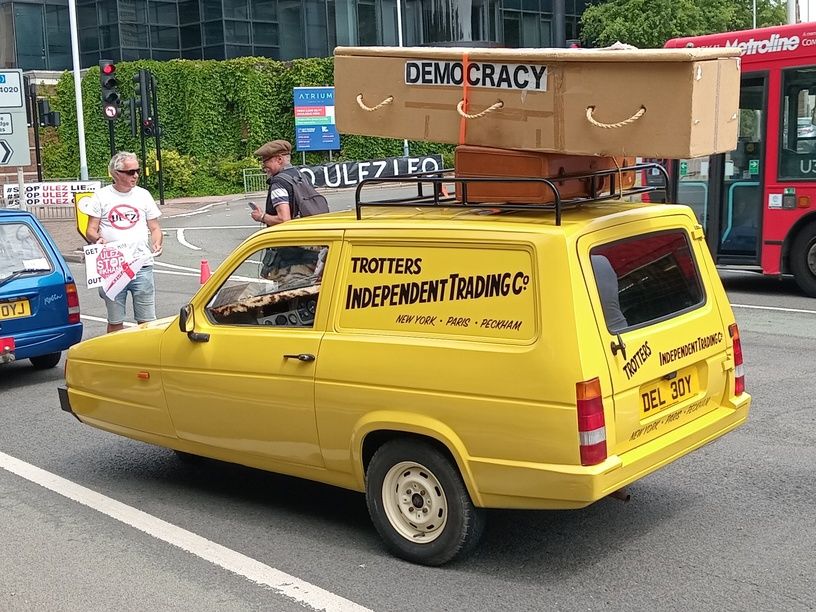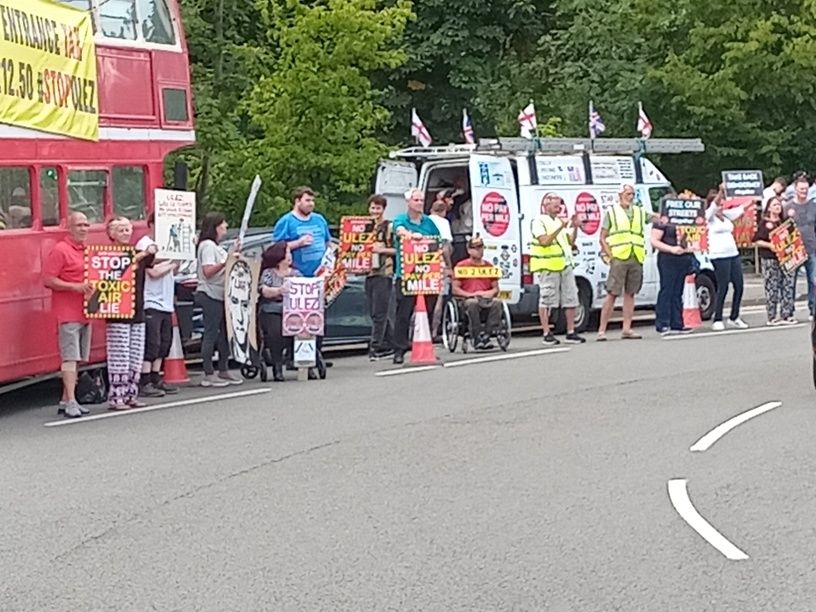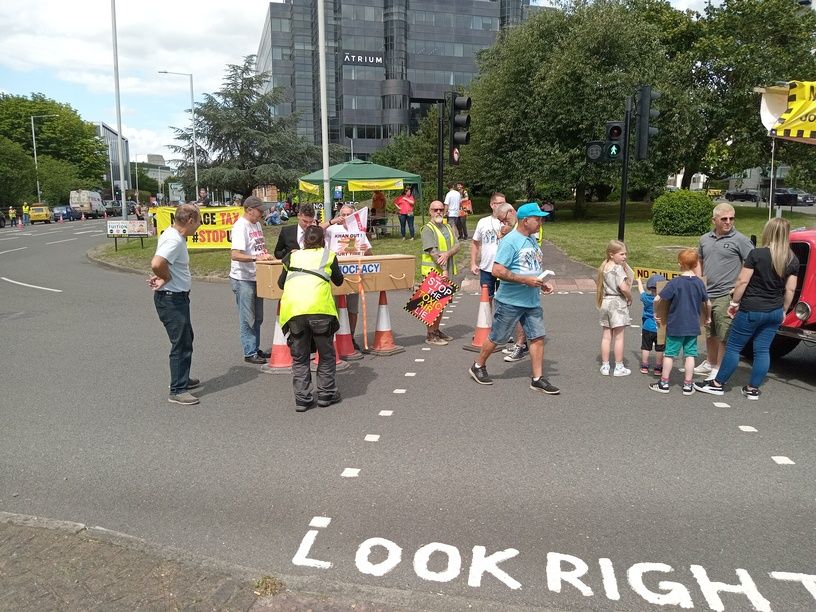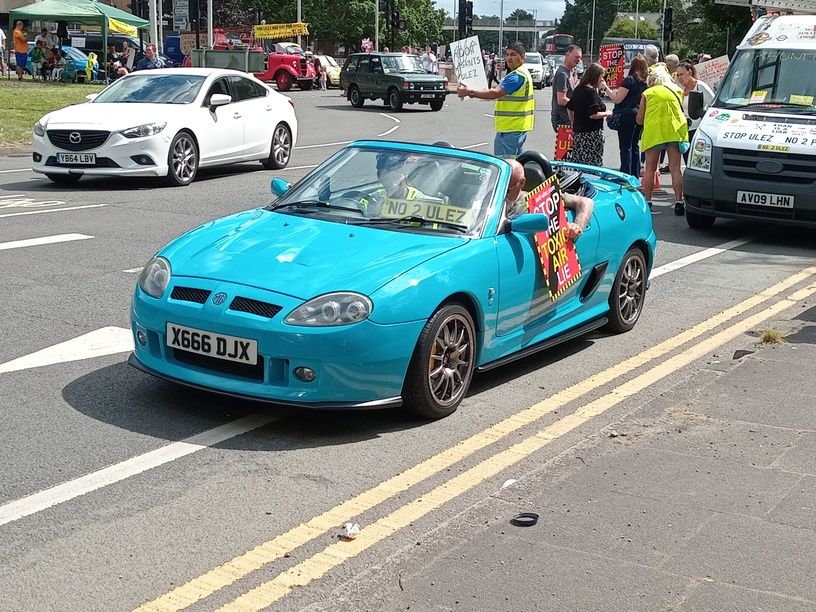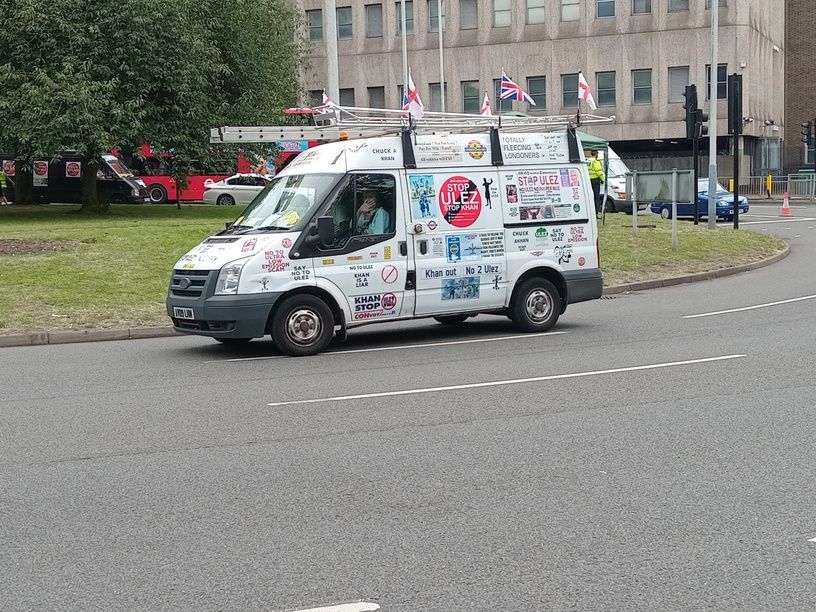 And now to the 15th July 2023 when we were in Redhill. Another good turnout for a local event, with the van convoy making their usual huge sacrifices in terms of time, effort and cost in coming all the way these events. Knowing that I shouldn't really say this, I'll say it again, why is it that only about 3 or 4 Transit vans in the whole of London are worried about this stuff, but then one of them comes from Oxford anyway ;-? Grandstand is probably more important and August is a lifetime away. Anyway, the videos are
here
,
here
,
here
and
here
. As the event came to a close,
da local youffs
decided to give my yellow board a fair old kicking, so it's starting to show a few creases and cracks in the paint, but polycarbonate is pretty sturdy and I am not too worried as it's a bit of a rag bag yellow board anyway, not to mention the fact that I am hoping and praying that all of this is going to come to some sort of conclusion (good or bad) sooner or later...
Coolio Joe, it's time to go... up to the BBC and on 22 Jul 2023 that's where we are on a very sock-soakingly wet and windy day, the aim being to persuade the state media to give us some airtime and, well, we got a bit of a report showing about 3 protestors, so it was a result of sorts. The circular colonnade of All Souls was about the only form of shelter from the rain but that didn't last long as everyone was moved on by the old bill (who were unfailingly great as ever) so the church could hold a wedding. We were encouraged to give the wedding party (of far eastern persuasion) an applause but it was intriguing to see how they were almost completely oblivious to this, as well as the general chaos around them, but that was probably a good thing, or maybe they thought we were taking the michael ;-0 ;-0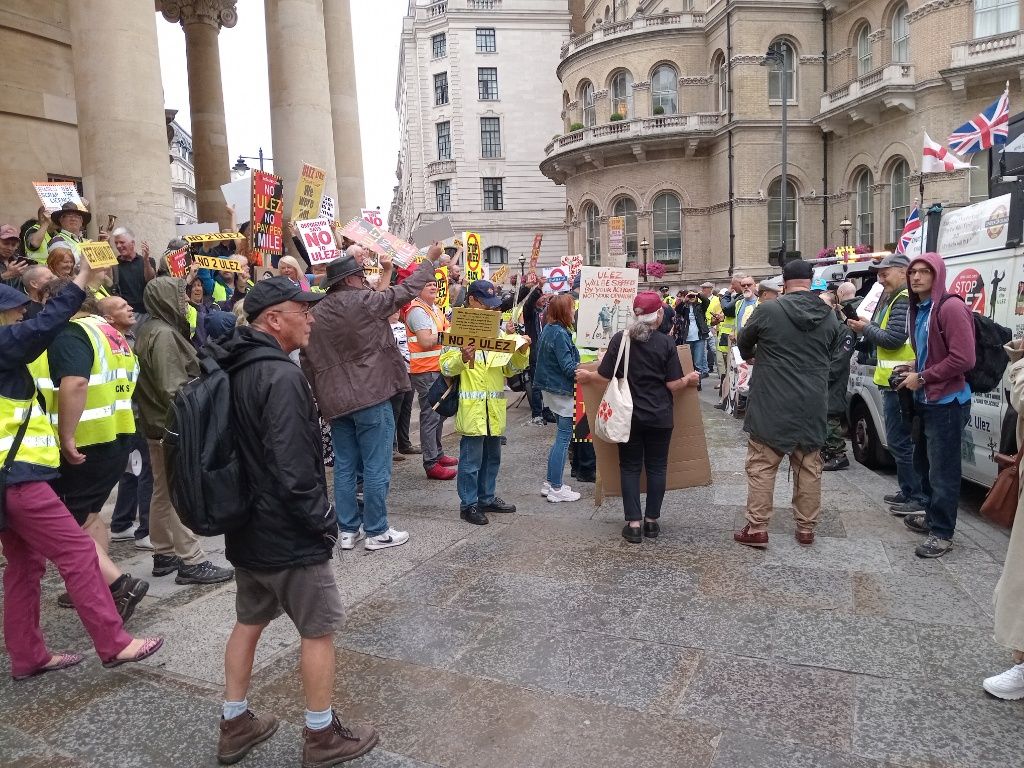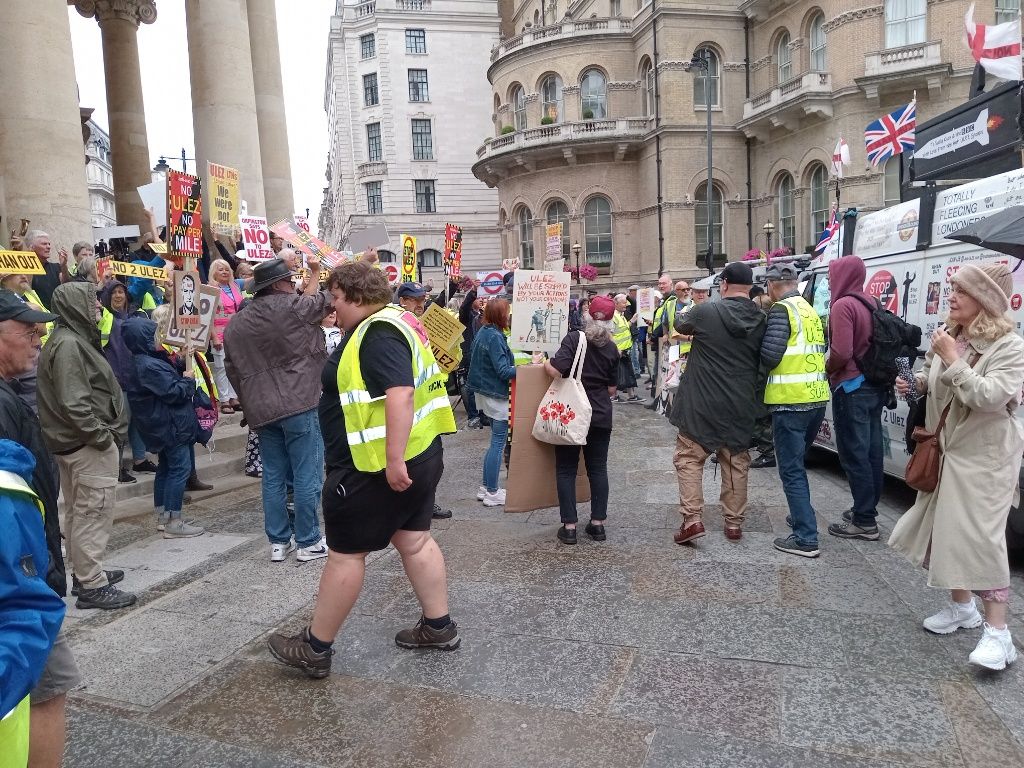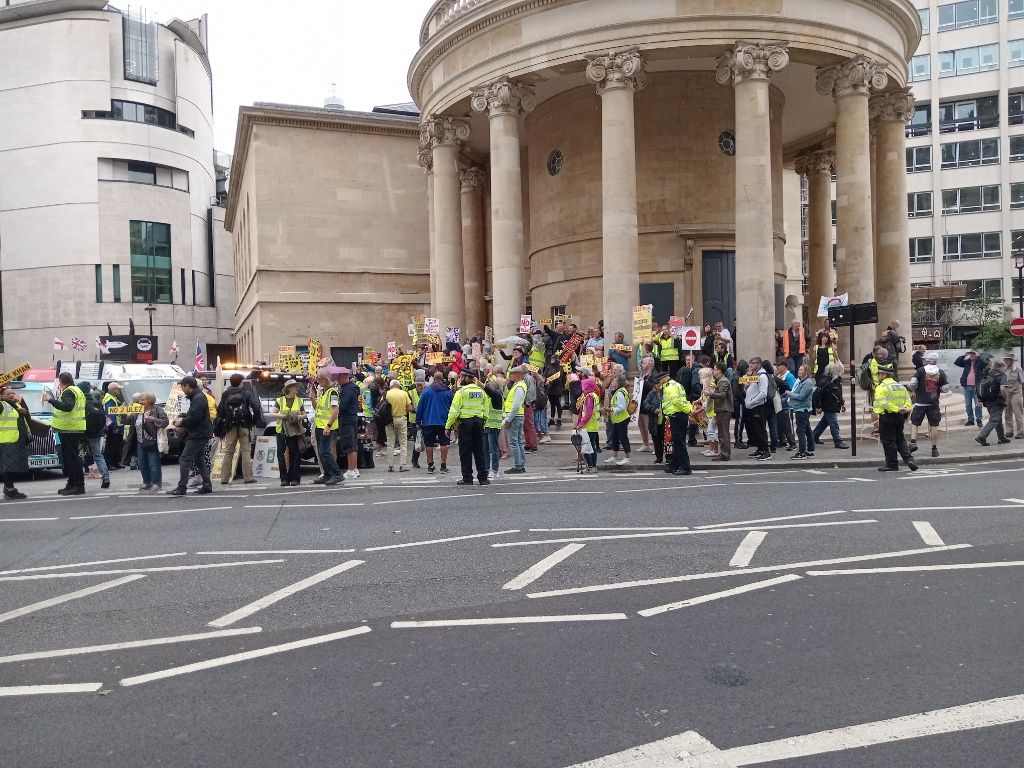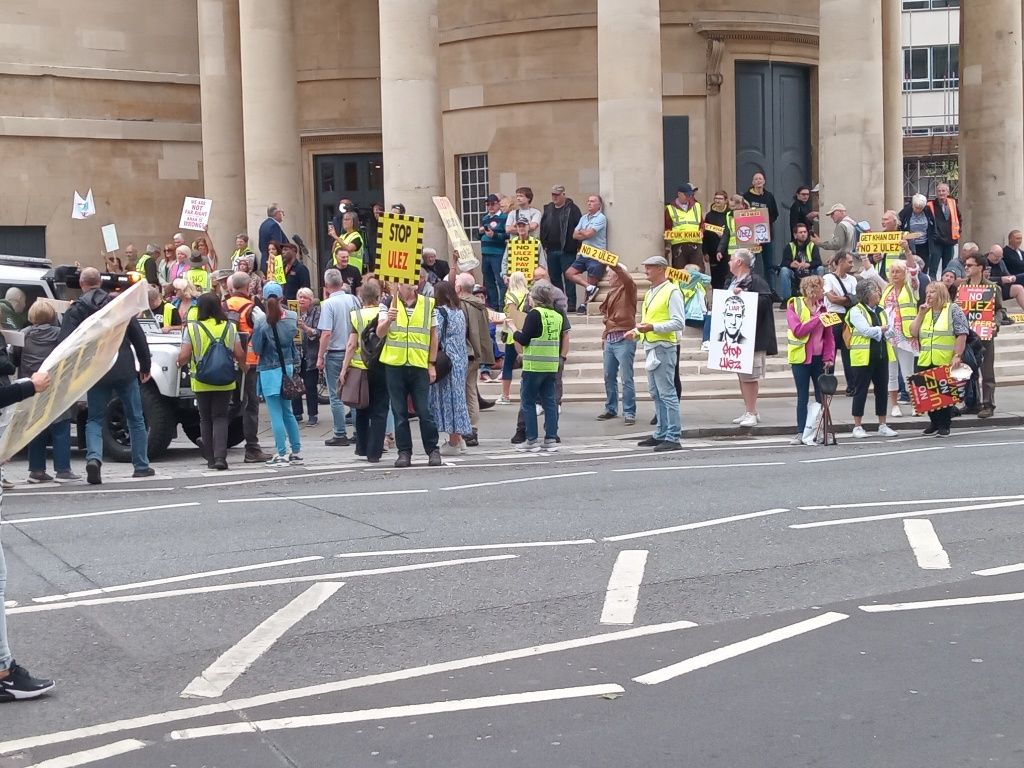 The videos are
here
,
here
,
here
,
here
,
here
,
here
,
here
,
here
,
here
,
here
,
here
,
here
and
here
.
Bah Humbug, the news is out - the judicial review case was lost, so a day or two was spent down in the dumps and we're now back on the streets. This is 29th July 2023 and we are at Dagenham for a local demo but, stone me, them transit vans keep turning up. I don't get how they have the time, energy, motivation, etc, to do all this stuff especially with the high court ruling against our cause, but their efforts are very much appreciated. My pictures below and the videos
here
and
here
don't really convey that there was a group of about 30 people here.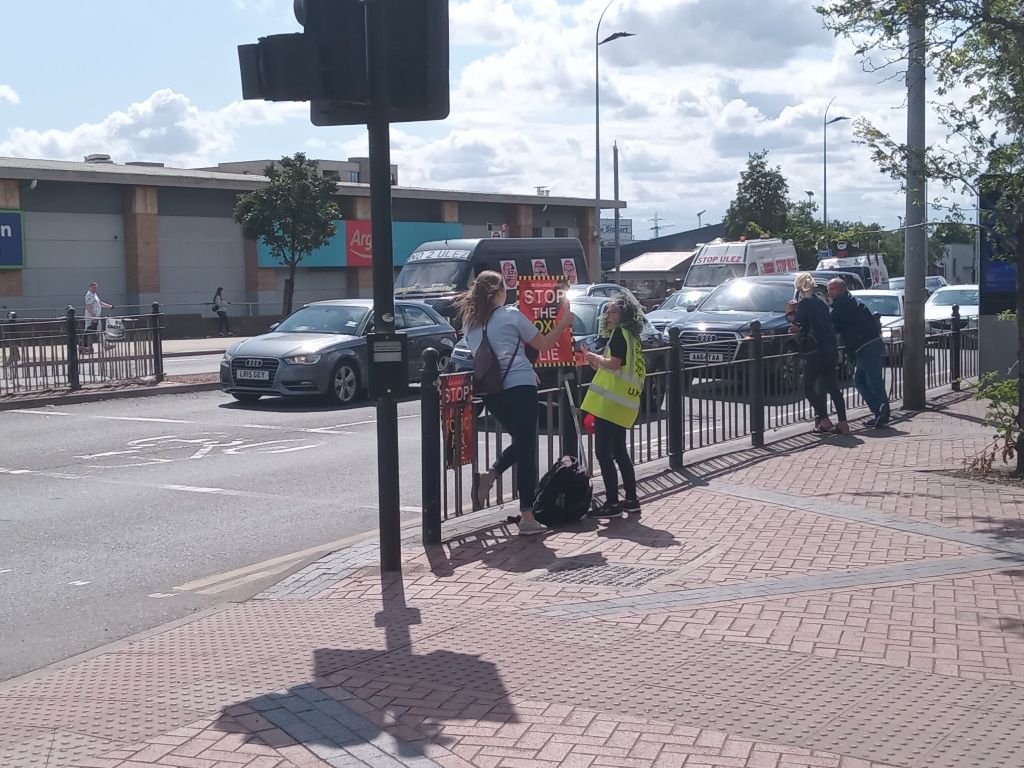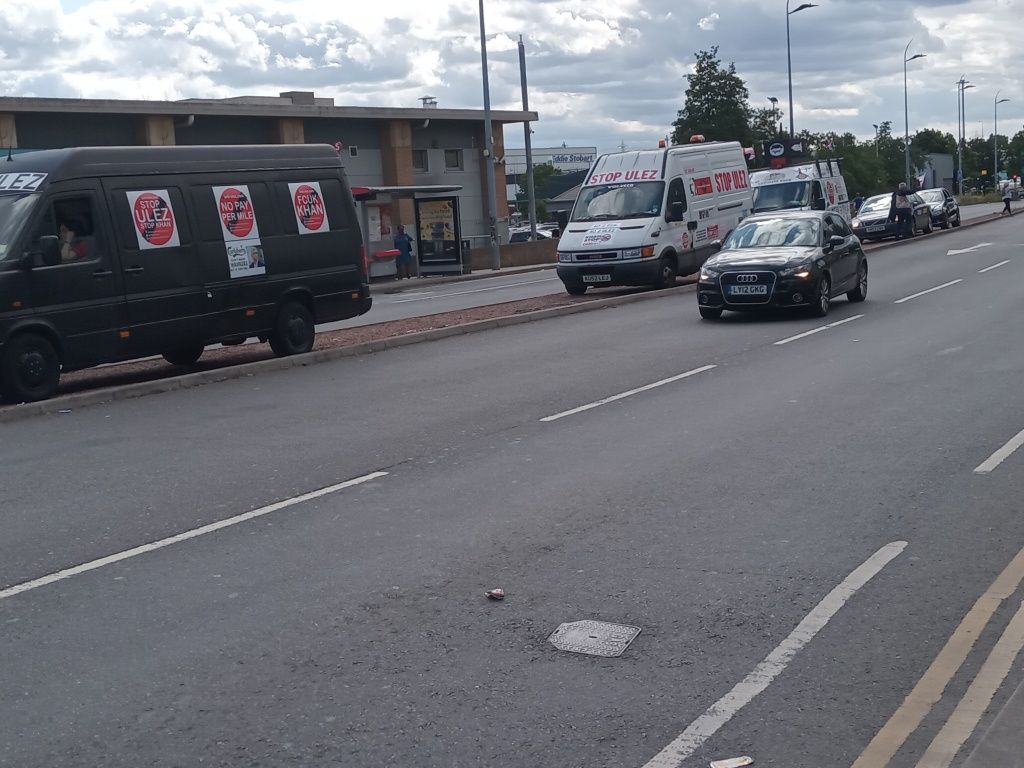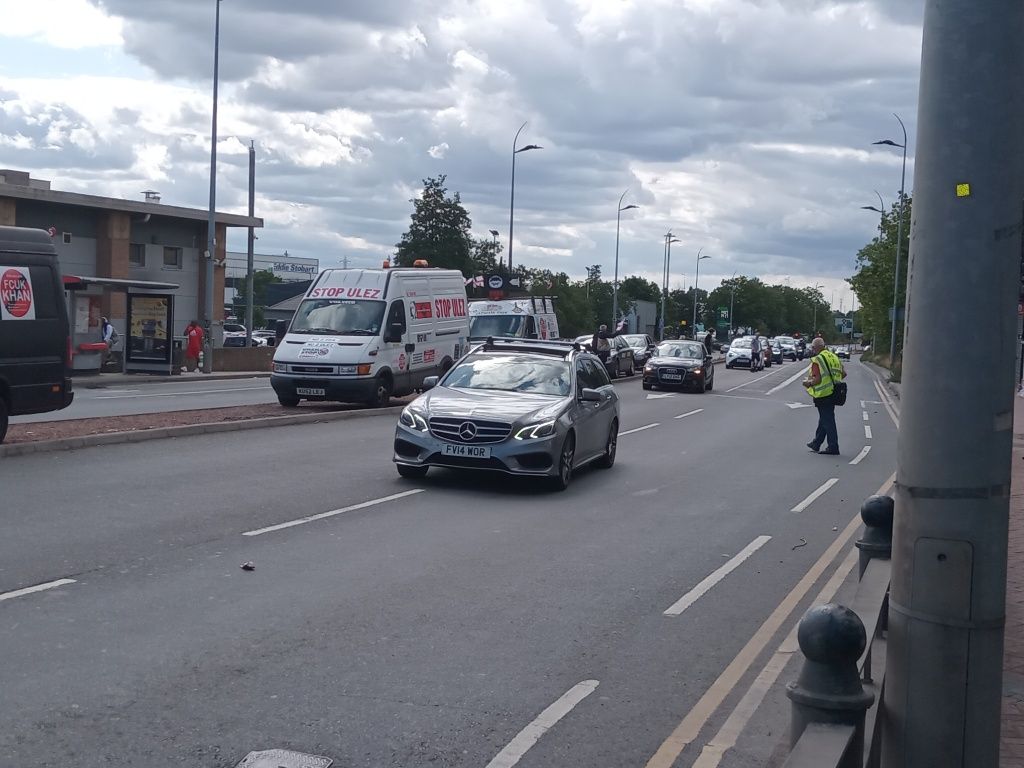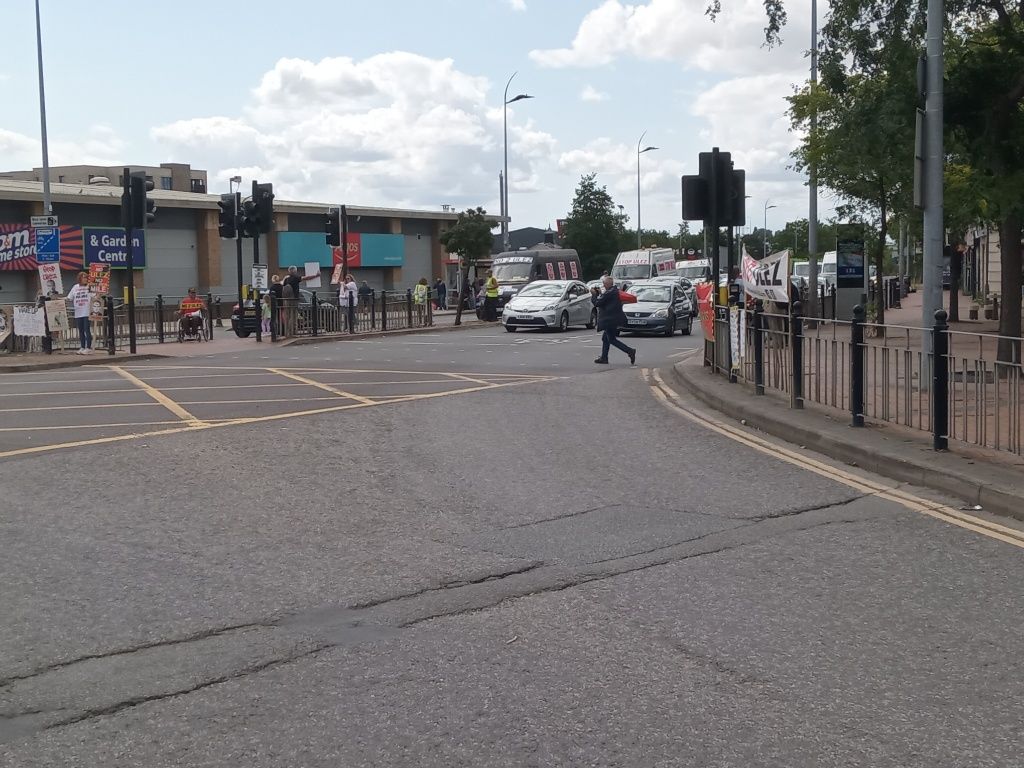 I just remember the vans turning up and thinking: "Wow, they're here!!" Bit later while I was leafleting at the traffic lights and, 8 months into this, one of the drivers in an old Fiesta said.... wait for it.... "What's ULEZ?" Bless her. Things like that make it all worthwhile.
Onwards to 1st Aug 2023 when we are back in Wallington where a bunch more of my videos were recorded as shown
here
,
here
,
here
and
here
.
And, then for something a bit bigger in Trafalgar Square on 5th Aug 2023 with the relevant videos being
here
,
here
and
here
.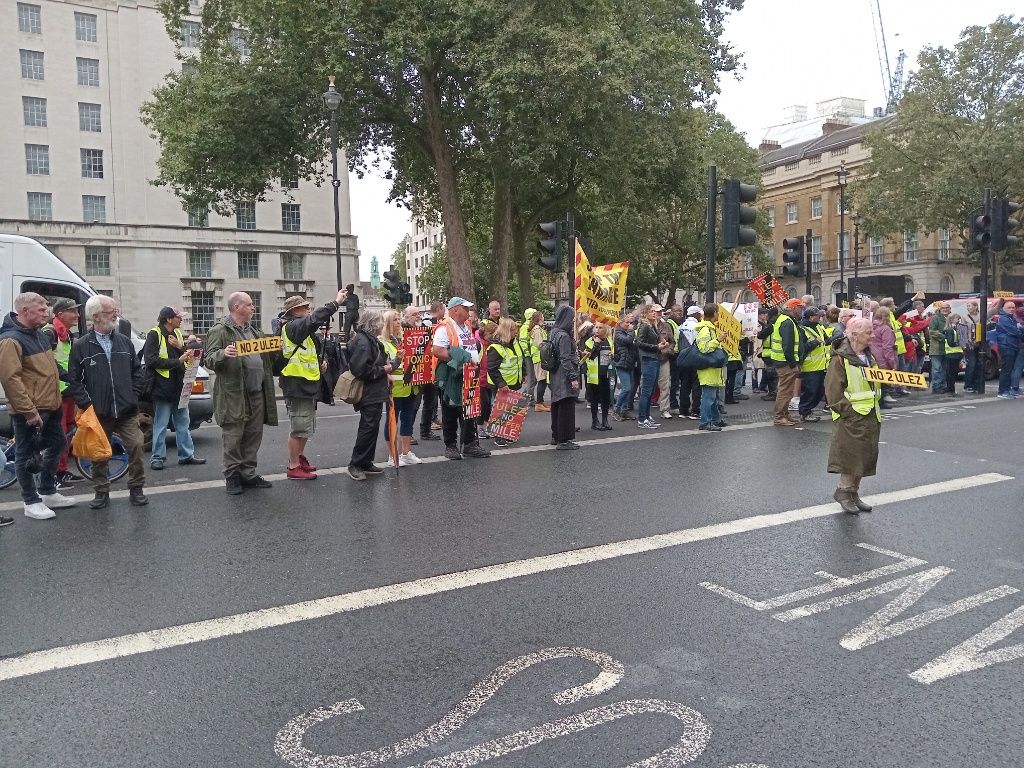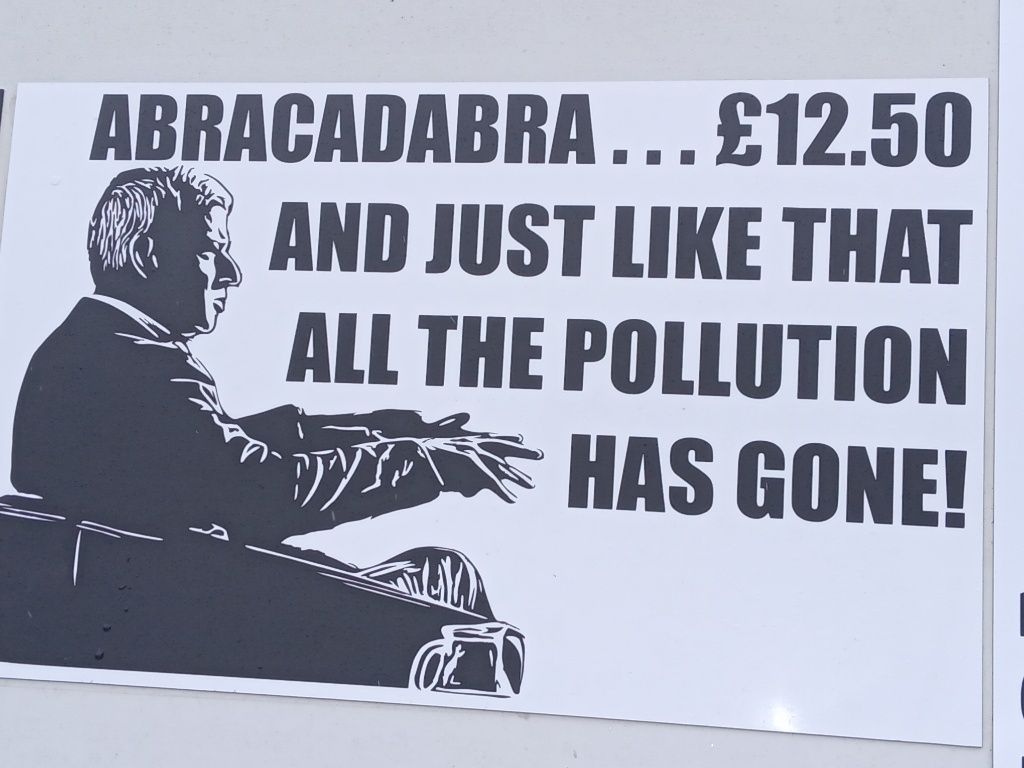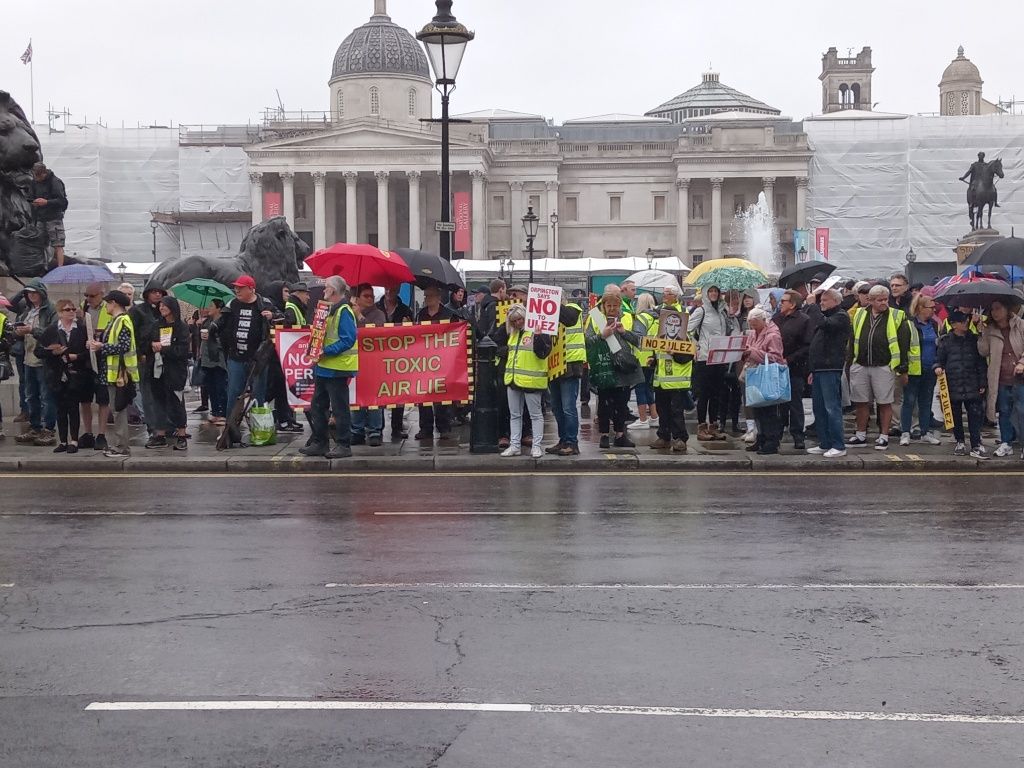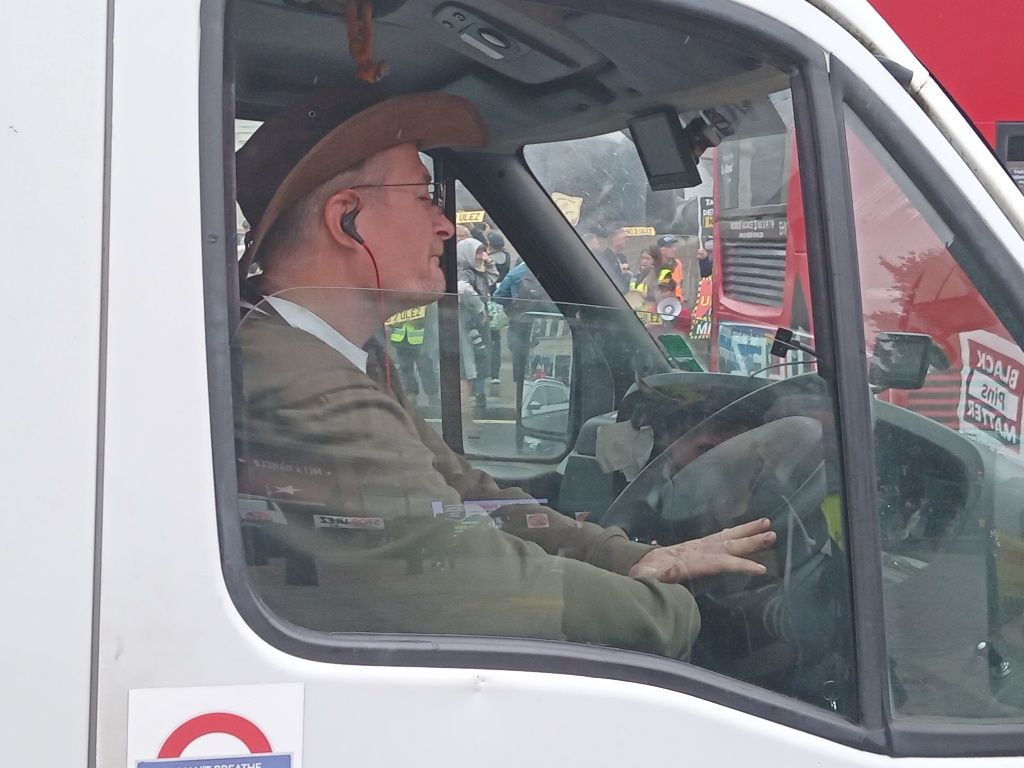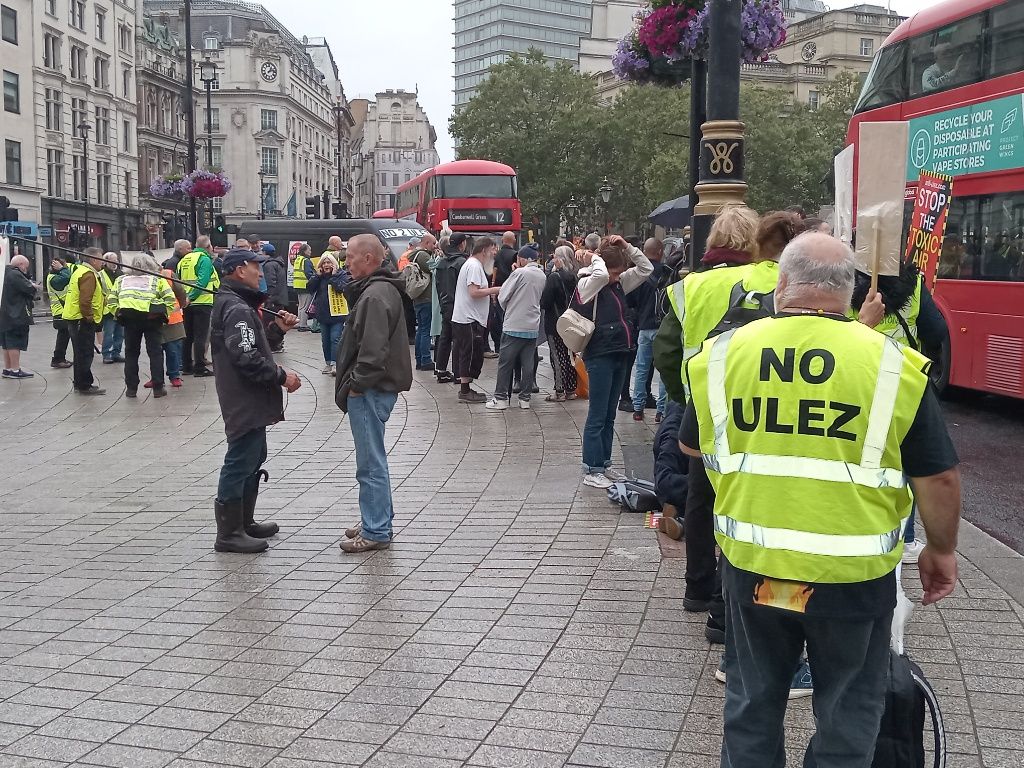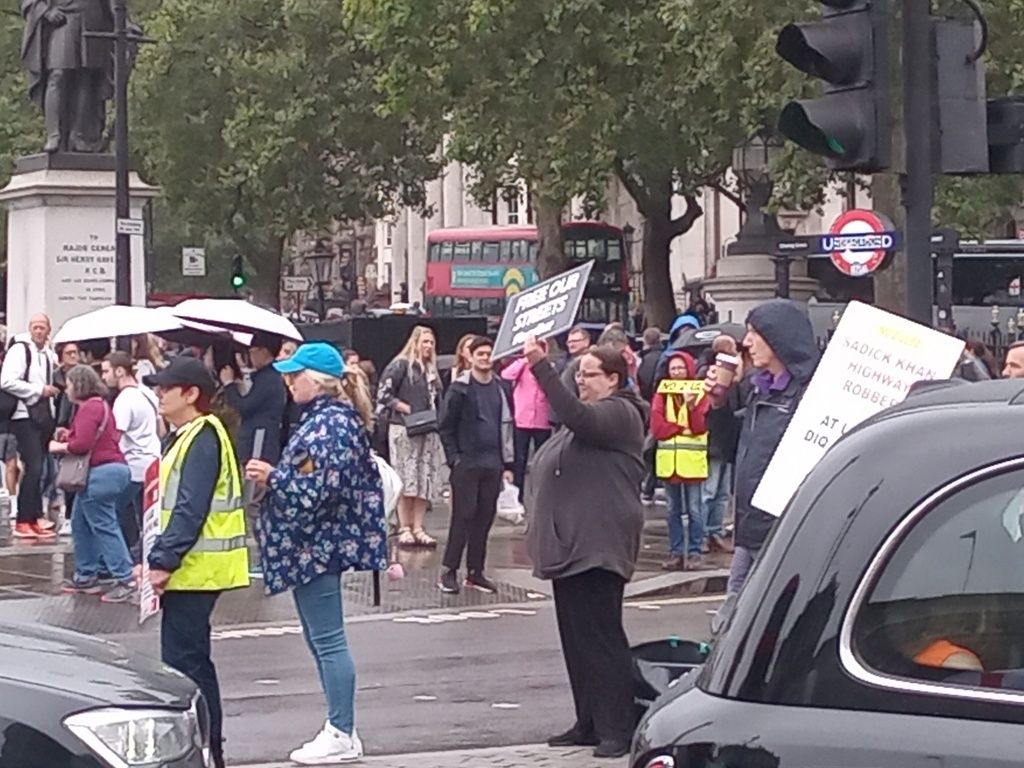 Now we are up to the 12th Aug 2023 and there's a demo in Bromley which was well-attended with some highly professional banners and high-level boards to catch the eye. However this event brought out some of the pro-ULEZ fury in the form of a tyre-slashing local who let down about 18 of the protestor's tyres. Not so nice one, top one, sorted, but the social media group helped to bail them out. Very frustratingly I was left in charge of a Volvo driver's car while he went off to buy new tyres but I could not dissuade a passing traffic warden from giving it a ticket for being parked on a verge. Ouch. I then went up over to Uxbridge to meet the man who had been camping outside the station on a week-long anti-ULEZ hunger strike but got there too late for the celebrations. Anyway, I went to a local hostelry to partake of the spirit after a long day of not doing anything on the Volvo 300's. Still the videos are
here
,
here
,
here
,
here
and
here
.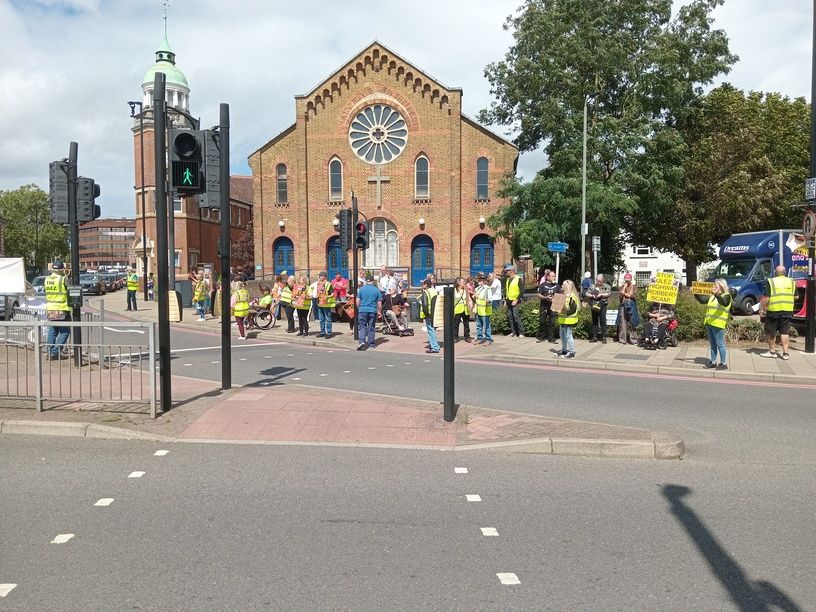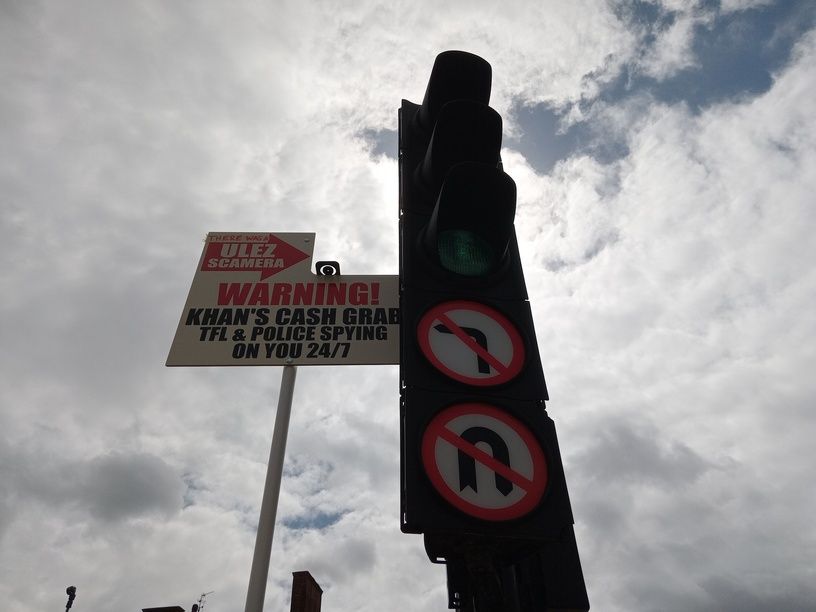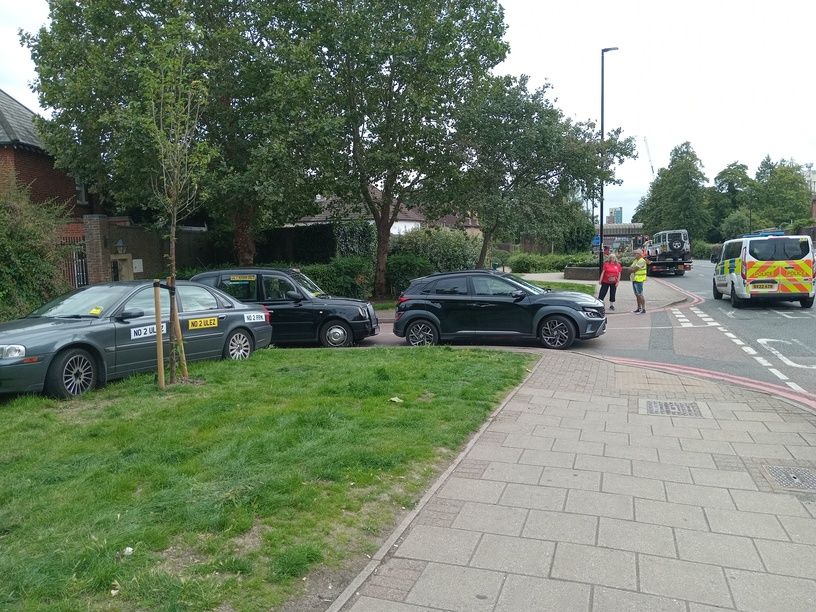 There is a trickle of work on the Volvo's though, in the form of repairing the mark 2 rear interior door pulls which needed a bit of Airfix-style plastic surgery. Superglue and a bit of backing plastic from the recycling bin are the order of the day.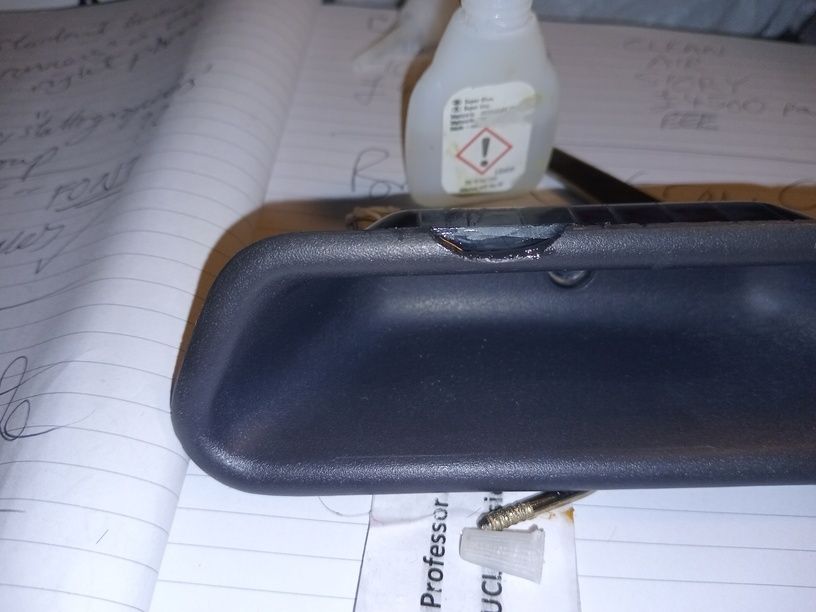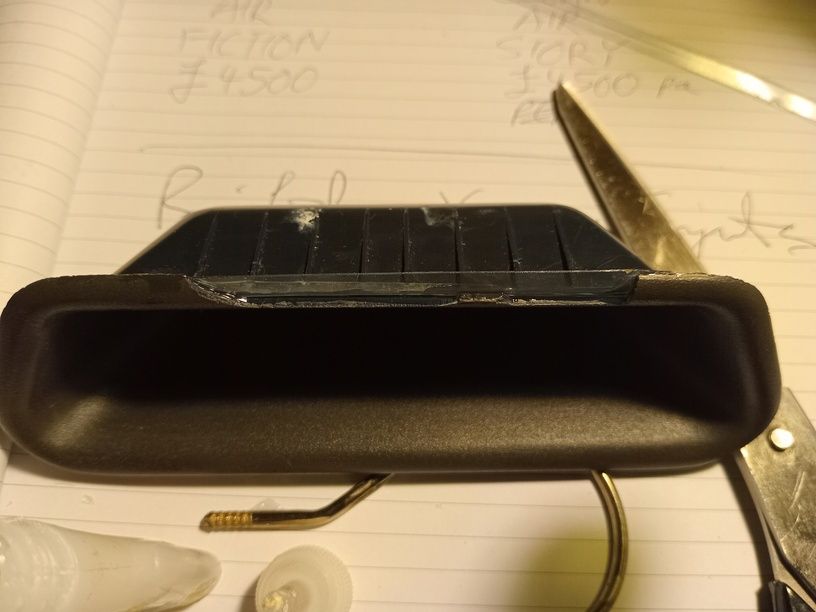 We move on a few days to the 15th Aug 23 and there's another demo, this time in Carshalton. There was a bit of hand-bagging at one or two points but they were dealt with by someone who was highly skilled at dealing with exactly that type of situation and the permanently drunken fellow causing the issue was gracefully departed. My videos, which don't feature the said gentleman, are
here
,
here
,
here
and
here
,
here
and
here
.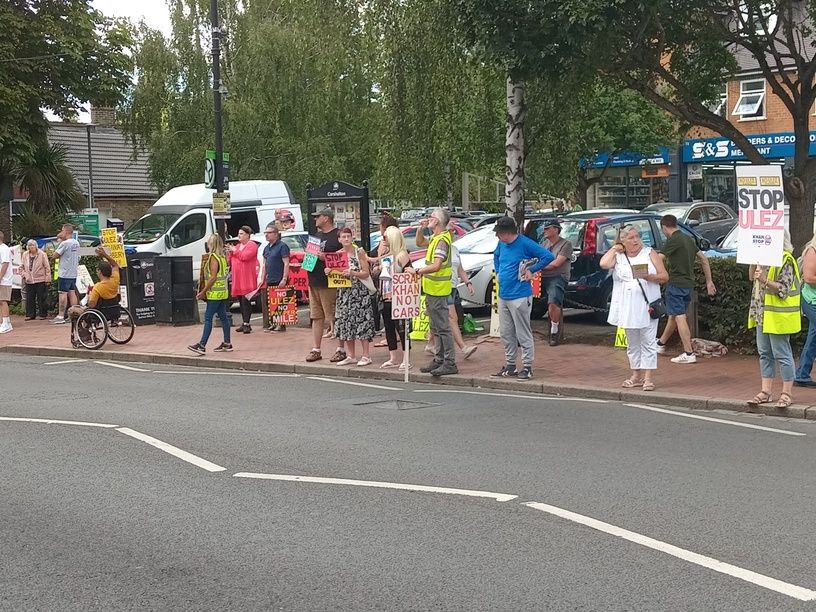 Now then, now then, we go forwards in time to 19th Aug 23 when we are in Orpington for a fairly big do. Bear in mind that the 29th Aug is fast approaching and we are all hoping for some government intervention or other miracle that never did happen in the end, but at least we are trying, arf.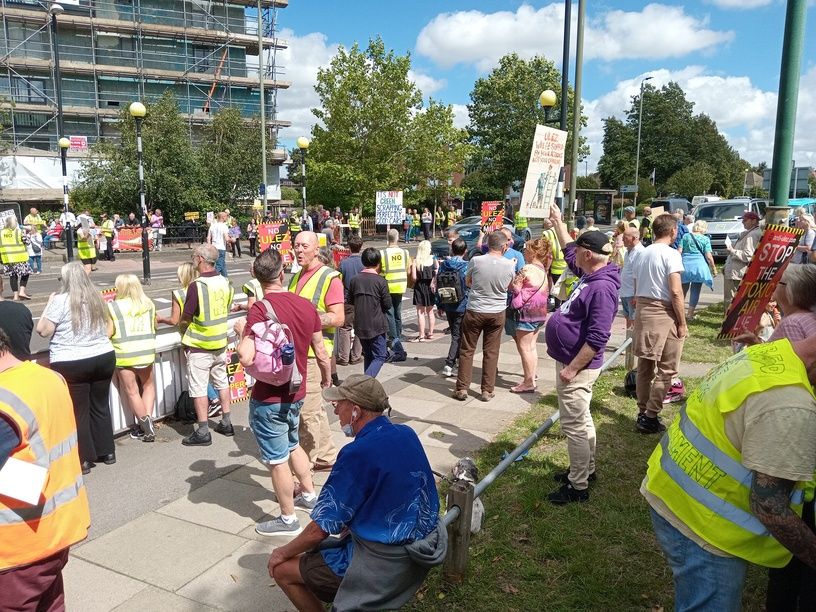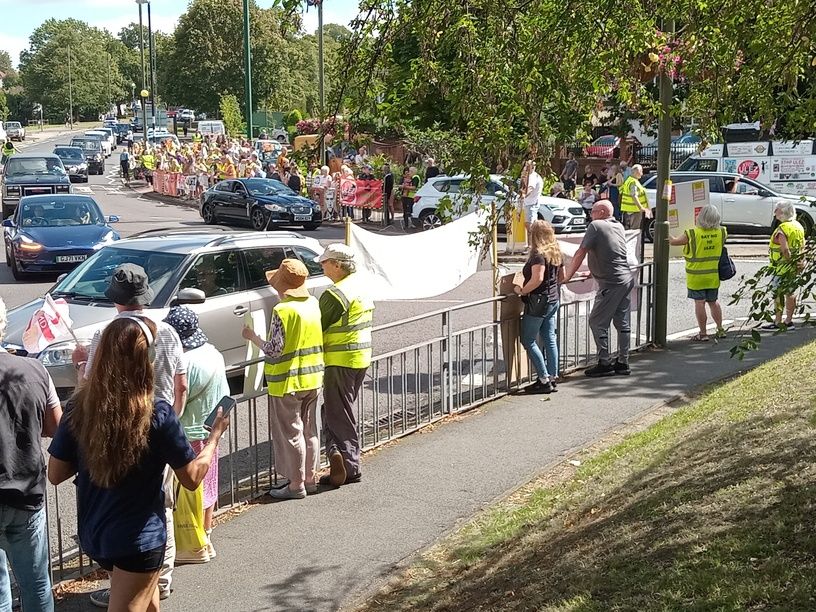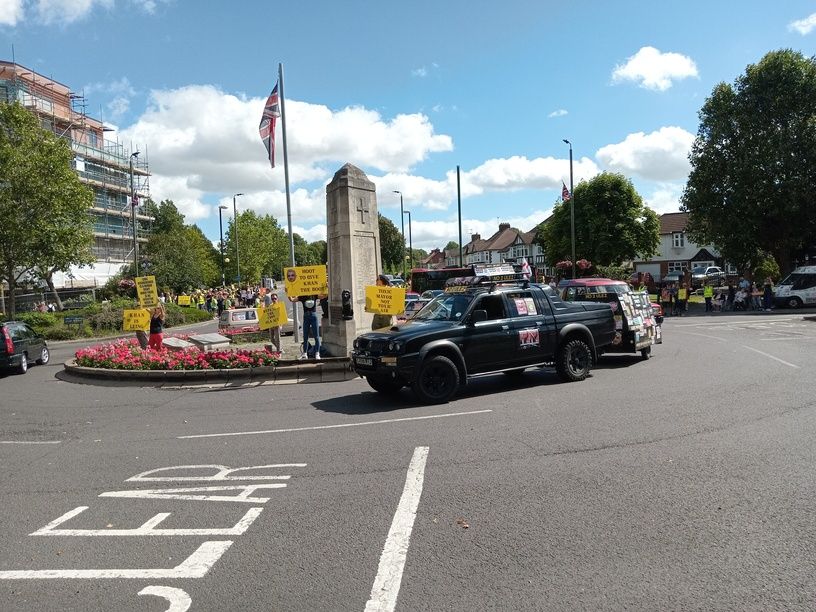 The videos are
here
,
here
,
here
,
here
,
here
,
here
and
here
. The very next day there is a convoy from North London to Box Hill which is mainly for motor bikes but the anti-ULEZ crew got some special dispensation to take part on the side. Anyway, it's a case of a massive great woofter (your truly) trying to butch it up with the motor cycle boys, maybe. The videos of this amusing episode are
here
,
here
and
here
. The Reform party as well as a Conservative fella from Bromley are there too and I've got to admire them for the effort they put into this.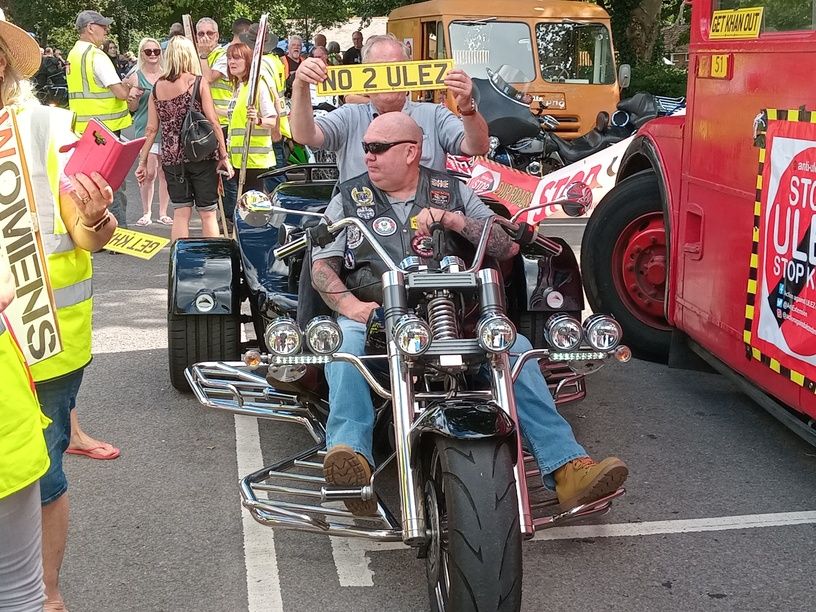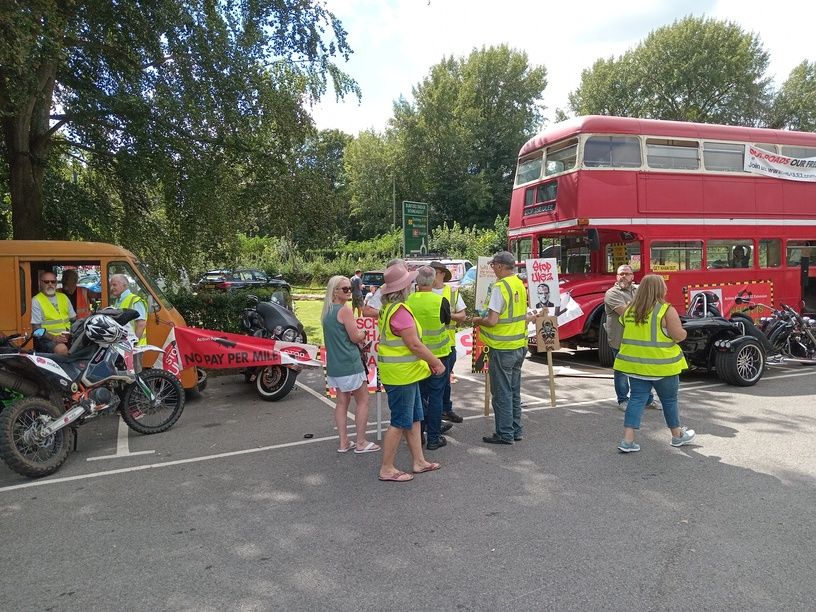 Oh well, oh well, we move on to the 22nd Aug 23 and only 7 days to go till the big day but here we are in North Cheam for a mid-week event which went down pretty well considering. The videos are
here
,
here
,
here
,
here
and
here
.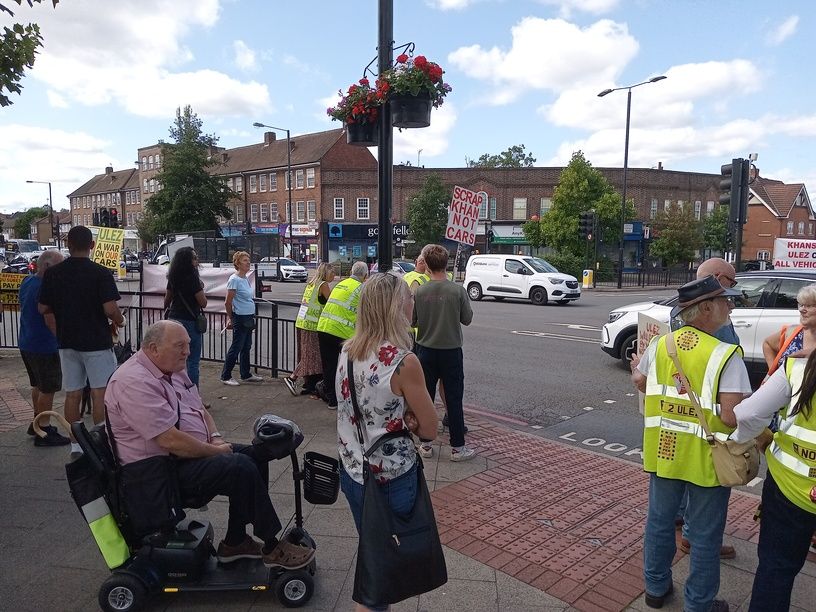 Onwards and upwards to 26th Aug 2023 when we are in Tooting Broadway for another well-attended demo with videos
here
,
here
,
here
,
here
,
here
,
here
and
here
. Much of the day was spent standing by uncollected bags of rubbish, but then this is a Labour borough ;-0 ;-0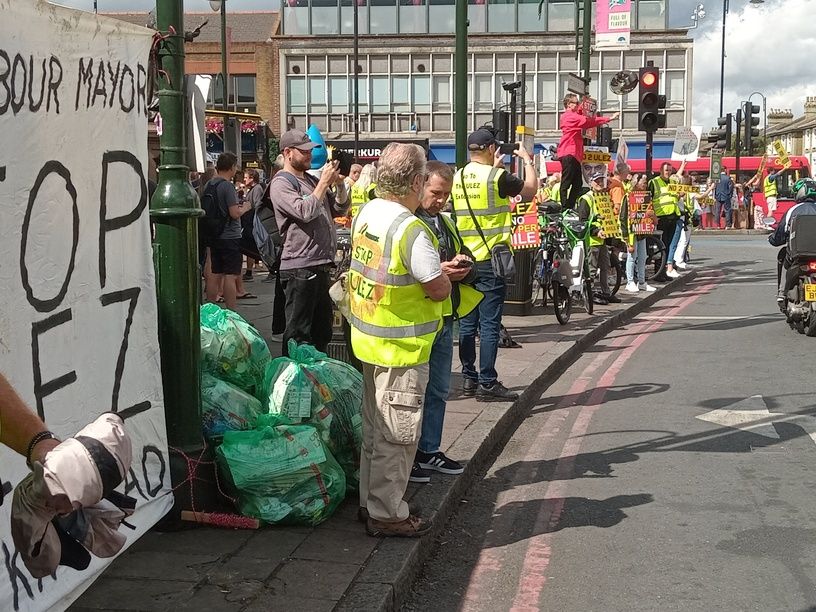 Yo! It's ULEZ day i.e. Aug 29th 2023 when it all comes into place so we're at Downing Street for a bit of a bash, only to be ignored all the more ;-0 ;-0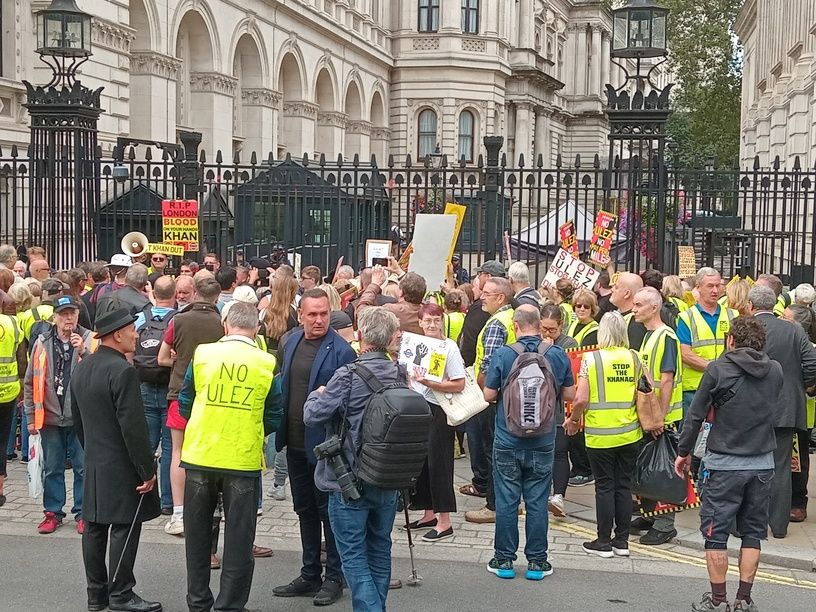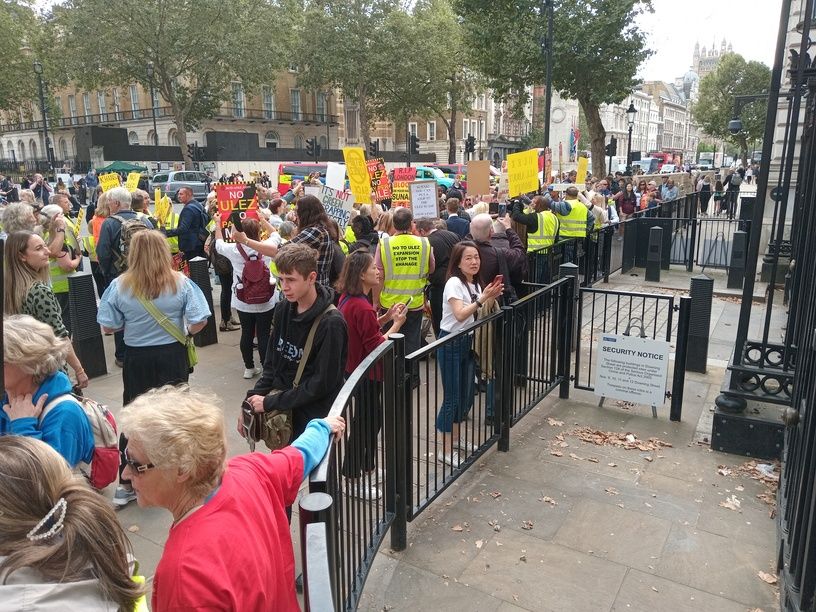 There was a march by Women Against ULEZ and the old cardboard coffin was dragged out for a bit of a funeral procession which was quite eye-catching, in my completely unbiased view. More can be seen in the videos which are
here
,
here
,
here
,
here
and
here
. Meanwhile, time ticks on and we come to the 3rd of Sept 23 when it's time for the Volvo 300 Mania annual group outing which this year is at the British Motor Museum in Gaydon. I don't have a working 340 or 360 to take because they have been laid up due to the protesting (well, that's my excuse anyway) so I get there the night before by means of my everyday Ford Focus. The turn-out was quite impressive and the line-up of the Volvos can be seen below. I even handed out some anti-ULEZ fliers and stickers ;-0 ;-0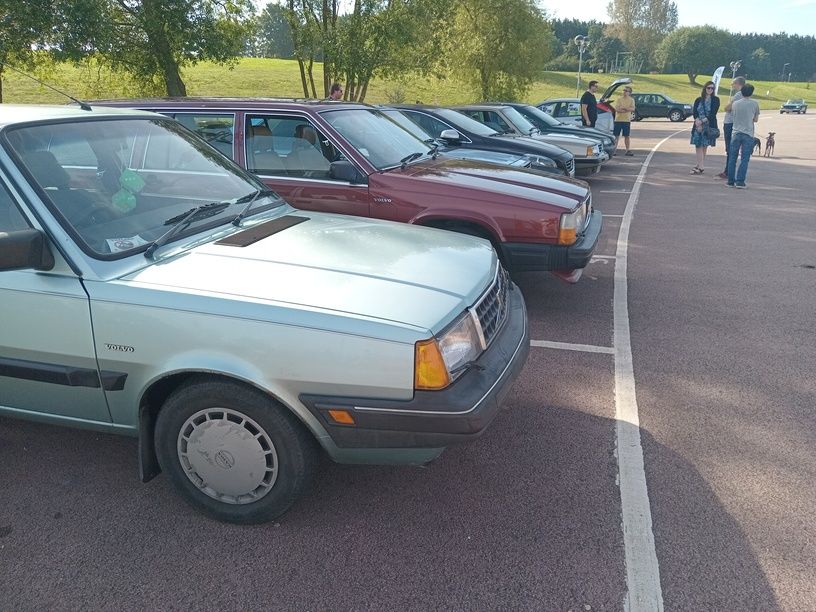 top